VWC Recognized as a "River Star Business"
The College was acknowledged as one of the finest environmental stewards on the Elizabeth River
News Release | February 2. 2017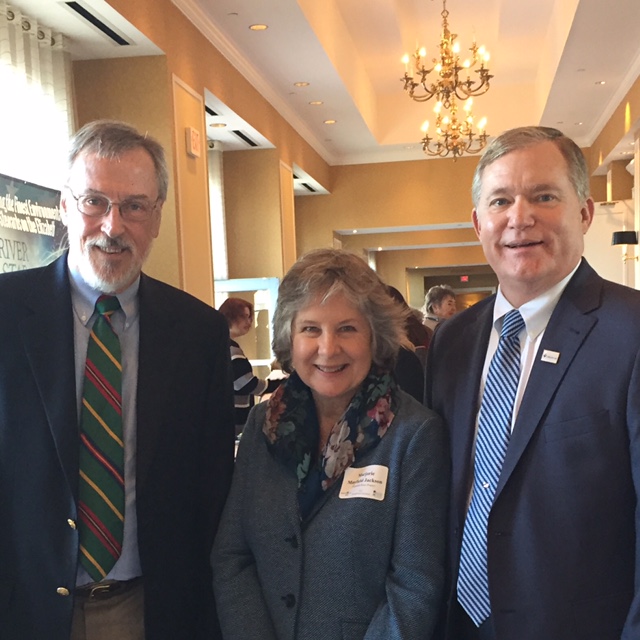 On January 26, Virginia Wesleyan College was recognized as one of the finest environmental stewards on the Elizabeth River at the annual River Star Businesses Recognition Luncheon sponsored by the Elizabeth River Project. The Elizabeth River Project is the non-profit leading community efforts to restore the environmental health of this great harbor river while affirming her value to our port economy. Their mission is to restore the Elizabeth River to the highest practical level of environmental quality through government, business and community partnerships.
River Star Businesses represent just one of the Elizabeth River Project's signature programs that recognize organizations that voluntarily reduce pollution and create or conserve wildlife habitat enhancement. The College was acknowledged for advancing as a "River Star" to the Achievement Level for documenting significant results in reducing pollution and conserving wildlife habitat enhancement.
Virginia Wesleyan has a long history of environmental stewardship. From the creation of the Student Environmental Awareness League in the 1980s to the installation of beehives, bat boxes, and bluebird boxes on campus and the creation of an Earth and Environmental Sciences major in the 2000s, VWC faculty, staff and students have long been engaged in unique opportunities to explore and support environmental issues. The VWC President's Environmental Issues Council (PEIC), established in 2005, led to further support for environmental projects, including challenge grants for students and faculty.
These efforts and more resulted in Virginia Wesleyan's advancement to the two-star Achievement Level as a River Star Business. Virginia Wesleyan was specifically cited by the River Restoration Review Committee for accomplishments and initiatives such as focusing on energy efficiency, the installation of a green roof on Smithdeal Hall (2006), storm water management, solar panels, wildlife habitat enhancement, recognition from the Virginia Department of Natural Science as a natural heritage resource for an old growth American Beech forest on campus (1992), designation as a bird sanctuary through a Virginia Beach City Ordinance (1990), installation of beehives on campus (2001), composting practices, maintenance of native plant pallets, and the establishment and maintenance of the Wilson Arboretum (1994) where trees are planted each year in honor of retiring faculty.
VWC President Scott D. Miller attended the recognition luncheon with VWC Professor of Political Science William Gibson to accept the award on behalf of the College.
"Environmental stewardship is very important to our campus community," said Miller. "We are proud to be recognized by the Elizabeth River Project for our commitment. Our efforts will be further enhanced this fall with the opening of the new Greer Environm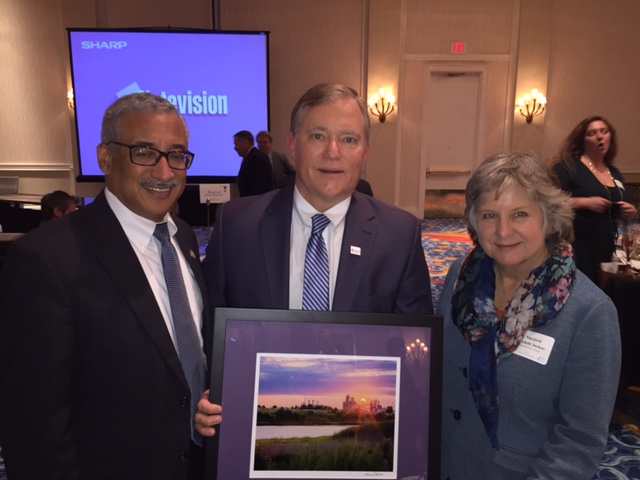 ental Sciences Center."
Gibson, whose research interests include environmental policy, natural resources management, and intergovernmental relations, serves as an active member of Virginia Wesleyan's PEIC and was instrumental in documenting the College's numerous environmental initiatives and presenting them for consideration for this distinction.
"This recognition shows the College's commitment to environmental values and sustainability," says Gibson. "Taking an active part in restoring the Elizabeth River connects us to other partners –industries, government and non-profit organizations—in a joint effort to make our environment an aesthetic, healthy, sustainable place."