VWU Celebrates 2022 Women's History Month: Women Providing Healing, Promoting Hope
Distinguished speakers and special events pay tribute to the vital role of women in society
University News | March 1, 2022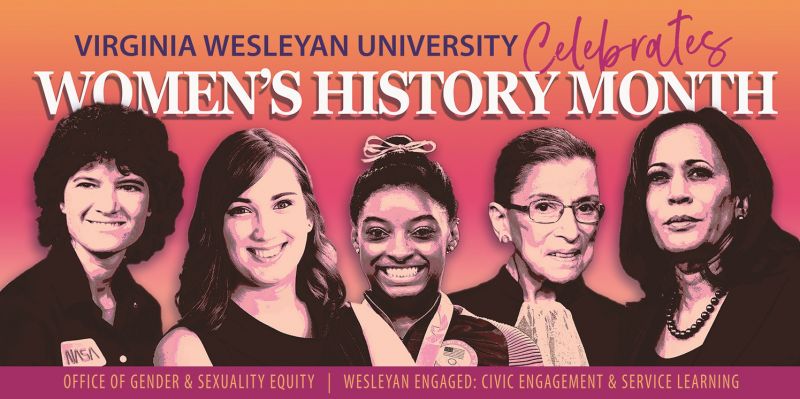 During the month of March, in celebration of Women's History Month and International Women's Day on March 8, a special series of speakers and events have been organized by Virginia Wesleyan's Office of Gender and Sexuality Equity, Wesleyan Engaged, Robert Nusbaum Center, Africana Studies, History, and Women's and Gender Studies. The National Women's History Alliance designates a yearly theme for Women's History Month. The 2022 theme is "Women Providing Healing, Promoting Hope."
VWU's agenda for the month is designed to heighten awareness and celebrate the vital role of women throughout history and in contemporary society.
"These events are so important, for they not only recognize women's experiences and contributions to society but also help widen our views on how systems of power affect women differently," says Associate Professor of English and Director of Gender and Sexuality Equity Dr. Jennifer Slivka. "We can all learn more about the world and ourselves through a perspective we may not have previously considered."
On March 1, at 11 a.m., Student Health will host "Thank a Woman Card." Students are invited to stop by Kramer Lounge in the Jane P. Batten Student Center to write a thank you note to women who have inspired them.
On March 2, Wesleyan Engaged has organized an online opportunity for the VWU community with Portland State University Textile Arts Program who is hosting a discussion entitled "Fashion and Activism: Black Women Style in the Museum." The discussion will be led by Dyese Matthews, who is currently a Ph.D. student in Apparel Design at Cornell University. Dyese will discuss her research exploring embodied experiences of dress, the intersections of dress practices and identity negotiations, Black empowerment and dress practices, Black dress history, societal sustainability throughout the fashion system, and consumer behavior practices related to textiles and apparel. For more information and/or to register for the event, please visit the registration page.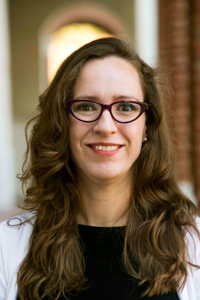 On March 3 at noon, Associate Professor of History and Director of Women and Gender Studies at Christopher Newport University, Dr. Laura Puaca, will share her research, which lies at the intersection of American women's history and disability history. Her presentation in the Susan S. Goode Fine and Performing Arts Center is titled, "Betty Crocker and the Business of Blindness: Gender, Disability, and Post-World War II Consumer Culture." Masks are required to attend this event.
During the week of March 7, Global Engagement will display "Famous Women Who Studied Abroad" in the Jane P. Batten Student Center.
On March 7 at noon, the Africana Studies program and the Office of Gender and Sexuality Equity will host a keynote speaker, for International Women's Day, Dr. La Francis Rodgers-Rose, who will give a talk titled "Black Women: Defining Self in the 21st Century." Dr. Rodgers-Rose is a sociologist specializing in Black culture and is a founding member and Past National President (1976) of the Association of Black Sociologists. She was also the past National President of the Association of Social and Behavioral Scientists (1995) and founder (1983) and CEO of the International Black Women's Congress. The event is open to public and will be held virtually via Google Meet: https://bit.ly/BlackWomen2022
Also on March 7 at 7 p.m., the Robert Nusbaum Center will host, "Electric Sex, Sticky Love, and Complex Marriage: Religion, Sex, and the Oneida Community." Registration required by March 3. Call 757-455-3129 to register.
For many Americans, the word "Oneida" is associated with fine silverware. The origin of the utopian community that came to make such silverware is less well known. In the mid-19th century, John Humphrey Noyes established a revolutionary community in rural New York centered on achieving a life free of sin through God's grace, while also espousing equality of the sexes and "complex marriage," a system of free love where sexual relations with multiple partners was encouraged. In "Oneida: From Free Love Utopia to the Well-Set Table," Dr. Ellen Wayland-Smith—a scholar and a descendant of John Humphrey Noyes—describes the captivating story of the community's evolution. In this Zoom presentation and discussion, she introduces us to the community and focuses on its most unusual and misunderstood practice: "complex marriage." Wayland-Smith is Associate Professor of Writing at the University of Southern California.
On March 8 at 11:30 a.m., Student Health will sponsor, "Walk a Mile, Give a Mile."
Students, staff, and faculty of all gender identities will walk a mile in high heel shoes to confront gender stereotypes and expectations. Participants will donate $5 to participate and the collective gift will be given to Girls on the Run to buy shoes for young girls.
Also on March 8 from 12:30-3:30 p.m., Wesleyan Engaged will host an "International Women's Day Button Making Event in the Harbor Grill. The campus community is invited to make a button design or get a premade one. Materials needed will be provided and there will also be information on women's shelters around the Hampton Roads community and opportunities to help out, as well as make a monetary donation to Samaritan House.
On March 9, Wesleyan Engaged will host an online event: an interview with Founder and CEO of The Freshglow Co. and the inventor of FreshPaper, Kavita Shukla. Shukla holds four patents and is the youngest woman to receive the biennial INDEX Design to Improve Life Award - the world's largest prize for design. Her story of simple beginnings, belief, and empowerment was the subject of a short film by Hollywood director Bryce Dallas Howard. Lemelson Center Associate Director Monica Smith will interview Shukla about her inspirations and innovations. Registration is required.
On March 12 at 1 p.m., Wesleyan Engaged sponsors an online event: The American Library presents "The 2nd Air Division Archive: American Women at War" which explores photographs, letters, and documents that illustrate the experience of trailblazing women in WW2 in East Anglia. For more information and/or to register for the event, please visit the registration page.
On March 15 at 6:30 p.m. Wesleyan Engaged has organized an online opportunity. Grand Rapids Community College is sponsoring Sonya Renee Taylor, founder of the Body is Not an Apology, a digital media and education company that promotes radical self-love and body empowerment as the foundational tool for social justice and global transformation, as the keynote speaker for their Women's History Month address. To register, please visit the EventBrite page. For more information about Sonya Renee Taylor, visit her webpage.
On March 21 at 7 p.m., the Robert Nusbaum Center will host via ZOOM: "The Religious Case for Female Genital Cutting." Registration required by March 17. Call 757-455-3129 to register.
In "The Female Circumcision Controversy," Dr. Ellen Gruenbaum points out that Western outrage and efforts to stop genital mutilation often provoke a strong backlash from people in the countries where the practice is common. While she looks at the validity of Western arguments against the practice, she concentrates particularly on the complex attitudes of those who practice it and on indigenous efforts to end it. Dr. Gruenbaum humanizes the adherents of the practice, shows the complexities of it, helps readers move beyond indignation, and gives them hope. In this Zoom presentation and discussion, she shows us an important method in working toward social change and then answers our questions. Dr. Gruenbaum is Professor Emerita and former Chair of the Department of Anthropology at Purdue University. Using a feminist anthropological framework, Dr. Gruenbaum's research focuses on women's health issues, human rights, religious practices, and development in Africa and the Middle East.
On March 22 from 5-8 p.m., Wesleyan Engaged sponsors the viewing of "4 Little Girls," a Spike Lee documentary.
On March 24 at 7 p.m. in the Blocker Auditorium, Wesleyan Engaged hosts a presentation by Sister Quincy Howard on the "intersectionality of civic engagement, social justice, and one's calling." Sister Howard is a professed Dominican Sister of Sinsinawa and is passionate about Catholic Social Justice and the call to action to protect and serve the most vulnerable members of society.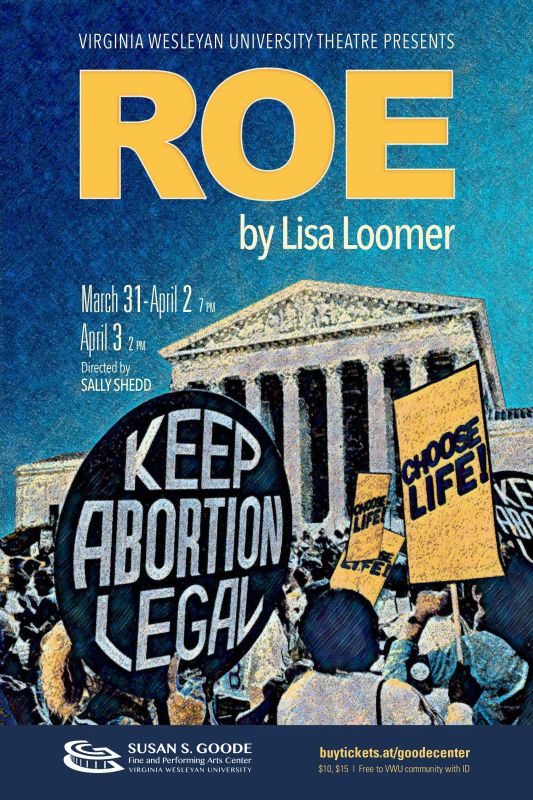 On March 30 at 7:30 p.m. in Pearce Suite, Wesleyan Engaged sponsors "Deep Discussions- Women's History," creating an open space for people to ask questions and discuss women's history and women's present. This will be an interactive event where students are encouraged to educate and be educated on issues surrounding women.
Women's History Month at VWU culminates with Roe by Lisa Loomer, March 31 – April 3 in the Susan S. Goode Fine and Performing Arts Center. (Thursday, March 31 – Saturday, April 2, 7:00 p.m.; Sunday, April 3, 2:00 p.m.) Tickets: vwu.tix.com. Free to VWU students, faculty, and staff.
Directed by Professor of Theatre Dr. Sally Shedd, VWU Theatre presents Roe. Roe v. Wade, the landmark 1973 case that legalized abortion, is still fiercely debated 50 years later. In this play, Lisa Loomer cuts through the headlines and rhetoric to share the post-Roe divergent personal journeys of lawyer Sarah Weddington and plaintiff Norma McCorvey ("Jane Roe"). Shocking, humorous, and poignant, Roe reflects the polarization in America today while illuminating the pain and passion of each side.
Roe Talk Back Sessions
The Office of Gender and Sexuality Equity and the Robert Nusbaum Center, in collaboration with VWU Theatre, is pleased to host opportunities to reflect on and discuss issues raised in the play:
March 31 – April 2 - Facilitated discussions immediately following the evening performances offer safe space for civil conversations about the major points of tension in the play.
April 3 - A panel representing diverse perspectives discusses historical, legal, theological, cultural, and personal challenges raised by Roe.
"The focus on women during Women's History Month serves as a spotlight to showcase the important work being done by and about women," noted Dr. Slivka, "as well as other marginal groups normally pushed into the shadows of popular, and even academic discourses."

Learn more about Virginia Wesleyan's Women's & Gender Studies program and its Office of Gender and Sexuality Equity.