VWU Develops Custom Sustainability Course With Port of Virginia
Academic partnership helps further the Port's environmental goals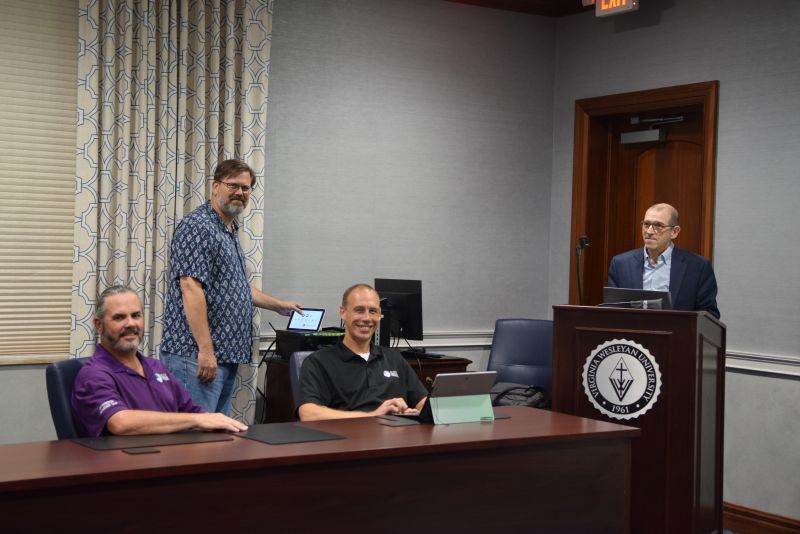 University News | October 5, 2022
Twenty-three employees of The Port of Virginia recently completed 42 hours of instruction at Virginia Wesleyan in a custom-designed course on environmental sustainability.
The Port of Virginia, a critical global supply chain enabler whose business is moving containers and cargo, strives to accomplish their goals in a sustainable, efficient way. With an environmental sustainability goal to operate with net zero carbon emissions by 2040, the Port is committed to doing their part to ensure a cleaner future and serve as an environmental steward for our planet.
With that goal in mind, Port leaders met with Larry Belcher, director of enrollment for VWU Global Campus, in early 2022 to brainstorm ways the two organizations could work together for mutual benefit. A custom-designed course was the outcome.
"The program on campus this semester is an environmental sustainability course specifically requested by and designed for the Port of Virginia," noted Belcher. "This course was developed collaboratively by professionals at the Port and professors and staff at VWU. It's being offered as a hybrid course for management personnel from many divisions of the Port."
Belcher, who works to expand Virginia Wesleyan's continuing learning opportunities for corporate partners, says that VWU Global Campus typically serves non-traditional learners through online, evening and weekend, international, early enrollment/advanced scholars, and non-credit avenues. As part of Continuing Education, corporate partnerships, including corporate leadership programs, are also becoming an important aspect of Global Campus.
VWU's previous involvement with the Port includes offering degree completion opportunities for employees and business management and business analytics courses on site. However, this is the first time a custom-designed course has been a part of the relationship.
The course was offered in six modules and taught by VWU faculty and professionals working in the field.
The first module, "Humans and the Environment," was led by VWU Professor of Biology and Environmental Science Dr. Maynard Schaus, who was a key contributor on the planning team for the course. Schaus' module examined the interaction between humans and their natural environment, focusing on topics such as preservation vs. conservation, local and global issues, ecology and ecosystems and sustainable development and environmental regulations.
"The working professionals in this course brought a wealth of first-hand knowledge and real-world applications into the learning environment," said Schaus. "Because of their valuable experiences and vast expertise, we could focus on how they can apply the new content and engage in the subject matter at higher levels."
Schaus also notes that custom designing a course like this for a corporate partner broadens the reach of Virginia Wesleyan in the community.
Schaus facilitated Module Two, "Habitat Degradation, Pollution, and Restoration," along with Hampton Roads Director of the Chesapeake Bay Foundation Christy Everett. During these sessions, participants studied topics such as coastal resilience, habitat restoration, contaminant removal, and de-carbonization of air emissions.
During Module Three, "Sustainability," course participants focused attention on sustainable procurement, the current regulatory environment, and the long-term project management and controls for sustaining environmental wellbeing.
Module Four, "Policy Analysis," provided details on the National Environmental Policy Act; Federal, State, and Local permits required by the Port, permits required for wastewater disposal, petroleum handling and other Port functions. Both of these modules were facilitated by VWU alumna Sydney Covey, sustainability solutions manager for STRUCTR Advisors.
Module Five, "Environmental Ethics," was taught by VWU Professor of Philosophy Dr. Steven Emmanuel. Course participants examined the ethical relationship between humans and the natural environment and the connection between the environment and ethics during this segment.
The final module, "Where Are We Now," was facilitated by Port leadership. This session included a presentation and discussion about how the Port plans to reach the goal to reduce carbon emissions. By incorporating the subject matter addressed during the course, participants engaged in a facilitated dialogue with Port leaders, VWU faculty and course presenters to articulate action plans for the future.
Scott Whitehurst, environmental director for The Port of Virginia, was one of the course participants.
"The Port of Virginia is proud of the growing partnership with Virginia Wesleyan University," said Whitehurst. "Our most recent course collaboration highlights the Ports' as well as VWU's sustainability efforts and continues to build on our successes."