Share this Story
VWU Honors the Legacy of Dr. Martin Luther King Jr.
Senator Aaron Rouse keynotes annual commemoration event as campus engages in service activities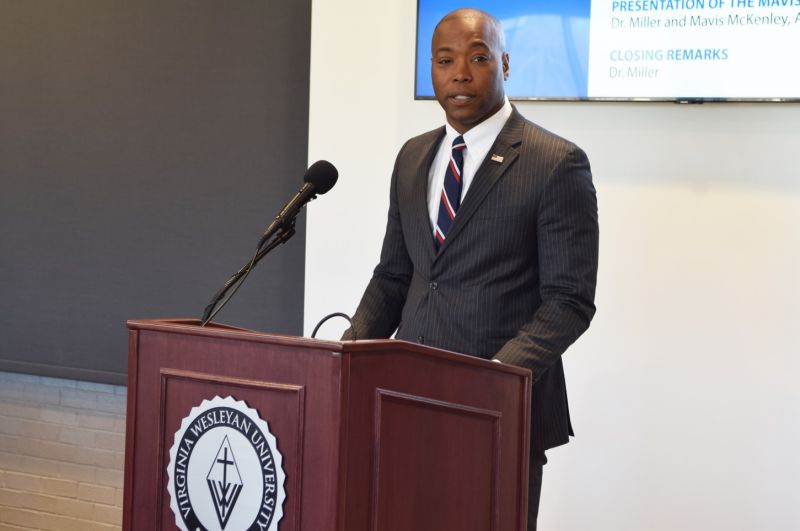 University News | January 16, 2023
Photo Gallery: Martin Luther King Jr. Day Commemoration 2023
"'Injustice anywhere is a threat to justice everywhere. We are caught in an inescapable network of mutuality, tied in a single garment of destiny. Whatever affects one directly affects all indirectly."
This famous quote by Martin Luther King Jr. from his "Letter from Birmingham Jail" was formative in Aaron Rouse's life. During his keynote speech January 16 at Virginia Wesleyan University's annual commemoration of Dr. King, the senator-elect shared that these powerful words led to his collegiate study of sociology—the development, structure, and functioning of human society.
"I needed to know how a young fatherless child who had to work at the young age of 10—my father was in and out of prison, my cousin died tragically on the basketball court, our future brother-in-law was killed horrifically at the young age of 23, and friends that I grew up with turned to drugs or became dealers, with cliques, AKA gangs, in an environment that was unforgiving for young, poor black boys—how was I able to survive? 'Why me, oh Lord?' I cried out many of nights."
Rouse would go on to earn a bachelor's degree from Virginia Tech and be drafted by the Green Bay Packers in the 2007 NFL Draft (and later play for the New York Giants and Arizona Cardinals). Following his retirement from the NFL, he returned to Virginia Beach and founded Rouse's House, a nonprofit organization supporting youth education. He served on the Virginia Beach City Council until his election this month to the Virginia General Assembly, 7th State Senate District.
"All I wanted to ever do was provide a safe place on fertile ground for everyone to be human, and recognized as such," Rouse said. "To be who they are and who they want to be. Does that make me a trailblazer? It only does if the trail I am blazing lights the way for others to follow."
He encouraged guests, primarily VWU student-athletes, to be trailblazers in their own lives.
"Pioneers, innovators, groundbreakers, and trendsetters," he urged, "go forward, blazing a new trail. Be fearless, brave and unwavering to be who you are—human, and leaders of the unforeseen world."
Following his remarks, VWU President Scott D. Miller presented Senator Rouse with the prestigious Wesley Award in recognition of his exemplary dedication to the advancement of Coastal Virginia.
The 2023 Mavis McKenley '11 Award was presented to student recipient Zion Purvis-Allen, who was celebrated for his active engagement in service activities both on and off campus.
"Through his spirit of kindess, Zion works to bridge the gap that exists in today's society by being an active participant in his community and embracing difficult conversations," said Trustee and alumna Mavis McKenley during the presentation. "He is dedicated to social change by continuing to support positive growth for the next generation of young people at Virginia Wesleyan and beyond."
President Scott D. Miller joined McKenley in presenting the award and delivered closing remarks, thanking those participating in the event.
"May we renew our commitment to social action, inclusiveness and justice each day, as Dr. King did," President Miller said. "May we honor his work with progress of our own and celebrate new voices that in their own way will inspire us to meet the challenges we continue to confront."
Members of the Virginia Wesleyan community were engaged in numerous opportunities to serve the local community during a Martin Luther King Jr. Weekend of Service from January 14 through 16.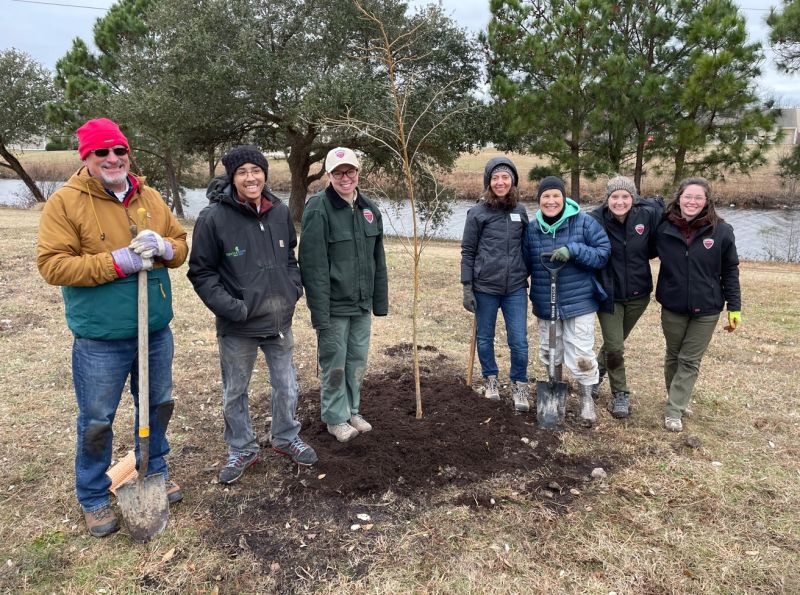 On January 14, over 50 volunteers from Virginia Wesleyan University, Samaritan House and Lynnhaven River Now came together to plant trees at "The Hallow," Samaritan House's new shelter for trafficked youth, and at the nearby Church of the Holy Apostles. The planting sites are located in an area of Virginia Beach that is susceptible to extreme heat as identified as part of the "Heat Watch" project conducted statewide by students in 2021. The study revealed urban heat islands, where there is more pavement and less green space, and made them eligible for a community tree planting project funded by the Virginia Foundation for Independent Colleges via a grant from the Virginia Department of Forestry.
VWU partnered with Operation Blessing on January 16 to pack disaster relief kits on campus to help victims of natural disasters like tornadoes, hurricanes, earthquakes, or other humanitarian crises. Additionally, student volunteers made wildflower seed bombs for Hoffler Creek, and paracord lanyards for Operation Gratitude to send to deployed troops.
Later on January 16, members of the campus community, in collaboration with Haygood UMC, followed Dr. King's example by engaging in a "Walk for Peace."
Watch Virginia Wesleyan's full Martin Luther King Jr. Commemoration Ceremony on the VWU Digital Broadcasting Network.