VWU Hosts Inaugural Event for Africana Studies Program
Visiting scholar, Dr. Ophera A. Davis, presents research from her new book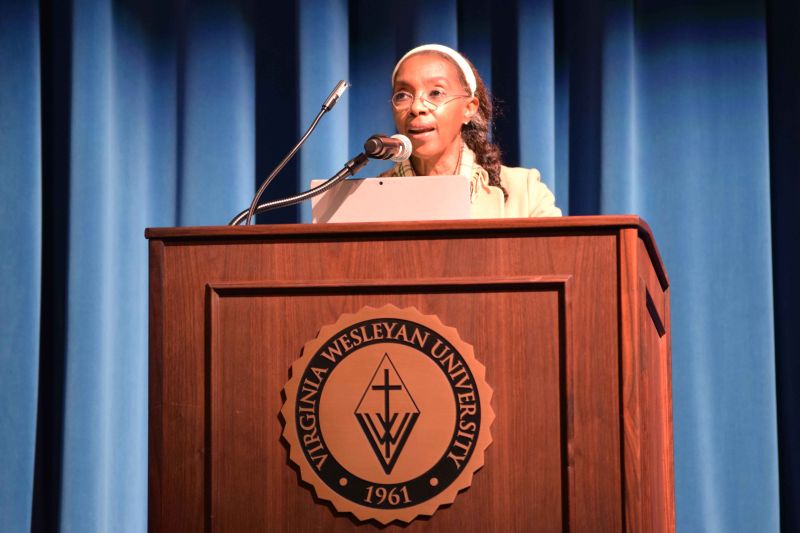 University News | February 8, 2022
The inaugural event for Virginia Wesleyan's new Africana Studies program introduced visiting scholar, Dr. Ophera A. Davis, who shared research documented in her new book, "The Overlooked Voices of Hurricane Katrina: The Resilience and Recovery of Mississippi Black Women." The event was sponsored by Virginia Wesleyan's Africana Studies Program, Office of Gender and Sexuality Equity, and the Robert Nusbaum Center.
Davis' presentation, held in the Susan S. Goode Fine and Performing Arts Center and livestreamed on VWU's Digital Broadcasting Network, brought awareness to the experiences of Hurricane Katrina survivors. Through interviews, Davis empowered the women to tell their stories and strategies of survival and recovery over the years and in their own words.
"Today and every day I do the talk, I bring their voices into the room," said Davis. "Narrative theory, the grounding of the book, enabled me to bring the women's voices to the forefront in articles, and now in the completed book, as it talks about their experiences of resilience and joy despite Katrina."
Davis is an author, independent scholar, and 20-year affiliate faculty member who has taught in African studies and psychology departments at colleges in Boston. She was a Women's Studies Fellow at Northeastern University and the first Black American Freedom Project Fellow at Wellesley.
Virginia Wesleyan first began the process to establish an Africana Studies program in 2019. The program has been designed as an interdisciplinary academic program to engage students in critical analyses of current and historical sociological, economic, political, psychological, and cultural issues concerning the African American experience, Africa, and the African Disapora—the global dispersion of peoples of African descent.
Students enrolled in the program are introduced to a wide range of historical and contemporary perspectives through an interdisciplinary approach to the coursework and research. The program, coordinated by Assistant Professor of Political Science Dr. Modupe Oshikoya, offers students the opportunity to develop an individualized program, studying Black people's religions, sociologies, cultures, cultural expressions, and history throughout the world.
View the inaugural Africana Studies event on VWU's Digital Broadcasting Network