VWU Hosts Model NATO Challenge
Hampton Roads students test their diplomacy skills during the annual mock global crisis simulation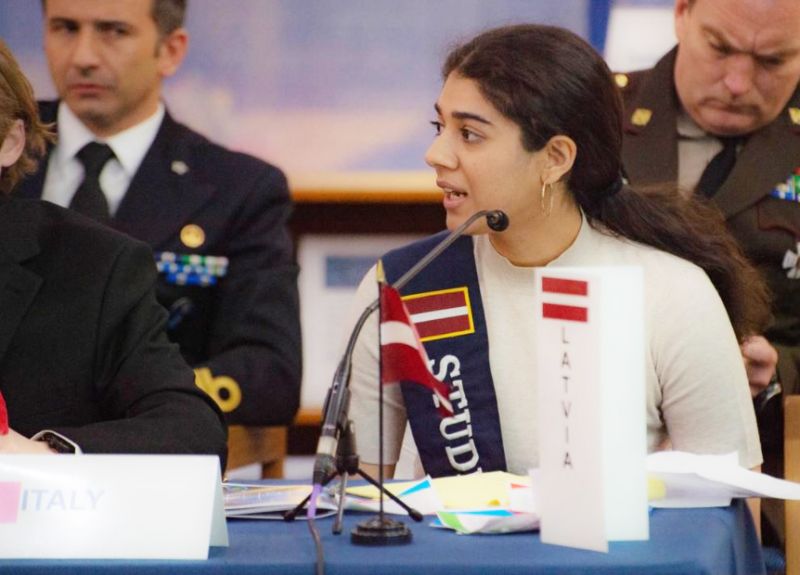 University News | March 16, 2022
Photo Gallery: Model NATO Challenge 2022
NATO's Allied Command Transformation and the Norfolk NATO Festival co-hosted the 2022 Model NATO Challenge at Virginia Wesleyan University on March 16, the first in-person Model NATO Challenge since the beginning of the COVID-19 pandemic.
The event, which transformed Hofheimer Library, is a part of the Norfolk NATO Festival. Thirty students from Hampton Roads high schools and several VWU students participated in a mock global crisis simulation where they worked together to confront and overcome possible issues facing today's 30-member NATO Alliance. VWU students Sierra Curney, Joshua Spicer and Kainaat Trehan took part in the event.
As part of the process, each student diplomat volunteered to represent a NATO Nation and was then assigned a mentor—a military servicemember currently serving with NATO's Allied Command Transformation. The mentor met with and prepared their student diplomat for the challenge through organized study sessions focused on their country's culture, military resources and political backgrounds.
The five hour-long event opened with recorded remarks from NATO Deputy Secretary General Mircea Geoana.
"Today's challenge is a great opportunity to learn about the culture, interests, political and military motivations of allied nations. I ask you to practice the art of diplomacy and compromise," said Geoana. "You are the future leaders of your communities, your countries and of our society. We depend on you to understand and practice the precious values that unite us."
During the challenge, student diplomats worked together to address a mock crisis scenario while being judged on their leadership and diplomacy skills. For Deputy Supreme Allied Commander Transformation General Paolo Ruggiero, who addressed the students, this is key for the success of not only the alliance, but in life.
"This experience will teach you a significant lesson in everyday life," said Ruggiero, "the importance of listening, understanding and considering each other's point of view for a higher and nobler purpose. You may be future business men or women, academic researchers, diplomats or political leaders shaping foreign policy."
The top three winners from the challenge, which will be announced at a later date, will earn college scholarships. The Model NATO Challenge, organized by The Virginia Arts Festival and Allied Command Transformation, serves as a bridge between the local community, academia, military organizations and the NATO Alliance.
As one of NATO's two strategic commands, Headquarters Supreme Allied Commander Transformation has been located in the United States since its inception in 2003. As the warfare development command for NATO, Allied Command Transformation's mission is to contribute to preserving the peace, security and territorial integrity of Alliance member states by leading the transformation efforts of military structures, forces, capabilities and doctrines.
Virginia Wesleyan's involvement in the Model NATO Challenge stems from the University's formal agreement with NATO-ACT, officially signed in 2013, which offers up to 25 International Student Grants to dependents of NATO-ACT employees stationed in Norfolk. In return, NATO-ACT offers their staff's expertise to the VWU community in the form of guest lectures, internship opportunities, experiences with NATO's Innovation Hub, and NATO simulation opportunities like the Model NATO Challenge.
Adapted from an article released by NATO-ACT.