VWU Pays Tribute to Veterans
Gunnery Sergeant Cory Franklin, a VWU alumnus, served as the featured speaker in a special ceremony

University News | November 11, 2022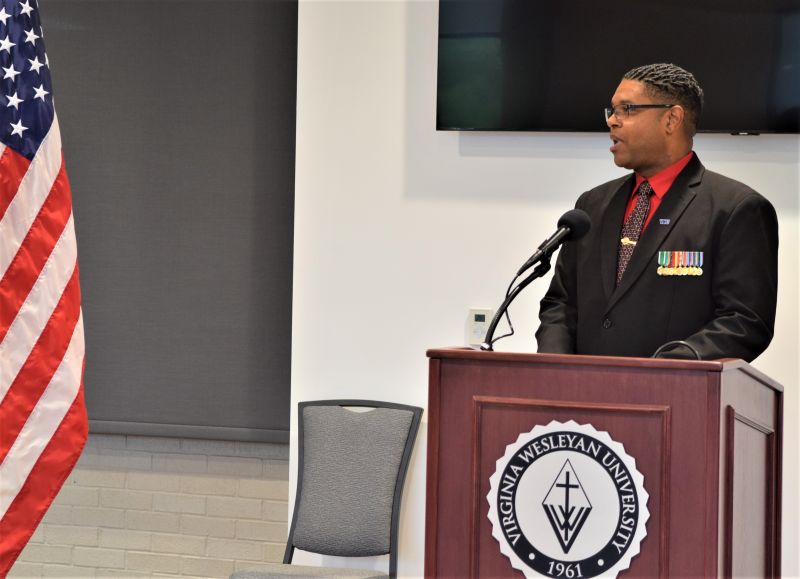 Photo Gallery: 2022 Veterans Day Ceremony
Virginia Wesleyan's Veterans Day Ceremony opened in the Joan P. Brock Room with the entrance of the VWU and ODU Army ROTC Color Guard under the direction of Master Sergeant Thomas Struna, Military Science Instructor at ODU and Virginia Wesleyan.
Enrollment counselor Lars Neel '21 sang "The Star Spangled Banner," and the invocation was delivered by VWU student and veteran Pamela Rogers (U.S. Army 1991-2013).
President Scott D. Miller welcomed the attendees and introduced the featured speaker.
"We at Virginia Wesleyan are exceptionally proud of our Marlin veterans," said Dr. Miller. "They are a vital component of our community made up of current students, faculty, staff, and hundreds of alumni. You have gone above and beyond your citizens' duty by volunteering your lives and answering when your country has called."
Veteran and Virginia Wesleyan alumnus Gunnery Sergeant Cory Franklin '20, U.S. Marine Corps, retired, addressed the audience as the featured speaker for the event. He talked about his experiences as a Marine and a veteran transitioning from military to civilian life.
"Twenty-six years ago, I stepped on the yellow footprints at Perris Island, SC, as a recruit," he said, "and it took years to transition through the ranks to retire as a Gunnery Sergeant. I spent 20 years learning a new culture, but during retirement I only got two weeks to learn about the transition to civilian life."
He credited his years at Virginia Wesleyan with helping him to make that transition.
"I believe that the arts at Virginia Wesleyan helped me to decompress; they supported my transition from military life," said Franklin. "The musical arts allowed me to express something I could not communicate with words and performing in the pep and jazz bands allowed me to be a part of a team again."
Gunnery Sergeant Franklin received his Bachelor of Arts in Music from VWU and his Master of Music Education from Old Dominion University. He has 20 years of tactical telecommunications experience in management, integration, network system repair, and operations in the Marine Corps. He engineered, analyzed, and optimized long-haul telecommunication networks, converging secure and non-secure voice, data, and video networks, leading co-workers to accomplish tasks with deadlines and limited resources.
He is known to many on campus as "Cory," an adjunct instructor and lover of music. While at VWU, he served as a senator in the Student Government Association, performed in the pep and jazz Bands, and acted in VWU theatre productions.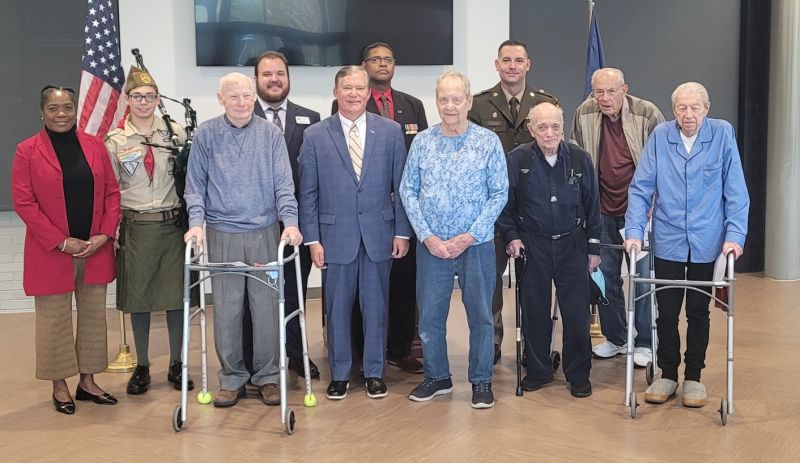 "As a student, Cory was an energizing force in the music department," noted Dr. Miller. "He was full of new and exciting ideas and always interested in helping serve the University and the program. His passion for service has continued as he conducts our band and jazz ensembles as an adjunct instructor, breathing new ideas and excitement into the program. When we consider that the United States was engaged in combat in the Middle East during nearly all of the 20 years that Cory served in the Marine Corps, we can only begin to realize the debt of gratitude we owe to him and his fellow Marines."
"I'm proud of all the experiences I have had a VWU," said Franklin. "These experiences allowed me to develop into a civilian through the art of music and they prepared me to go even further in my education and my career."
Special guests at VWU's Veterans Day celebration included veterans from The Gardens of Virginia Beach, a senior living community near campus.
To close the program, Luke Dobrin, Boy Scout Troop 259 of Chesapeake, Virginia, played "Taps" on bagpipes to honor those we have lost. Henry Handley '23, offered a prayer of Thanksgiving, and Lars Neel sang "Amazing Grace."
Learn more about the Army ROTC program and Veterans Support Services at Virginia Wesleyan University.