Share this Story
VWU Recognized by Elizabeth River Project
The University has achieved Sustained Distinguished Performance at the Model Level as a River Star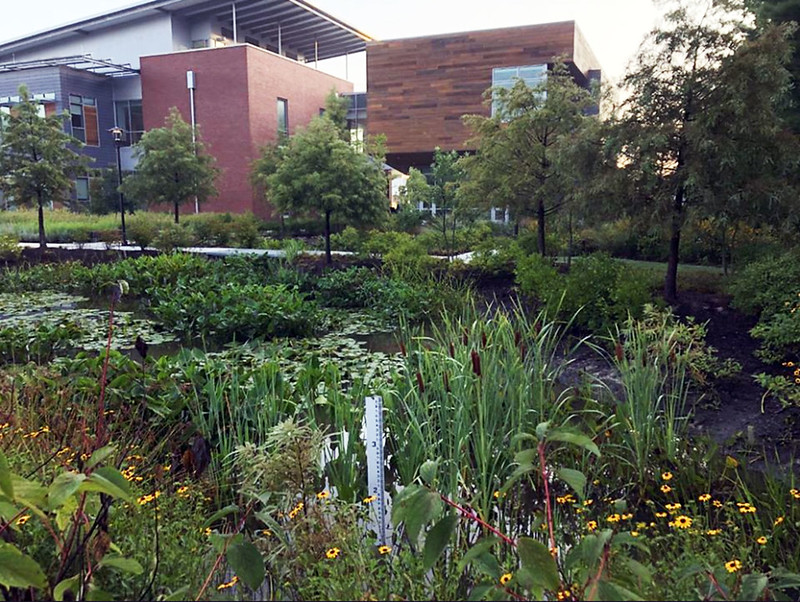 University News | December 6, 2022
Virginia Wesleyan University has received recognition from the Elizabeth River Project for "Sustained Distinguished Performance at Model Level." Sustained Distinguished Performance represents completion of significant new initiatives by a River Star Business. The Elizabeth River Project and Inside Business, the project's media partner, have initiated a special award to be presented at their annual luncheon in January. Virginia Wesleyan University was chosen as the Inside Business River Star Hall of Fame winner and will be inducted into the Inside Business Hall of Fame for River Stars in the new year.
"It is so appropriate that VWU is recognized as a leader on this topic," said President Scott D. Miller. "Our commitment goes beyond our beautiful 300-acre park-like campus in Virginia Beach. We are distinctively unique in two very important ways: the mission and vision of our honors college and the investment of our full endowment in an environmentally friendly way."
In 2021, Virginia Wesleyan received a series of private gifts increasing its endowment to $123.5 million. Of those funds, $80.2 million are designated for the endowment of the Batten Honors College, a highly selective residential program of the University with a focus on environmental stewardship, global engagement, and leadership. The entire endowment for the Batten Honors College and the University has been invested following environmental, social, and governance criteria with Brown Advisory of Baltimore, Maryland.
Sustainability efforts at Virginia Wesleyan reflect a larger commitment to ethical conduct and social responsibility through environmental stewardship and education. In 2020, the Board of Trustees adopted Environmental Guiding Principles to be embedded in the permanent institutional mindset for future planning.
Virginia Wesleyan's wildlife habitat enhancement efforts include the teaching gardens surrounding the Greer Environmental Sciences Center with more than two acres of vegetated open space and 23,787 native plants, including a pollinator garden and three wetland gardens. Marlin Meadows, a 3,950 square foot, student-initiated rain and pollinator garden funded by the Earth & Environmental Sciences Endowed grant, was created by VWU's Marlins Go Green student club with support from Norfolk Botanical Gardens and Elizabeth River Project staff. Marlins Go Green challenges students to become engaged in environmental sustainability on campus and in the community. This student club raises awareness of sustainability through education, activism, and volunteer opportunities. They host campus clean-ups, invasive species removal events, environmental documentaries, used clothing drives, and Earth week activities.
VWU oceanography students, in partnership with the City of Norfolk, Norfolk Master Gardeners and the Elizabeth River Project have planted wetland plants and grasses over 11,800 square feet of shoreline at Poplar Hall Park. Students in the Batten Honors College partnered with ERP, the City of Chesapeake and the Living River Trust to plant 55 trees and shrubs over 7,500 square feet at the new park, as part of a pilot demonstration for FEMA purchased property transformed into green space to allow for sea level rise.
In addition, the University participated in a statewide urban heat island research project organized by the Virginia Foundation for Independent Colleges. Professor of Ocean and Atmospheric Sciences and Director of Sustainability Dr. Elizabeth Malcolm and her research students organized the citizen science measurement campaign which involved more than 20 volunteers driving with heat sensors on a hot day in August 2021 to create an urban heat island map for the city to determine what neighborhoods are most at risk from extreme heat. The research group is currently working with Lynnhaven River Now and the Virginia Department of Forestry to plan a tree planting project informed by the heat maps.
VWU Professor of Biology and Environmental Science and Coordinator of Sustainability Management Dr. Maynard Schaus received a grant from the Second Nature Acceleration fund to financially support student internships with the Elizabeth River Project that support environmental justice and climate equity in local neighborhoods. The student interns work on projects including shoreline and oyster reef restoration in an urban watershed and community environmental education.
VWU's pollution prevention efforts include joining the American College & University Presidents' Climate Commitment with a pledge to be carbon neutral by 2040. VWU reduced greenhouse gas emissions from 2008 to 2018 by 56.8%. In 2017, VWU constructed the 44,000-square-foot state-of-the-art Greer Environmental Sciences Center, which is LEED Gold certified for solar, green roof, cool roof, geothermal, LED, extra insulation, and low-flow fixtures. President Miller's, new home on campus, Deford Manor, is designated as a River Star Home.
The University will be formally recognized for these accomplishments at the Annual River Star Businesses Recognition Luncheon scheduled for January 19 at Founders Inn in Virginia Beach.
Learn more about VWU's Sustainability Efforts.