VWU Sophomore Honored as Newman Civic Fellow
Henry Handley recognized for commitment to solving public problems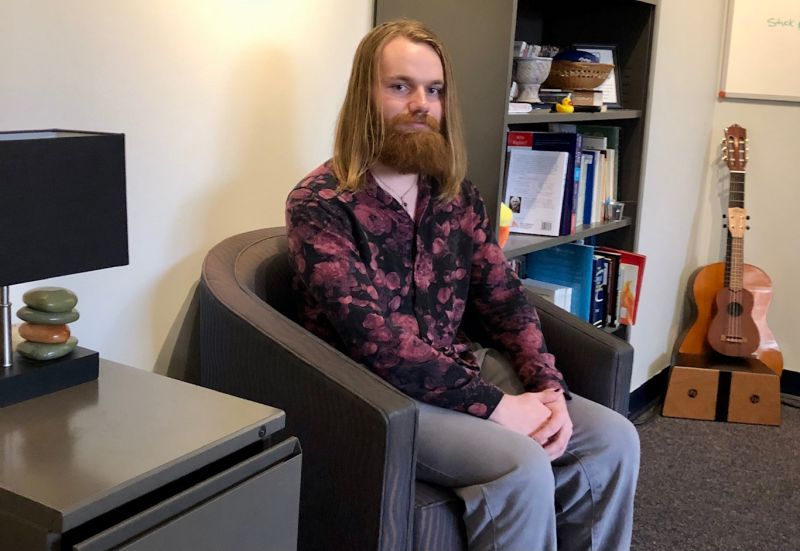 University News | March 10, 2022
Campus Compact, a national coalition of colleges and universities working to advance the public purposes of higher education, has named 173 student civic leaders who will make up the organization's 2022-2023 cohort of Newman Civic Fellows. Virginia Wesleyan sophomore Henry Handley '24 will join students from 38 states, Washington, D.C., and Mexico to form this year's cohort.
The Newman Civic Fellowship recognizes students who stand out for their commitment to creating positive change in communities locally and around the world. The fellowship is named for the late Frank Newman, one of Campus Compact's founders, who was a tireless advocate for civic engagement in higher education. In the spirit of Dr. Newman's leadership, fellows are nominated by Campus Compact member presidents and chancellors, who are invited to select one outstanding student from their campus each year.
"Henry exemplifies the qualities of a successful student," said VWU President Scott D. Miller. "He is high-achieving academically, engaged in the community, and he brings maturity and perspective to his many pursuits. Just like Frank Newman, Henry puts himself at the 'service of others' and regards 'each person as a unique individual.' He truly exemplifies what a Newman Civic Fellow should be."
Handley, a psychology major, is a member of the Batten Honors College of VWU. Since arriving on campus, he has been extremely active with Marlin Ministries, helping to lead a middle school youth group at Haygood United Methodist Church. He is the president of the campus chapter of the National Alliance on Mental Illness, the drummer for the Marlin Ministries worship band, and the current chaplain of the Iota-Beta Chapter of Sigma Nu Fraternity.
"The social cause that drives me is special needs advocacy," says Handley. "From volunteering at summer camps for special needs children and working as a special education para educator in my hometown teaching summer school, to working as a caretaker for a young man with special needs, working with people with special needs has always been a burning passion of mine."
Through the fellowship, Campus Compact will provide Handley and the students in the 2022-2023 cohort with a year of learning and networking opportunities that emphasizes personal, professional, and civic growth. Each year, fellows participate in numerous virtual training and networking opportunities to help provide them with the skills and connections they need to create large-scale positive change. The cornerstone of the fellowship is the Annual Convening of Fellows, which offers intensive skill-building and networking over the course of two days. The fellowship also provides fellows with pathways to apply for exclusive scholarship and post-graduate opportunities.
"Henry is an individual who is truly making a difference in our world and in the lives of others," noted President Miller. "Overall, Henry has completed more than 100 hours of community engagement this academic year alone by volunteering at such events as campus clean-ups, local church block parties, and with the Hoffler Creek Wildlife Preserve. He also volunteers as a coach with Jacob's Chance, an organization that provides athletic opportunities for individuals with special needs."
Handley is currently conducting research into ways to incorporate occupational therapy concepts into the various youth organizations where he serves as a volunteer. His plans for the future include earning a doctorate degree in occupational therapy after graduation from Virginia Wesleyan.
"We are proud to name such an outstanding and diverse group of students Newman Civic Fellows," said Campus Compact President Bobbie Laur. "Their passion and resolve to take action on the wide range of issues challenging our neighborhoods and communities is inspiring and deeply needed. We cannot wait to engage with them through this transformative experience."
The Newman Civic Fellowship program is supported by the KPMG Foundation. Read more about the Campus Compact 2022-2023 Newman Civic Fellows.