Virginia Wesleyan, Thomas Nelson Sign Fair Transfer Agreement
Thomas Nelson Community College graduates can now enter Virginia Wesleyan with junior-class status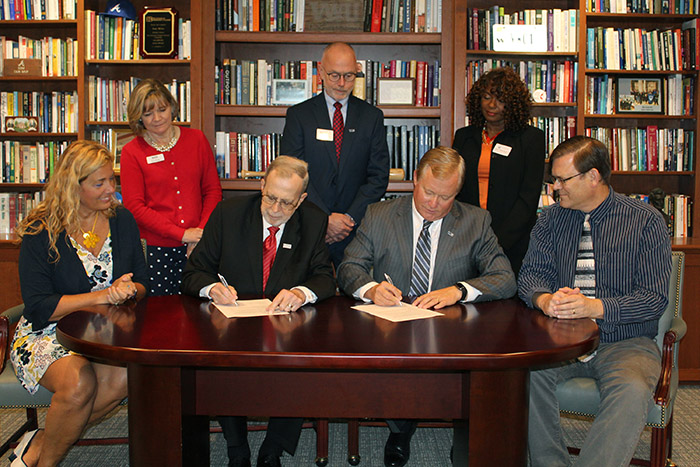 University News | October 10, 2019
In a signing ceremony held at Virginia Wesleyan on October 9, VWU President Scott D. Miller and Thomas Nelson Community College President John T. Dever formalized a new Fair Transfer Guarantee agreement between the institutions.

Thomas Nelson graduates with an associate of arts or science can now enter Virginia Wesleyan with junior-class status. All lower-level general education requirements, including foreign language, will be deemed complete, allowing students to focus on courses for their major and upper-level elective credits necessary for their bachelor's degree.
"There can be frustrations that come with transferring to a four-year institution," said Dr. Miller, "loss of credits can add years to the pursuit of a degree, which in turn can rack up student loan debt. With the Fair Transfer Guarantee, students have the opportunity to come to Virginia Wesleyan on even footing with students who started here as freshmen."

To make students' transition to VWU even more seamless, Thomas Nelson students can participate in the Marlin Fast Pass concurrent enrollment program. Students who declare their intent to transfer to VWU will be assigned a VWU academic advisor and issued a VWU student ID. They will have full access to the VWU campus—including use of the library and fitness center, and free admission to athletic and cultural events—before they even become students at VWU. And, students who have attained a 3.0 GPA at the completion of their freshman year at Thomas Nelson will be eligible to concurrently enroll in two 300-level VWU courses during their sophomore year.
Virginia Wesleyan offers private school quality with public school affordability. With an average institutional award of just under $20,000 and a total average financial aid package of approximately $33,000, the University's generous grant and merit award programs—along with federal and state aid—mean that students don't have to compromise.