Share this Story
VWU to Host Collision on the Coast Esports Tournament
The in-person LAN tournament for collegiate Rocket League is scheduled for February 25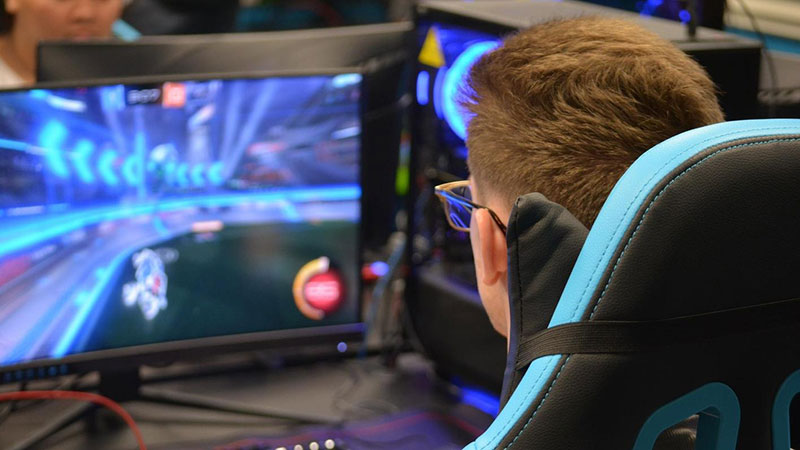 University News | February 15, 2023
Virginia Wesleyan University will host its first in-person local area network (LAN) tournament for collegiate Rocket League esports programs on February 25 in TowneBank Arena in the Jane P. Batten Student Center. The event, "Collision on the Coast," is scheduled to begin at 9 a.m. with a double elimination-style tournament bracket. Top prizes range from $1,000 for first place to $400 for fourth place.
Colleges from all around the country have been invited to register for the tournament where participants will compete using VWU's state-of-the-art esports arena. Equipped with 17 high-end gaming PCs featuring ASUS Prime Z390-P motherboards, Intel 9th Gen i7 processors, 16GB ADATA Gammix RAM, MSI GeForce RTX 2070 Armor GPUs, and MSI Optix 24-inch gaming monitors, the Marlin Esports Arena is home to Virginia Wesleyan's growing roster of esports competitors.
Esports is a fast growing global sport and billion-dollar industry that continues to expand on college campuses across the country. Leagues and teams face off in competitive, organized video gaming as fans watch from all over the world.
The Virginia Wesleyan Esports program, which first pressed play in 2019, has grown to a roster of 37 competitors—25 of whom are first-year students. The players compete in collegiate matches against colleges and universities such as Clemson, Yale, and M.I.T. In addition to Rocket League, VWU's lineup also includes Fortnite, League of Legends, and Overwatch. The VWU program is sponsored by Endurance IT Services of Virginia Beach.
Admission for the event is free!
Virginia Wesleyan is a member of the National Association of Collegiate Esports (NACE).