Share this Story
VWU Women's Soccer Advances to NCAA Final Four
The Marlins defeated No. 3 CNU in NCAA quarterfinals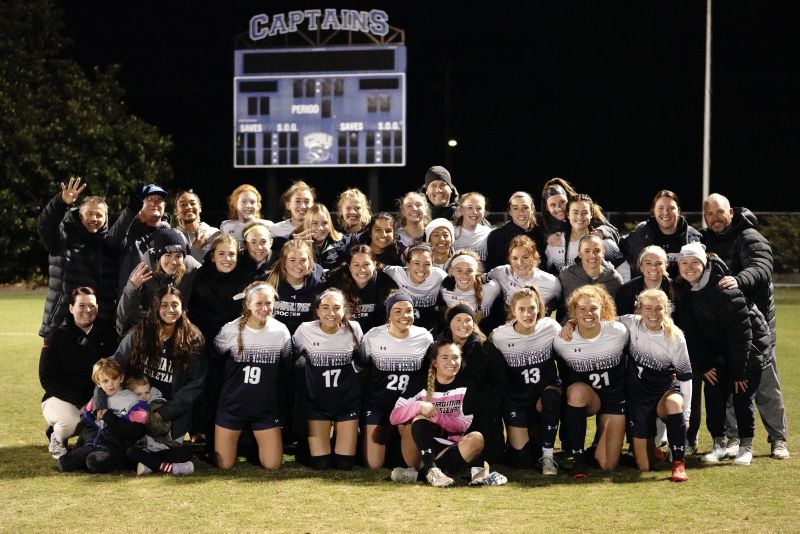 vwuathletics.com | November 21, 2022
The Virginia Wesleyan University women's soccer team knocked off the No. 3 Captains of Christopher Newport University 4-3 in penalty kicks in the NCAA Quarterfinals on November 20 to advance to the Final Four of the 2022 NCAA Division III Women's Soccer Championship.

GAME INFORMATION
Score: Virginia Wesleyan 0 - No. 3 Christopher Newport 0 - VWU wins 4-3 in penalty kicks
Records: Virginia Wesleyan 18-2-4 | No. 3 Christopher Newport 19-0-2
Location: CNU Soccer Stadium | Newport News, Va.

HOW IT HAPPENED
The Captains (19-0-2) controlled the pace of the opening half of action as the CNU offense managed to get six shots off in the first 45 minutes while holding VWU to just one. Marlin keeper Rachel Quigley made two stops in the first half to keep the reigning national champions off the scoreboard as the teams headed into halftime scoreless. Virginia Wesleyan's defense held strong in the second half not breaking as they fended off 14 Christopher Newport shots while taking four of their own, but to no avail, as neither team managed to hit the back of the net for a game-winning goal.

CNU continued to press the VWU defense through 20 minutes of extra time as the Captains took six shots at the Marlin goal, but again, Virginia Wesleyan held Christopher Newport scoreless to force penalty kicks to decide the advancing team.

The teams squared off one-on-one with the opposing goalies, with the first three attempts from each team finding the back of the net. Rachel Quigley took her place in the goal to face CNU's Nyah Savage and managed to make the stop. Tori Green came up for her shot for the Marlins and snuck the ball past the Captains keeper to give VWU a 4-3 advantage in the shootout. Quigley came up again taking her place in the cage and stopped a shot from CNU's Sarah Smith to send Virginia Wesleyan to the NCAA Final Four with a 4-3 penalty kick, overtime victory.

Virginia Wesleyan punched its ticket to the "Final Four" for the first time since 2006 and the second time in program history. The Marlins victory knocks out the reigning national champions in the Captains (19-0-2) and hands CNU their second draw of the season.

The Captains outshot the Marlins 26 to six including a 12-to-three advantage in shots on goal. VWU keeper Rachel Quigley made 12 saves throughout the game and two huge stops in the penalty kick shootout.

UP NEXT
Virginia Wesleyan returns to the pitch on Friday, December 2, when they face Case Western Reserve University in Salem, VA, for the semifinal round of the NCAA Division III Women's Soccer Championship Tournament. Kick-off is set for 4 p.m.