Wesleyan Choirs to Premiere "Armistice Sonnets"
Nov. 9 performance will honor the 100-year anniversary of the end of World War I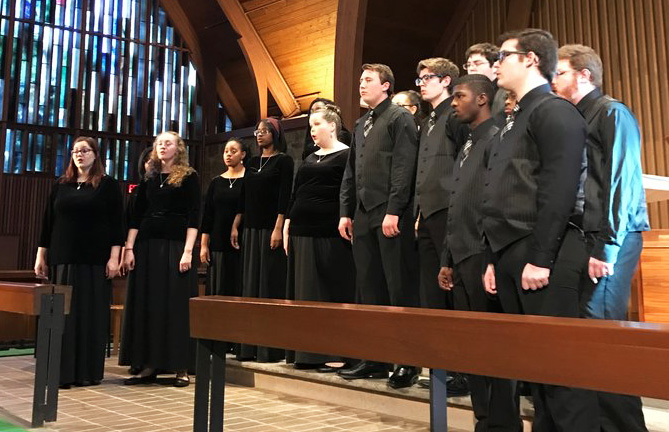 University News | November 6, 2018
The Virginia Wesleyan Choirs, Vox Vera and Camerata, will present the Virginia premiere of "Armistice Sonnets," a new work by Andrew Maxfield that honors of the 100-year anniversary of the end of the First World War.
Led by VWU Director of Choral Music Bryson Mortensen, the concert will take place Friday, November 9, at 7:30 p.m. in Hofheimer Theater and will include a variety of songs and texts that reflect on the effects and power of war.
"By looking backward we are better able to understand our present situation," says Mortensen. "This concert in particular gives us a great chance to look at history through the lens of music, by singing songs that relate to the pain of war throughout the centuries, including songs of protest from the last few decades."
"Armistice Sonnets," was commissioned by the Barlow Endowment for Music Composition at Brigham Young University, and composer Andrew Maxfield invited the VWU Choirs to premiere the piece in Virginia.
"What is peace, really?" Maxfield asks in his program notes. "Is it only the 'sudden silence after clamour' because, for the moment, all the shooters have been shot? Or is it substantive in itself, something purposefully constructed and renewed by the practice of love? Is it attainable in a community? Between nations?"
The VWU premiere, titled "Peace: 100 Years Since the WWI Armistice," will also feature popular and classical works composed through the years to protest war and violence. Selections will include Leonard Cohen's "Hallelujah," John Lennon's "Imagine," as well as traditional works such as "Johnny Has Gone for a Soldier" and "Danny Boy."
The concert is free (donations will be accepted) and open to the public. Reservations are encouraged and can be made at vwuperformances.ludus.com or by emailing Director of Choral Music Bryson Mortensen at bmortensen@vwu.edu.
Peace: 100 Years Since the WWI Armistice
featuring the Virginia premiere of Andrew Maxfield's "Armistice Sonnets"
Friday, November 9
7:30 p.m.
Hofheimer Theater
Reservations

Read more about The Arts at Virginia Wesleyan