Virginia Wesleyan Honors Legacy of Martin Luther King Jr.
VWU commemorates Dr. King's life with campus discussions and community engagement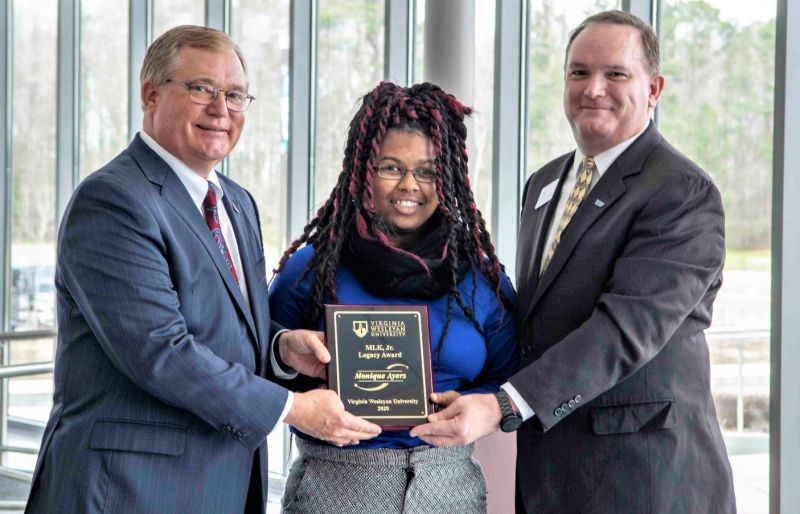 University News | January 20, 2020
Today our nation honors the legacy of Dr. Martin Luther King, Jr.— one of integrity, service, leadership, and unity, along with an inspiring commitment to social justice. Virginia Wesleyan University, too, celebrates Dr. King's life with a campus commemoration ceremony, a community engagement project, and a student-led discussion.
"Our nation is experiencing an extraordinary time of division, anger, and frustration," said VWU President Scott D. Miller during the morning commemoration. "Yet it is instructive to remember that we have been here before...We can take comfort in our time that while the fight for social justice is far from over, [Dr. King's] example continues to inspire us, teach us, and motivate us."
The ceremony took place in the Watts Gallery of the Goode Fine and Performing Arts Center, featuring remarks from the president along with a presentation of Dr. King's "I Have a Dream" speech. Dr. Miller and Dr. Brian Kurisky, Director of Civic Leadership and Service Learning and Chief Diversity Officer, also awarded Virginia Wesleyan's first Martin Luther King, Jr., Legacy Award to VWU senior Monique Ayers. Dr. Maynard Schaus, Vice President for Academic Affairs, shared information about a forthcoming Africana Studies program, which is currently in development and expected to be offered as both a major and minor at the University.
The Virginia Wesleyan community will also participate in the annual Martin Luther King Jr. Day of Service. Wesleyan Engaged, in conjunction with the neighboring L&J Community Gardens, is holding a community clean-up event and will assist area residents with projects around their homes and yards.
This evening, the Black Student Union and Marlin Ministries will screen parts of Dr. King's last speech, "I've Been to the Mountaintop," in Boyd Dining Center. A student-led discussion will follow, focusing on the ways in which the speech speaks to society today.
"May we renew each day, as Dr. King did, our commitment to social action, inclusiveness, and justice," Dr. Miller concluded at the morning event. "May we honor [Dr. King's] work with progress of our own, and celebrate new voices that in their own way will inspire us to meet the challenges we continue to confront."