Share this Story
What it Means to Be a Marlin
Scene II Orientation welcomes Class of 2018 to VWC community

By Stephanie Smaglo | August 25, 2014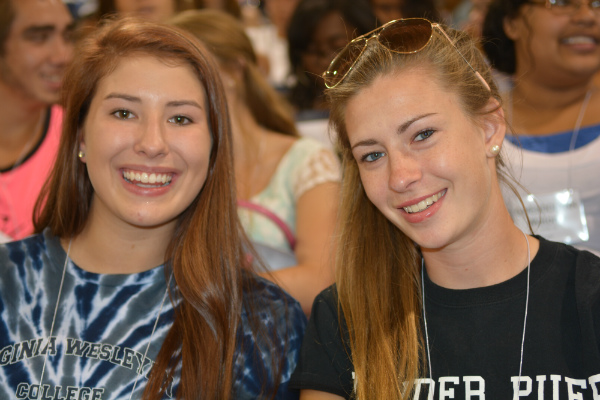 A shiny fleet of golf carts sat eagerly on Rose Lawn outside the Village I residence halls August 20, lined up in ready-position waiting to welcome—and carry the belongings of—Virginia Wesleyan College's Class of 2018. Nearly 410 freshmen arrived on campus that morning for Scene II Orientation, marking the beginning of their journey as college students and their lives as Marlins.
Following move-in, registration and farewells to family, incoming students gathered in the Convocation Hall inside the Jane P. Batten Student Center for their very first Marlin Assembly. There they were welcomed by VWC President Billy Greer, Vice President for Student Affairs and Dean of Enrollment Services David Buckingham and Student Government Association (SGA) President Imani West '15.
"You are not the average college student," West told her fellow students. "You are much greater than that. You are officially a Marlin. Travel fast and use your sharp snout—or in our case, minds—to charge forward through life."
And charge forward, they will. The Class of 2018 is a strong, diverse group, representing 21 states and including multiple valedictorians, salutatorians, Eagle Scouts and Girl Scout Gold Award winners. A large percentage of the students have also participated in some form of community service.
As part of orientation, students began discussing VWC's 2014 summer read, Persepolis, an autobiographical graphic novel by Marjane Satrapi depicting her upbringing in Iran during and after the Islamic revolution. Students were required to read the book as part of "First Year Experience (FYE 101)," a one-credit course designed to engage new students in activities and exercises that explore the nature of liberal arts while connecting them to the campus community. The book was chosen by a 10-member committee consisting of faculty members, the library director and two SGA representatives.
"We chose Persepolis because it is an engaging book that many freshmen would find interesting due to its graphic format and point of view," says Director of First Year Experience Denise Wilkinson. "Also, it could be discussed through the perspective of many disciplines, which is important in helping students to better understand the liberal arts."
Discussion of the summer read is just one of the many activities that took place during the three-day orientation. Students also attended the annual Freshman Festival, Marlin Family Game Night and Freshman Honor Convocation, among other events. Each activity is carefully planned to help students acclimate to their new lives at Virginia Wesleyan, demonstrating the College's profound sense of community and support.
"You are given four years to explore who you are, where you are going in life and what you want to do," SGA President Imani West concluded at Wednesday's assembly. "All of us Marlins welcome you with open arms and are here to stand by you through this transition, because that's what it means to be a Marlin."
The VWC community is excited to welcome the Class of 2018 to campus this fall. For additional information, please visit our Freshman FAQ page or call 757.455.3208 or 800.737.8684.