From Starry Virginia Skies to Glitzy Broadway Lights: Nicholas Hipple '18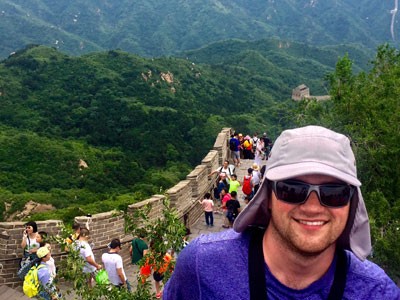 When Nicholas Hipple entered VWU as a first-year student in the fall of 2014, he understood and appreciated the importance of experiential learning and planned to experience as much as possible. "I knew that participating in study away trips, research, and internships would create valuable life and career experiences for me."
Those experiences included faculty-led study away courses to New York City, the United Kingdom, and China, four internships beginning in the summer after his first year, and undergraduate research projects, both in the United States and abroad.
Hipple parlayed his interests in Theatre and Business into a double major at VWU and a graduate degree in accounting (M. Acc., Master of Accountancy) from Virginia Tech. He is currently serving as a Partnerships Director for Theatre Unmasked (a virtual theatre organization that explores important contemporary stories and facilitates conversation around unique and marginalized voices in the theatre) and is a Broadway Theatrical Operations Associate for Nederlander Producing Company, both in New York City.
He has a message for current and prospective students: "Whatever the cost in time, money, or other extracurriculars, do THE THING. The wealth of experience and confidence that research, travel, and internships can give you will be extremely impactful in your future work, even if you're working in a totally different area."
An interview with Nicholas Hipple
Were experiential learning opportunities important to you as you became a student at VWU?
Yes. I grew up in an academically-minded family and wanted to continue that tradition of finding a niche, digging in, and contributing to the field. For my siblings, their niches were in science. Mine (I found) was at the crossroads of theatre and business. My family was immediately supportive of both my business and theatre research, study abroad activities, and internships. From the beginning of my college career (and before, of course), they encouraged me to explore and find what I was interested in doing. Their support is the whole reason I accepted internships in 3 different states over my time at Virginia Wesleyan.
In each of the experiences you completed, what were the most important takeaways?
From the summer after my freshman year through the spring semester of my senior year, I worked to intern four separate times in different states and in different areas to build my experience first-hand. My first internship – in marketing and sales at a small nail-polish manufacturer in rural New Jersey – taught me many of the basics of how an office functions, how to take an assigned project, develop it on my own, and then present it to my supervisors. This was similar to a project I'd seen in class, but had direct, real-world applications. Years later, the company is still using a rewards system that I implemented that summer! My last internship – on Broadway, no less – led to my current full-time employment on the same team at the same company!

Similarly, my research projects began as unfocused, general-business research and gradually morphed into the most specific of all of my research. I was able to participate in a 3-week intensive research project in Central China with a team of students and faculty from Virginia Wesleyan. This was to be my first trip outside of the country…ever (more on that in a minute). As a sophomore, I was the youngest on the trip and the only business major. I realized quickly that I had to speak up in our planning meetings to include research questions in my interest area and felt that we were able to work well as a team in a foreign country – even though only 2 out of 9 team members could speak Mandarin.
My study away experiences were also extremely formative. The first trip I took was with Dr. Malone to New York (I had never been!), which was quickly followed by a trip to the UK with Drs. Lindvall and Wansink and the China research project with Drs. Emmanuel and Wang. On each trip, I learned to navigate (sometimes by making critical errors) in a new place and developed a much-needed sense of self-confidence.
Can you share a memorable moment?
There are so many memorable moments that it's hard to choose just one! Whether it was meeting James Earl Jones on a Broadway stage or exploring Stratford Upon Avon and seeing Shakespeare's grave, the faculty on my study away trips made every effort to make them memorable. On our UK trip, Dr. Lindvall negotiated the stop in Stratford even though it wasn't planned! On that same trip, I misread the bus schedule and ended up missing a public bus out of Oxford and back to our hotel along with two other students and the Chaplain. That was a long midnight walk back to our beds!

In China, our team dove into the culture as much as possible. Our dinner with members of the provincial government was memorable for the prestige associated with it, but I especially recall an afternoon exploring one of the temples we were researching when I found myself in a secluded area of the temple that had no tourists or worshippers and had fallen into disrepair. It was silent, beautiful, and surreal.

In my last internship, I was struck by the access I was afforded as an intern. Prior to my working on Broadway (thanks to a connection from another wonderful professor, Prof. Jackson in Business), the idea of stepping onto a Broadway stage ever seemed like an almost impossible thing. As an intern, I was on stage and backstage 20 hours a week. Now, as a full-time employee, I'm on those same stages daily. It still amazes me.
What is something you learned about yourself through one/all of the experiences?
I learned to be focused on my goals and vocal about attaining them. As a freshman, I was much more hesitant to speak up, to ask questions, etc. Thanks to these experiential learning trips, projects, and internships, I developed a confidence that allows me to be vocal and ask the questions I need to ask, and decisively make decisions in my professional life.
How did your participation in any of these experiences contribute to your professional success?
I have been able to parlay experiences in public accounting internships into continued employment and growth in industry accounting and management, used my study away experiences to connect with fellow travelers and employees, and used my presentation and acting experience from undergraduate research to bolster my confidence in presenting trainings before employees with decades more experience than I have on Broadway! As some of my most formative experiences, my research, study abroad and internships clearly benefited me as I was looking for a career; I cannot recommend these types of experiential learning highly enough!