Study Away Course Grants
Application Deadlines
Fall Semester 2018: June 1, 2018
Winter Session 2019: September 17, 2018
Spring Semester 2019: November 15, 2018
Summer Session 2019: See SHIPP
Information and applications are available on The Lighthouse's Portal Page.
Through The Lighthouse, Virginia Wesleyan University offers a competitive grant program to students to enroll in study away courses. The grants range from $250 to $1,500. The awards are available only to students who enroll in courses; awardees may not audit courses.
Applicants meet the following qualifications:
Enrolled at Virginia Wesleyan University during the 2017-18 academic year
Minimum GPA of 2.7
Have no outstanding incompletes
Have no Honor Code violations
Have no serious conduct violations
Provide documentation of financial need
Awards are granted based on:
Financial need
Academic performance
Quality of the Pathway to See Change Essay
Priority is given to students who are enrolled in 4-credit courses and have not previously received a Lighthouse study away grant
---
History 262 students at the Brandenburg Gate in Berlin, Germany, 5 January 2018.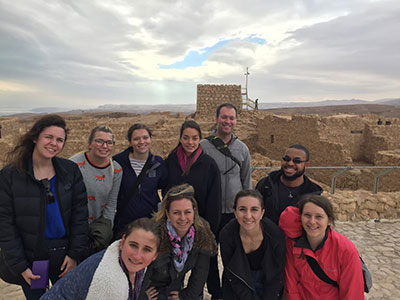 Virginia Wesleyan Students in a Religious Studies study away course in Israel, January 2018.