Study Away Course Grants
The Lighthouse announces Buddy Grants for summer 2019 study away courses. Sign up with a friend, and each of you will receive a $300 grant for the course. Details and the application are located on The Lighthouse's portal page.
Applicants meet the following qualifications:
Enrolled at Virginia Wesleyan University during the 2018-19 academic year
Minimum GPA of 2.7
Have no outstanding incompletes
Have no Honor Code violations
Have no serious conduct violations
Provide documentation of financial need
Awards are granted based on:
Financial need
Academic performance
Quality of the Pathway to See Change Essay
Priority is given to students who are enrolled in 4-credit courses and have not previously received a Lighthouse study away grant
---
History 262 students at the Brandenburg Gate in Berlin, Germany, 5 January 2018.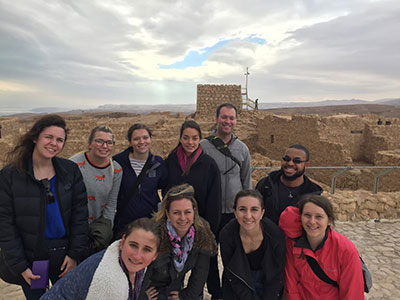 Religious Studies 361 students at the Masada National Park in Israel, January 2018.