A Lesson in Serendipity: Interning at the Chrysler Museum of Art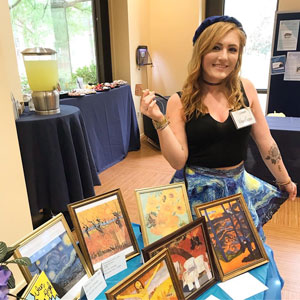 At Virginia Welseyan's Port Day on December 3, 2019, Jenah Creecy '21 presented on her summer 2019 internship at the Chrysler Museum of Art. Entitled "Happy Little Accidents," the presentation was not a study of Bob Ross, the host of PBS's "The Joy of Painting." Instead, Creecy wanted to draw attention to the serendipity of acquiring an internship and developing new insights about art through the internship experience.
Creecy is a double major in English and individualized studies with a concentration in art history. She had just started her studies in art history when Professor Joyce Howell contacted her about the internship. "I had not had time to think about an internship. My professor explained that an intern had just dropped out of the program. I submitted a resume and interviewed, and I was accepted as a research intern," Creecy explained.
The Chrysler Museum of Art is a fine arts museum in Norfolk, Virginia that houses over 50 galleries and a unique glass studio. It is also a Virginia Wesleyan University internship partner.
Among Creecy's assignments was researching two artists, Georgia O'Keefe and Gustav Klimt, for the director of the Chrysler Museum of Art, Dr. Erik Neil. Creecy also worked with Photography Curator Dr. Seth Feman to plan an upcoming exhibition on photographer Bruce Davidson. Finally, Creecy was charged with developing strategies to fashion the Museum into a more inclusive space.
During her Port Day presentation, Creecy explained how the internship transformed her conception of art. "Before interning, I knew photography was a medium of art. But as an English major, I was always nitpicking the difference between the words 'artist' and 'photographer.'" Working on the Davidson photography exhibition, however, prompted Creecy to appreciate photography as a compelling art form. As she reflected, "After seeing Davidson's photographs up close with signatures on the back, I realized that there was not as much of a difference between 'artist' and 'photographer' as I had thought." 
Creecy credited her internship with guiding her to a fundamentally different perspective on art. As she elaborated, "It is one thing to study a google image of an art work. But to be able to stand in front of it -- to see the texture of the paint and imagine the artist standing in front of his or her creation -- brings a whole new level of understanding to a piece." Insightfully, she continued, "Research isn't always reading books. It can also be experiencing something."
What surprised Creecy the most about her internship was how comfortable she felt at the Chrysler Museum. "It was such a warm and inviting atmosphere. I was constantly surrounded by individuals who appreciated art the way I do. I realized how vast the museum world and art history world are and how many different types of careers are available in those fields."
When asked about her most memorable experience, Creecy shared, "Once a year, an ice cream truck gives ice cream to each employee. I have never seen so many well-educated and sophisticated adults light up like children as I saw that day. That is when I knew it was a place where I was meant to be."
Reflecting on her internship experience, Creecy advised her peers. "An internship should be more than a job. It is a trial to see if that is a place where you belong." For Creecy, this internship was instrumental in helping her to clarify her professional goals. "I am hoping to go to grad school for art history—maybe even become a curator one day."