Student Success Stories
At the Crossroads of English and Political Science: A Writing Internship Focused on Social Activism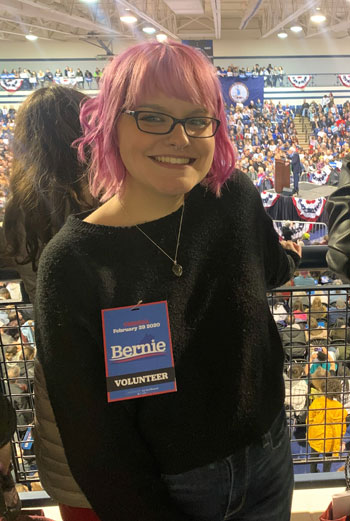 For Katherine Ramsey '21 an unexpected internship opportunity with Remember Their Voices, a nonprofit organization focused on advocating for Black, Indigenous, and People of Color (BIPOC) rights and fighting police brutality, led to an important discovery about combining passion with preparation.
"As an English major, everyone always assumes that I want to be a teacher. However, this internship helped me to have an example to prove to people that an English degree can take you to a lot of different places."
She continued, "While this is an internship focused on writing, I never really expected to find a writing internship in a nonprofit organization, especially one that focuses on social activism. This internship has helped me to realize that I can combine multiple passions into one career, advocating for equality and diversity while also being able to utilize my academic knowledge in both English and Political Science."
She began the internship in the fall of 2020 and continues to work remotely with the organization. After a couple of months of interning, she was promoted to Lead Writing and Editing Intern, where she became the manager of all the organization's interns. 
She found the internship opportunity on the university career platform, Handshake, completed the application, and was offered an interview. As a peer tutor in the Writing Center, she searched for an opportunity that would combine her interests of writing and editing.
She has an encouraging message for you: "Don't be afraid to put yourself out there and find an internship that fits both your passions and your academic interests. An internship is an incredible opportunity and experience and can be made even more rewarding when you get to do something you truly enjoy."