Connecting the Political Science Classroom with Campaign Organizing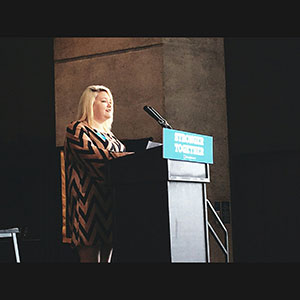 During the fall 2016 semester, Sarah Pybus-Elmore '17 (Political Science) interned as a community organizer for Hillary Clinton's grassroots campaign at the University of Akron in Ohio. Sarah assembled a team of 10 interns and 20 volunteers who registered 1,200 voters in only 45 days. The team made tens of thousands of phone calls, knocked on thousands of doors, and organized multiple community events. They even hosted Bernie Sanders and cast members of "Orange is the New Black."
Since campaigns never stop during election seasons, Sarah clocked over 80 hours every week. "Campaign work is really, really hard, can be extremely frustrating, and is immensely time consuming," she says. "But most other jobs can't give you the same sense of making a difference in the community each and every day. Despite the hardships and the electoral loss, organizing is 150% worth it, and I will forever be changed by my time on the campaign."
The Ohio Campus Program was the first fully-funded, fully-integrated campus campaign program in the United States. Hundreds of people applied for the organizer positions, but only 30 people were selected. Sarah was among this elite group.
Campaign organizing enabled Sarah to connect her Virginia Wesleyan education to hands-on political work in ways that enhanced her understanding of the US political system. "It's impossible to truly comprehend our political system without working on the inside," she explains. "I'm so proud of the work we did. Having a position on this historic campaign is the greatest accomplishment of my life thus far. I would encourage everyone to spend some time doing campaign work."