Student Success Stories
Enjoy your life: Growth, Empowerment and Independence in Ghana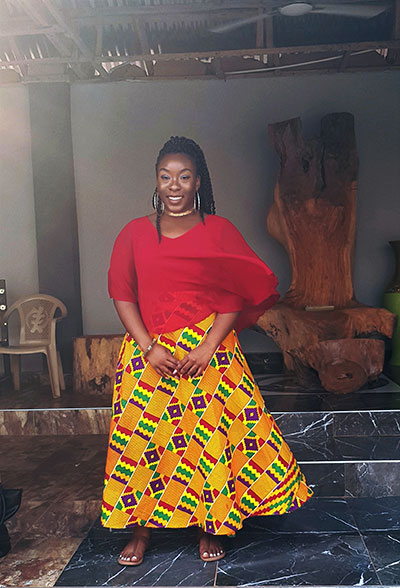 "Enjoy your life," a simple daily mantra shared by Nana Ama, the program assistant for the School of International Training, who worked closely with Virginia Wesleyan student, Asha Richards, during her time in Ghana.
"She would say this to us all the time. While it might have seemed trivial at the time, with the pandemic and a bit of hindsight, I have found this to be very good advice. It is important to live every moment as if it is your last, taking in your surroundings, because you may not get a tomorrow."
Richards '21, an International Studies and Political Science major, studied abroad in Ghana for the spring 2020 semester. She did a homestay for one month in the capital city of Accra and spent three weeks experiencing the areas of Kumasi, Tamale, Cape Coast, and Patakro. Upon her return to the United States, she and a Ghanaian peer worked collaboratively on an undergraduate research project.
As a Global Scholar and Gilman Scholarship recipient, she knew this experience would assist her in focusing her academic and professional pathway.
"My career goal is to advocate and assist in the development of Sub-Saharan Africa and the Caribbean. While I have done a lot of research and learned about related subjects over my 2 and a half years prior to studying abroad, I am of the belief that one cannot truly understand the state of a country/region or its development needs until you see it yourself. This study abroad gave me the opportunity to personally observe the development needs of Ghana and talk to people experiencing them first hand. By doing homestays in both urban and rural settings, I have a greater understanding of development needs from a local perspective and realized things that never crossed my periphery before."
One of her most important realizations was personal, in the form of her own biases.
"One of my takeaways from this experience is that no matter how open-minded and knowledgeable we might be, we all have biases. My bias was apparent in regards to my perceptions of West Africa. Growing up and to this day, many of my friends are African and we converse about our upbringings and home countries often. Additionally, I listen to a decent amount of African music and grew up watching African movies. Due to this, I had a lot more exposure to Africa through an authentic African perspective. I realize now, that I was guilty of doing the same thing that I get agitated at others for doing: generalizing Africa.  While my friends come from all over Africa, there is no doubt that my exposure to Africa has been mostly Nigerian. Ghana is not Nigeria."
She says discovering this bias was one of the most important things she learned.
"Although we might all enter things with a bias, it is our realization of those biases and how we try to correct them that is important. During my experience, I actively worked to correct my bias."
As a woman planning a career in international relations, she was encouraged to learn of the position of women in Ghanaian society.
"The most fascinating thing I learned about my host country's culture is how women are empowered within Ghanaian society. My original perception of Africa was that 95% of African cultures were extremely patriarchal and gave women little to no power. My mother always says that the man is the head of the household while the woman is the neck, this seems to be literally exemplified in Akan culture which I learned during our tour of Manhyia Palace and speaking with the Queen Mother in Patakro. Traditionally, inheritance is passed down and lineage is traced through the mother. In terms of royalty, while Chiefs/King have authority, it is the Queen Mothers that choose and advise them. Even outside Akan culture, I saw women that were empowered. To my surprise, I saw women more free in their everyday lives in the North, which is predominantly Muslim. In the North, I saw women out playing sports, women riding motorbikes (as in physically driving them, which is a rare sight even in the US), and out making a living for themselves and families. One would think that not only as an African society, but as an Islamic society, women would be severely oppressed in the North. But on the contrary, the North is where I have seen women most empowered within Ghana."
Empowerment, growth, and independence. Richards discovered all three in the country, and within herself.
"This has been a growing experience for me. I learned a lot while there and was able to expand my global network and make new friends. I learned that I am very independent. I highly recommend studying abroad."