Student Success Stories
From an Internship with NATO to an Internship in Spain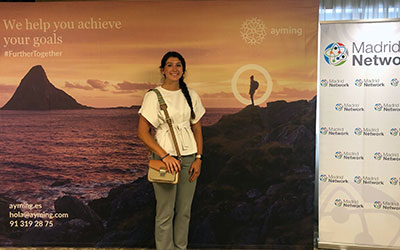 Majoring in International Studies and Political Science, Amber Matalus '20 journeyed on a path that led her from an internship with NATO-ACT's Innovation Hub in Norfolk, Virginia in summer 2018 to an internship with GENETICAI in Madrid, Spain in summer 2019.
At NATO's Innovation Hub, a Virginia Wesleyan internship partner, Matalus conducted research on cyberspace at its intersection with religion. She translated this research into designing a cyberpsychology workshop for the Innovation Hub. For Matalus, this internship was instrumental in expanding her worldview. As she recalled, "NATO introduced me to the global community. No one was from the U.S., which was an awesome introduction for my internship in Spain. It gave me a lot of confidence in my ability to work within an international organization."
At GENETICAI, a Spanish company focused on disruptive technologies, Matalus worked on a European Union Horizon 2020 project. Horizon 2020 provides funding to support innovative projects that promote economic growth and job creation. Focusing on health care and agriculture, Matalus conducted research on potential partners for GENETICAI's artificial intelligence and virtual reality initiatives. This project entailed collaboration with a variety of European organizations. Matalus landed this internship through International Studies Abroad (ISA), one of Virginia Wesleyan's study abroad partners.
To prepare for the GENETICAI internship, Matalus devoted considerable effort to studying Spanish politics and culture. "Because I was working for an international company, I needed to understand what other countries thought of Spaniards. This helped not only with my work but also with my own behavior. I wanted to seem as non-American as possible, so I needed to know what the culture was like in Spain."
Working in Spain necessitated cultural adaptation for Matalus. "I was very surprised at how slow international operations move. Even emails were answered two times slower than in the U.S." She observed, "It is said that Americans live to work while Europeans work to live. Although the slower pace sometimes drove my regimented-American-self crazy, it has rubbed off on me in some unexpectedly pleasant ways. I have learned to relax about emails, and I find myself taking time to do the things I want to do. Living and working in Spain has certainly made an impact on my life."
For Matalus, the two internships were essential to her professional development. "I learned that I am capable of working autonomously," she explained. Through the internships, "I gained confidence in myself." The internships also helped Matalus to define her future career path. "I now know that I want to work in the field of international law and politics. I want to make a direct and visible impact. I now know this about myself and can confidently commit to going to law school next year."
Working and studying in Spain was instrumental in helping Mataus become a global citizen. "I do not think I can effectively represent people and fight for injustices if I do not understand them and see their problems first hand. I must understand other cultures and people and listen to others' opinions so I can represent them on a global scale."
When asked what advice she would give to students who want to study or intern abroad, Matalus considered funding questions as the cardinal challenge. But Matalus also sees study abroad as "an investment in your personal and professional development that cannot be replaced by any amount of money." She further pointed out that many scholarships are available. In fact, Matalus received a Virginia Wesleyan Summer High-Impact Practice Program (SHIPP) award to undertake her internship in Spain.
For information on VWU's internship opportunities, visit The Lighthouse's Career Development Program. For information on Virginia Wesleyan's study abroad opportunities, including study away courses, the Global Scholars semester abroad program, and summer study abroad, visit The Lighthouse.