Interning in the Rocky Mountains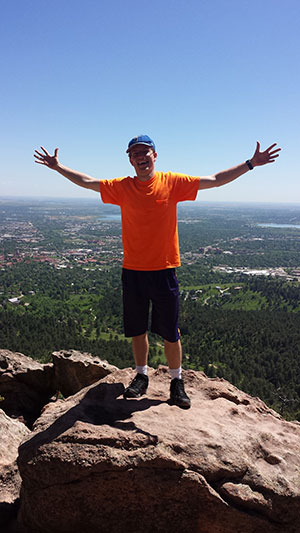 Lightning crackled overhead. I ran down the mountainside until I finally reached the base of the trailhead, soaked to the skin. Only a few weeks into my National Oceanic and Atmospheric Administration (NOAA) internship in Boulder, CO, I had learned that you don't go for a trail run when it's a little cloudy. Weather moves fast along the Rocky Mountains.
My internship at the David Skaggs Research Center, containing NOAA's Earth Systems Research Lab (ESRL), focused on analyzing data from climate models to examine the effect of climate change on windstorms in the Rocky Mountains. It was a part of the NOAA Hollings Scholarship Program. In addition to writing code, I also attended weather briefings at the Boulder National Weather Service forecast office and presentations on tropical cyclone research.
Most days at my internship, I biked an uphill but relatively easy mile to the office on the bicycle procured through the office bicycle loaner program. I would then write code using the software package "R." The other interns and I would eat lunch together every day, and we often had the chance to observe deer and prairie dogs on the office grounds.
I had a lot of firsts this summer. I rented a car for the first time and drove a group of interns to camp in Wyoming, which was my first time camping ever! This was also my first time spending a considerable time away from home. Also, the Wyoming sky was the least light-polluted sky I'd ever seen. But perhaps best of all was the opportunity to see what a career in atmospheric science is like. This knowledge is helping me with graduate school and job applications. I'm applying to several different programs and jobs, including Colorado State University's atmospheric science program. My internship was the best experience of my life so far, and it has positioned me for future success, whether in graduate school or a job.