Student Success Stories
Interning while Studying Abroad in London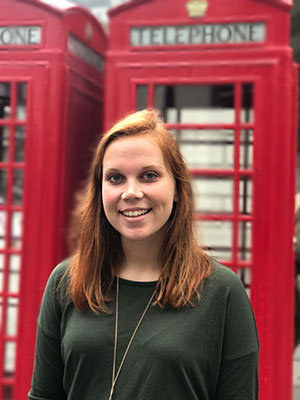 In fall 2017, Jessica Pittman '18 (Psychology) not only studied abroad in London, but she also interned at the Behavioral Neuroscience Institute of the University College London. Pittman was charged with revamping a research study under the supervision of Dr. Antoine Coutrot in the Spatial Cognition Lab. She recruited participants, ran participants through the study, input data, and conducted preliminary data analysis.
Pittman explains that this internship experience helped her to choose a career path and to define her personal and professional aspirations. "This internship confirmed my passion for research. I thoroughly enjoyed researching 9 to 5 every day. It also made me realize that I want a career that will allow me the time and financial capabilities to continue to travel and experience more cultures."
What surprised Pittman the most about the internship was the many people whom she met on the job. She explained, "I went in expecting to work mainly with British people. But instead, everyone I worked with was from elsewhere. The other undergrad was from China, my supervisor was from France, and the postdocs were from Germany. This is a great example of how diverse the city of London is. It is a cultural melting pot and a fantastic environment to witness cultural differences and the opportunities that arise in such an environment."
The next step on Pittman's journey is graduate school. She is planning to enroll in a Ph.D. program in psychology at Texas Tech University, studying cognition and cognitive neuroscience.
In fall 2017, Pittman attended Richmond: The American International University in London with the American Institute for Foreign Study (AIFS) as one of Virginia Wesleyan University's Global Scholars.