Student Success Stories
Networking at CNN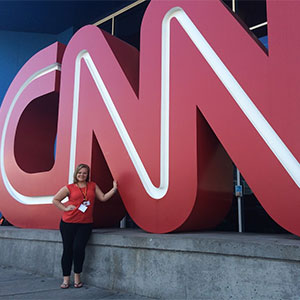 Courtney Herrick '17 (Communication) attended the Management Seminar for College News Editors (MSCNE) in Athens, Georgia in July 2016. During the week-long seminar, she networked with professionals and peers from other colleges, enhanced her leadership skills, and learned more about how to operate a campus newspaper in the digital age. She also gained hands-on reporting experience through breaking news and feature writing exercises.
But the excitement didn't stop there because participants got to speak with reporters and anchors of station WSB and CNN Headquarters in Atlanta. "Getting to talk with people who are in the industry now is very helpful. I get to see what I hope to do professionally in the very near future," Courtney said.
Courtney currently serves as the Editor-in-Chief of Virginia Wesleyan's Marlin Chronicle. She discovered her passion for journalism after taking an introduction to journalism course at Virginia Wesleyan. After graduation, she plans to pursue a career in journalism. "Getting the facts to people, that's what matters," she talked enthusiastically about her dream of being a reporter for a well-established news organization.