Student Success Stories
New Zealand's Many Adventures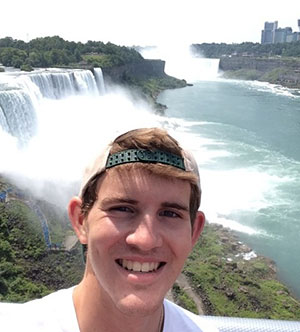 Earth and Environmental Science major Edwin Kinsey '18 had every intention of exploring the entire South Pacific when he studied abroad in spring 2017. But as soon as he landed in New Zealand, he became so enamored with its beauty, nature, and character that he never left the island. "Once I began to spend time in New Zealand, I began to realize how much the country had to offer. I decided to devote all of the time I had to exploring and getting to know New Zealand on a deeper level," he explains.
New Zealand presented Kinsey with an array of once-in-a-lifetime adventures: "I fell in love with the city of Dunedin, swam in the icy South Pacific Ocean, raced up the steepest street in the world, gazed at some of the brightest stars I had ever seen, witnessed the raw beauty of the Southern Lights, and hiked through the misty mountains of Fiordland and past the fires of Mt. Doom in Tangariro National Park."
Kinsey's adventures did not end in the country's stunning terrain, for living in New Zealand was both an academic and personal journey for Kinsey. "I managed to accomplish quite a bit academically," he states. "I had the privilege of taking two upper-level science courses. I had the opportunity to conduct research in my Marine Ecology course and discuss meteorological and climatological phenomenon of the Southern Pacific with international experts. I also had the chance to collaborate with other Earth Science, Geography, Aquaculture, Ecology, Biology, and Atmospheric Science students from around the world."
Such opportunities catalyzed a deep personal transformation for Kinsey. "Being a student at the University of Otago instilled within me a degree of confidence. Having had the opportunity to work with other professionals and undergraduates in a scientific environment of this caliber has shown me that I have the knowledge, skills set, humility, and intellectual capacity to be successful. Maybe it isn't even so much confidence in my abilities as a student, but more so a general confidence in who I am, what I believe in, and the things I know I am capable of. All I can do moving forward is stand by the things I've learned about myself, work hard, and have faith that things will work out."
Kinsey's many adventures in New Zealand embody the goals of Virginia Wesleyan's Global Scholars Program and The Lighthouse: Center for Exploration and Discovery. Cultural immersion, academic inspiration, and personal transformation are the cornerstones of Virginia Wesleyan's Study Away Program. Studying abroad is indeed a life-changing experience. Few students can predict how the experience will open up new doors and lead them to unfamiliar, exciting pathways that will fundamentally change their lives. "What I will remember and cherish the most from my time in New Zealand," Kinsey reminisces, "are the relationships I formed with complete strangers; the same strangers whom I now know and love like family."
Funded by an anonymous donor, Virginia Wesleyan's Global Scholars Program provides students in all majors with the opportunity to study abroad for a semester in wide variety of locations. The Lighthouse's Study Away Program helps students to prepare and apply for the Global Scholars Program. If you would like to lay out your own pathway to semester study abroad, contact the Lighthouse's Director of Global Engagement, Ms. Mandy Reinig.