Student Success Stories
Serving Communities: From Virginia Wesleyan to Teach for America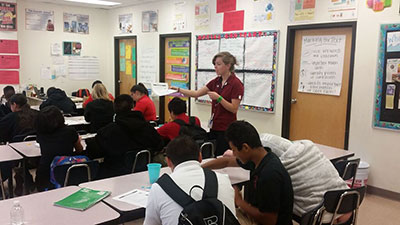 Whitney Symons '15 (Biology) teaches 7th graders at Risley International Academy of Innovation in Pueblo, Colorado how drugs affect their bodies. Symons is a volunteer with Teach for America, a program serving children in low-income communities. "The community that we live in has major drug issues," Symons explains. To make her science students more aware of the dangers of drug addiction, Symons brings in guest speakers, including one who narrates his journey from addict to athlete.
Symons' passion for community service was sparked at Virginia Wesleyan University where she participated in an array of volunteer activities, including YoungLife and peer tutoring. With Teach for America, Symons marries her Virginia Wesleyan education with her commitment to community service. The biology faculty "set the bar high for being an educator," Symons states.
Symons' most rewarding moment is when students share their lives with her. "It is exciting when they come running to tell you something cool that they learned about science outside of the classroom … or simply yelling my name from the stage at their band concert," Symons recounts. "For anyone that has a passion for helping kids, enjoys challenges, and is willing to work hard, I highly encourage them to apply for Teach for America." Learn more about Teach for America.