Student Success Stories
Small Acts Lead to Big Impacts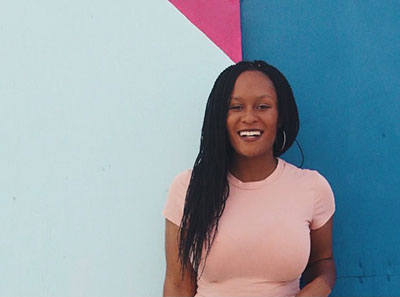 Erin Highsmith '22, believes that small acts can make big differences in the world. The Psychology major and Sociology minor, devotes time in a number of service projects, both on campus and in the community. Her passion for helping has led her to engagement experiences with Without Walls Ministries, a mission trip to Panama, a service trip with the women's basketball team to assist the Boys and Girls Club of Puerto Rico, and with her sorority, Alpha Kappa Alpha, Inc.
It is through giving where she feels fulfilled personally, and the experiences have helped to form her career pathway.
Her professional goals align with her desire to help others. "I want to help people in my future career. I would like to be a lawyer and work for the American Civil Liberties Union."
"Sign up for something out of your comfort zone and keep an open mind. Also, join service oriented organizations. I love my sorority (AKA) and it's dedication to service to all mankind."
An Interview with Erin Highsmith
How did your engagement experience assist you in focusing your academic and career path?
The experiences helped me to confirm that I want to help people in my future career. I love my major because it's versatile. I know whatever I do I want to be able to make a difference, because you haven't made it in life until you reach back and pull someone else up with you.

What were the most important takeaways from your engagement experiences?
What may seem like a small act for you may mean the world to someone else.

What did you find the most surprising about your engagement experiences?
How much I enjoyed it. The people you meet and friendships you create are amazing

What are some of your most memorable moments?
During my mission trip our bus broke down and we were stuck in the middle of the woods at night in a half built building. The people we helped quickly turned around and helped us. We broke bread and had dinner there, then they helped us repair the bus.

What is the biggest thing you learned about yourself while participating in engagement outside the classroom?
I found out that I enjoy being outdoors more than I would like to admit. When I was in Panama I saw all sorts of plants and animals. The fresh air and warm rain was a major highlight of the trip.

Why is engagement important to you personally and professionally?
I just know that I want to help people and this confirmed that. I'm still trying to figure out what exactly I would like to do after I graduate, but I know that in the long run, I would like to be a lawyer. I hope to find a job with the American Civil Liberties Union and help fight for the little man. Through my sorority, I have had the opportunity to not only provide "a service to all mankind" but also network while I do so. It was nice to be able to meet all sorts of professionals (lawyers included) and ask them questions about their career path as I start to lay out mine.

To learn more about community engagement opportunities, contact the Wesleyan Engaged Office in The Lighthouse: Center for Exploration and Discovery.