Student Success Stories
Studying in Europe sparks Wanderlust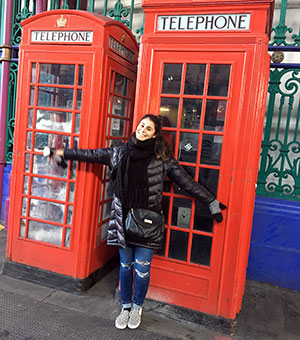 Jenna Serna '18 (Psychology and Women & Gender Studies) studied in Europe during Winter Session 2017 as a student in PSYCHOLOGY 305: History of Psychopathology in Europe, taught by Drs. Craig Jackson, Gabriela Martorell, and Taryn Myers of Virginia Wesleyan's Psychology Department.
For Serna, this course ignited her passion for study abroad. As she explains, "I was so intrigued by the culture and life I saw while studying abroad that I knew that I had to experience it for a longer time."
PSY 305 took students to London, Amsterdam, and Paris for two weeks, studying psychology at locations such as the Anne Frank House and the Darwin Centre. It is one of Virginia Wesleyan's increasing number of study away courses that have taken students to many destinations this year, including South Korea, Prague, Alaska, Hawaii, and Mexico.
Upon returning to campus, Serna applied for and was accepted into Virginia Wesleyan's Global Scholars Program for fall 2017. She will study for a semester at Vrije Universiteit in Amsterdam through IES Abroad. Short-term study away courses can have a transformative effect on students, allowing them to experience cultures, places, people, and even food unlike they have ever experienced before. This was especially true for Serna. "Short-term study abroad opened my eyes to a completely different world -- one that I never knew was possible. I knew in my heart that I had to do whatever I could to go back there again."
The Lighthouse: Center for Exploration and Discovery is committed to making study abroad possible for all Virginia Wesleyan students. In addition to semester study abroad awards through our Global Scholars Program, we also offer grants that enable students to participate in study away courses taught by Virginia Wesleyan faculty. Next year's courses will take students to Puerto Rico, New York City, Berlin, London, Hawaii, Jerusalem, South Korea, Barcelona, Costa Rica, and Mexico.