Transfer Student Makes the Most of VWU's Opportunities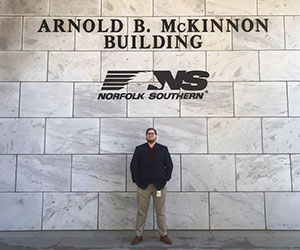 Dylan Ardinger '19 (Business) walked through Virginia Wesleyan's doors as a full-time student for the first time in fall 2017. Transferring from Hagerstown Community College in Maryland with an Associates Degree in business administration, Ardinger knew he wanted to pursue a career in business.
From his very first days at Virginia Wesleyan, Ardinger was committed to undertaking an internship. In spring 2019, he achieved his goal, interning at the Norfolk Southern Corporation as a market analyst. His primary responsibilities included tracking markets and analyzing train movements to ensure efficient service. Norfolk Southern's reputation enticed Ardinger to apply for an internship. "Working for a Fortune 500 company is a dream come true," he exclaimed.
For Ardinger, the internship experience was instrumental in helping him to find his professional passion. "I discovered that I truly enjoy supply chain management and logistics. I did not have any previous experience in logistics or supply chains. I only discovered this while working for Norfolk Southern." The company "guided me on the right path, and I am forever grateful for this opportunity."
Ardinger advised other students to do the same. "Find your path! Internships are a great way to see what you want to do in life. Internships allow you to get a taste of a career. If it isn't a good fit for you, you're not stuck in a path you don't like."
Robert Albertson, professor of business and director of Virginia Wesleyan's Business Internship Program, acknowledged Ardinger's professional persistence. In fact, Ardinger had three interviews with Norfolk Southern over the course of three months. "Thanks to his personal initiative,"  Albertson stressed, "Dylan obtained the type of internship he wanted and gained significant management experience." Pivotal to Ardinger's success was his ability "to tell his story in a way that helped the interviewers to see his value," Albertson noted.
As a transfer student, Ardinger carefully planned his professional pathway to enable him to undertake an internship and complete all required coursework. Both are possible if you plan. "I had to pack a lot of schooling into two years."
All along the way, there were people to help. "Dr. Albertson helped me to find myself and to navigate the right path." Paul Ewell, professor of business, was critical in "instilling values in me that I took to Norfolk Southern," such as the ability to work with "people who have different goals and viewpoints to get tasks done. I also credit the director of Virginia Wesleyan's Career Development and Internship Program, Mrs. Mollie Dunmyer, for putting on mock interviews." Albertson concurred, "Whatever students' majors, there are professors, staff, and others who will help them to plan and find opportunities that are a great fit for them."
Ardinger's professional development at VWU extended beyond the classroom. As chair of service for the Chi Beta Psi Fraternity, Ardinger developed critical leadership skills. He recounted that he especially "learned to communicate effectively and motivate different types of people with lots of different interests and priorities." Such experiences "really helped to establish me as a young professional."
While finishing his internship, Ardinger was offered a full-time position as a trade analyst with CMA CGM, the world's third largest shipping container company. He will be working at its North American headquarters in Norfolk. Looking forward to expanding his knowledge of logistics, Ardinger asserted, "I love to learn. I love to grow."
Reflecting on his two years at Virginia Wesleyan, Ardinger explains that when he started at VWU, he did not know many people who lived in Hampton Roads. Virginia Wesleyan's "small class size and small-school-feeling helped me to find my place. My professors have been more than just teachers. They have been mentors, guiding me in the right direction. The business program allowed me to grow tremendously. VWU has been amazing. If I could do it over again, I would still choose this institution."
Information about VWU's Business Program, can be found on VWU's website. For information about VWU's Career Development and Internship Program, visit The Lighthouse: Center for Exploration & Discovery.