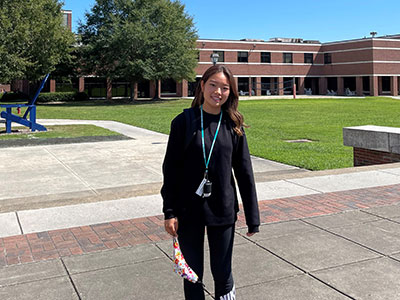 Why did you choose Virginia Wesleyan University?
Studying abroad to enhance my English skills is one of my dreams, and I always wanted to visit the U.S. I have been to Lakeland University Japan (LUJ) for two years, and I was planning to transfer to the home campus in Wisconsin. However, I wanted to go to a university which had almost no Japanese students because I wanted to be socially interacted with and make friends there, and I have heard that many LUJ students are likely to go to the home campus. Fortunately, LUJ has started tying up with Virginia Wesleyan University; therefore, I choose this university to experience the U.S. life on and off campus. I was interested in attending VWU because I thought the environment was beautiful, and the campus seems to be surrounded by both nature and entertainment.
What were your first impressions when you arrived on campus?
My first impression when I arrived on campus was lots of excitement. It was my first time going to the US and living without my family in a new environment. When I met new people on campus, I was a little bit nervous and so happy at the same time. I like people here the best. All faculty, staff, and students are very nice, kind and friendly even if I sometimes struggle with English. They always help me and other Japanese or international students.
What is most different from what you were used to at home?
Things that I was surprised about at first were that many students always care for and help others (open the doors for others). I think it is a Japanese thing--Japanese people usually do not say "hi!" or "how are you doing?" or "I like your T-shirt" when they pass by, but almost all people do here--it is one of my favorite things about being in the U.S. Also, every student is independent.
What were some of your biggest challenges in adjusting to college life in another country?
This is my first time living on campus alone in the US, and I was worried that I would be isolated if I couldn't make any friends. Fortunately, I could make a lot of good friends here, and I have been enjoying the school life! Since I had an orientation with the freshman, I have gotten a lot of friends from the freshman. Since I am an international student, I don't have a car, but some of my friends have a car, so they take me and other Japanese students outside of campus. I have been having a lot of fun, not only on campus, but also off campus.
What campus activities are you involved in or do you plan on being involved in?
I have joined American Sign Language club and Business club.
What advice would you give to other students coming to VWU from another country?
I would give those who are willing to attend VWU advice: please do not hesitate to talk to native English speakers on and off campus. The more interaction with other people you have, the more fulfilling experience you have.