2022 Homecoming and Family Weekend
Mark your calendars for a weekend of fall fun and festivities October 7-9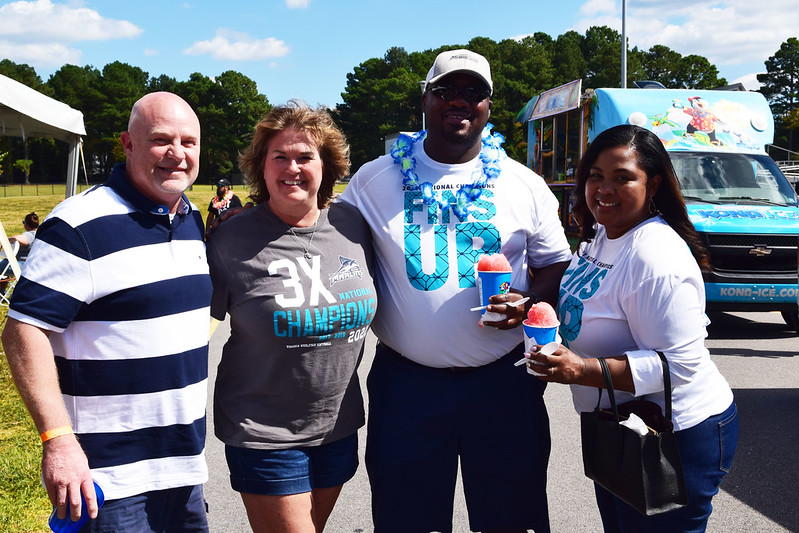 University News | September 12, 2022
The countdown to Homecoming & Family Weekend is on! Make plans to join fellow Marlins on campus October 7-9 for an exciting lineup of events.
The weekend begins with Marlin Spirit Day on Friday, October 7. Alumni, students, faculty, staff and friends are invited to sport Marlin gear and decorate workspaces, rooms, cars (even your pets and babies!) in all things Virginia Wesleyan. Don VWU hats, shirts, scarves, etc. and display your VWU mugs, blankets, diplomas and more. Share your Virginia Wesleyan pride and your photos on social media with the hashtag #marlinspiritday.
The 21st Annual VWU Golf Outing at Cypress Point Golf Course is on Friday as well. Register to participate and support VWU softball, baseball, and women's and men's lacrosse. Then, catch up with friends at the annual Marlin Alumni Social on Friday evening at Cypress Point Country Club.
Students will be cutting a rug at the Homecoming Dance on campus at The Cove on Friday evening.
Don't miss the fall theatre production, Cabaret, in the Susan S. Goode Fine and Performing Arts Center, Friday and Saturday at 7:30 p.m. and Sunday at 2:00 p.m.
Traditions continue for the Marlin community with the annual gathering of alumni, parents, students, and friends at Finfest on Saturday, October 8, beginning at 11 a.m. Plans are in the works for food trucks, concessions, inflatibles, and a DJ to energize the atmosphere.
Intercollegiate athletic contests (volleyball, field hockey and soccer) begin at 11 a.m. on Saturday and alumni athletic games will be happening throughout the day. Of course, you'll want to be there for the crowning of this year's Marlin Majesty during the Homecoming Court Ceremony on Birdsong Field.
At 6 p.m., the Wesleyan Choirs Showcase will be held in the Henry and Eleanor Watts Lobby of Susan S. Goode Fine and Performing Arts Center. Camerata, Bravura, and Vox Vera will present a variety of music from Brazil, South Africa, Haiti, and traditional music from the United States. Choirs alumni are invited to join the choirs as they sing "The Road Home."
Two athletic standouts, benefactors and the 2017 VWU National Championship Softball Team will be honored at the Athletic Hall of Fame Induction Ceremony reception and dinner on Saturday at 5:30 p.m.
A Fringe Festival Reception to celebrate the arts at Virginia Wesleyan will be in the Henry and Eleanor Watts Lobby of the Susan S. Goode Fine and Performing Arts Center at 6:30 p.m.
Once a Marlin, Always a Marlin! Catch up with fellow Marlins and enjoy a weekend of fun and festivities October 7-9.
View the full schedule for 2022 Homecoming & Family Weekend.