A Commencement to Remember
VWU Class of 2021 celebrated with several socially-distanced ceremonies during COVID-19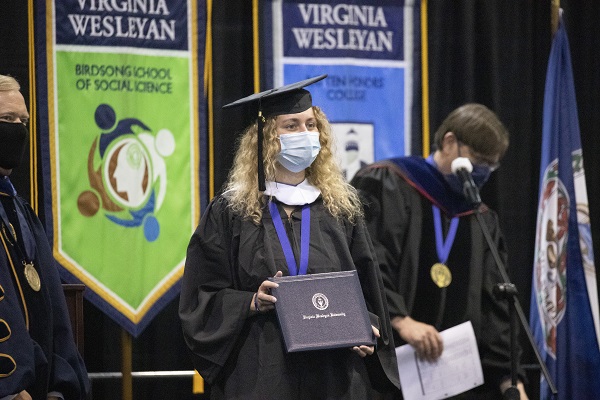 University News | May 2021
Photo Gallery: Commencement Ceremonies 2021
It was a Commencement Day like no other for Virginia Wesleyan University. With COVID-19 precautions in place, four socially-distanced ceremonies celebrated the nearly 330 members of the Class of 2021 on May 8 in TowneBank Arena in the Jane P. Batten Student Center.
"We are mindful of everything it took to get here today," said VWU President Scott D. Miller. "This year has been so different from anything we've experienced in our lifetimes. But you made it, and you now join our 10,000 Marlin alumni whose experiences at Coastal Virginia's premier university of the liberal arts and sciences will continue to inform careers and contributions in this region and around the world."
Following his welcome remarks, Dr. Miller introduced commencement speaker Dr. Timothy Carter, President of the Boston-based environmental advocacy organization Second Nature.
"Being a college graduate is a new identity that you now have," Dr. Carter told graduates, "and you will continue to add identities throughout your life."
"While I am both an ecologist and a climate change professional, I can't represent all things ecology and all things climate," he continued. "And if my identity were so tightly wound around any one of these things, then if I don't have the answers, then I am a phony and a professional failure."
Dr. Carter urged the graduates to hold loosely to their identity, remembering that being a college graduate is part of who they are, but not all of who they are.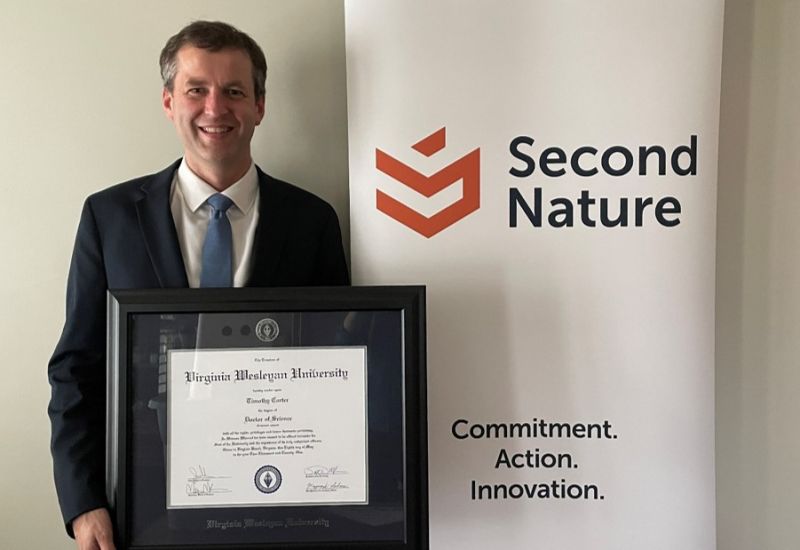 "The more tightly you hold things, the more sacred they are to you, so make that your guide. Don't cling to your identities, cling to what you consider sacred. Be as authentic as you know how to be."
His second piece of advice for the Class of 2021 was "don't swing on your plans, plan on your swings."
He told the graduates that plans tend to make us feel comfortable and confident about the future and it can seem an easy ride back and forth on that certainty. And then, when you fall off, it really hurts.
"Your future is a story you have a hand in writing, but one that is shaped by forces way beyond your control," he said. "Whether it's COVID, an election, or your favorite restaurant closing down, at all levels of life you'll continue to have your plans foiled. So instead of trying to bring everything into your own control and planning for success, recognize your own limitations."
Dr. Carter urged the graduates to recognize that "swings happen in life that don't have anything to do with intellect, effort, or hard work." He told the Class of 2021 that you can't help but be humble and empathize with others around you. And as a result, "relationships can be based on our shared struggles, our shared experiences and our shared humanity."
President Miller and Vice President for Academic Affairs Dr. Maynard Schaus conferred degrees upon students earning a Bachelor of Arts, Bachelor of Science, Bachelor of Musical Arts, and/or Bachelor of Social Work. Graduates of each academic school proudly crossed the platform to receive their diplomas as cheers celebrated their promising futures.
The University also presented honorary doctoral degrees to Dr. Carter; Dr. Richard Ekman, President of the Council of Independent Colleges; Dr. Susan Torma Beverly '72, Retired School Administrator and Philanthropist; and Dr. David R. Black, President-Emeritus of Lakeland University and Eastern University and this year's Baccalaureate Speaker.
Four distinguished Virginia Wesleyan faculty members received awards during the ceremony. The 2021 Samuel Nelson Gray Distinguished Teaching Award was presented to Professor of Management, Business and Economics Linda Ferguson; The Frank and Jane P. Batten Distinguished Scholar Award to Professor of Communication Terry Lindvall; the Service and Community Engagement Award to Professor of Chemistry Joyce Easter; and the United Methodist Church General Board of Higher Education and Ministry 2021 Exemplary Teacher Award to Assistant Professor of Management, Business and Economics Elaine Dessouki.
The ceremonies concluded with the University's Alma Mater led by Dr. Bryson Mortensen and Virginia Wesleyan Vox Vera, and a benediction from University Chaplain Marie Porter.
"I offer my sincerest congratulations, to these very special graduates and the family, friends, and faculty and staff members who helped them along the way," President Miller said. "We will always remember the Class of 2021 for their resilience and adaptability. These qualities, along with their world-class liberal arts education from VWU, will help them achieve their personal and professional goals."
A fifth Commencement Ceremony was held on May 16 for students in Virginia Wesleyan University Global Campus who earned a Master of Arts in Education, Master of Business Administration and undergraduate degrees completed through VWU Online or the Evening and Weekend Program.
"You are a different kind of graduate," said President Miller, "because you either completed your degree online or you started your degree as an adult. . .To be a non-traditional student likely means that you have real-world personal and professional experience to enrich discussions and enhance the learning environment. You juggle the life you had before you started at Virginia Wesleyan with the life of a student. To be a non-traditional student is a remarkable feat, and we are so proud of you."
Baccalaureate Service
Virginia Wesleyan University's Baccalaureate Service was offered virtually on May 7. The sermon was delivered by Dr. David R. Black, who was also presented with an honorary doctoral degree during the ceremony. Ashley Roehrman '21 delivered a student reflection and was awarded the President's Leadership Award. President Miller presented Wesley Awards to Dr. Mark Hanshaw, retired Associate General Secretary of the United Methodist Church General Board of Higher Education and Ministry; Rev. Wayne Snead, longtime Elizabeth River District Superintendent; and Marie Porter, University Chaplain.
Batten Honors College Capstone Ceremony
Also on May 7, the Batten Honors College recognized graduating seniors who have completed the honors college requirements during a special Capstone Ceremony. Alex Powers '21 delivered a keynote address, and all graduates were presented with a Batten Honors College medallion to wear during the Commencement Ceremony. The medallion represents the graduates' accomplishments as well as their participation in this elite community of scholars.
Army ROTC Commissioning Ceremony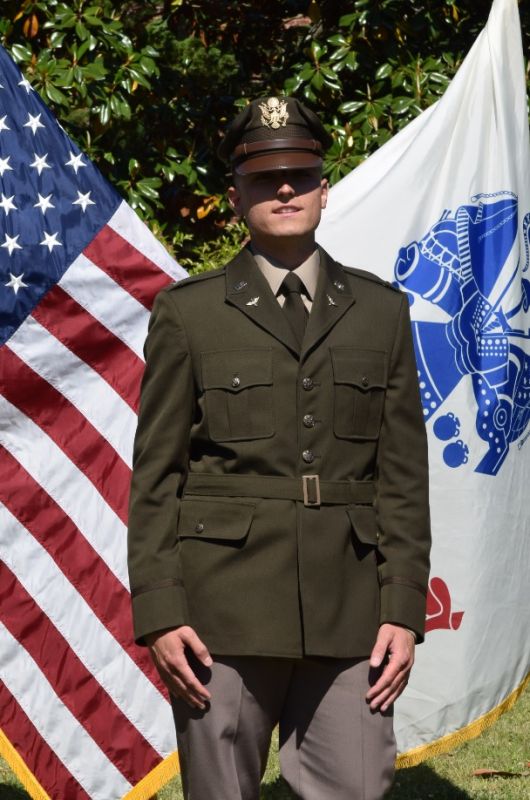 The traditional Army ROTC Commissioning Ceremony took place May 14 on Godwin Lawn, where new VWU graduate Robert "Bobby" Mazingo Jr. was commissioned as a second lieutenant in the United States Army. The Commissioning Oath, Pinning of Gold Bars, and First Salute/Silver Dollar Ceremony followed opening remarks from Lieutenant Colonel Camala Coats, Professor of Military Science, and Scott D. Miller, President of the University. Second Lieutenant Mazingo will serve in aviation for the U.S. Army Reserve.
"Despite the challenges COVID-19 presented over the last year, you weathered the storm and accomplished the mission," said LTC Coats. "Congratulations and good luck on your transition into one of the most challenging but rewarding roles of your adult life—that of an Army officer."
The Marlin Company, previously the Marlin Detachment, was established at VWU in February 1998 and operates as part of the Monarch Battalion.


All ceremonies were livestreamed and will be archived on the VWU Digital Broadcasting Network. View the full programs for the 2021 Commencement Ceremony, Baccalaureate Service, Batten Honors College Capstone Ceremony, and the Army ROTC Commissioning Ceremony.
Lifetouch Special Events captured photographs of each graduate who crossed the dais during Commencement. Photos may be purchased at events.lifetouch.com/vwu. Questions can be addressed to specialevents@lifetouch.com or 800.505.9496 Monday-Friday 8 a.m.-6 p.m. EST, or online at contact.lifetouch.com. There is no obligation to purchase photos.