Plans Continue for In-Person Commencement
Commonwealth to allow ceremonies with up to 30 percent capacity of indoor facilities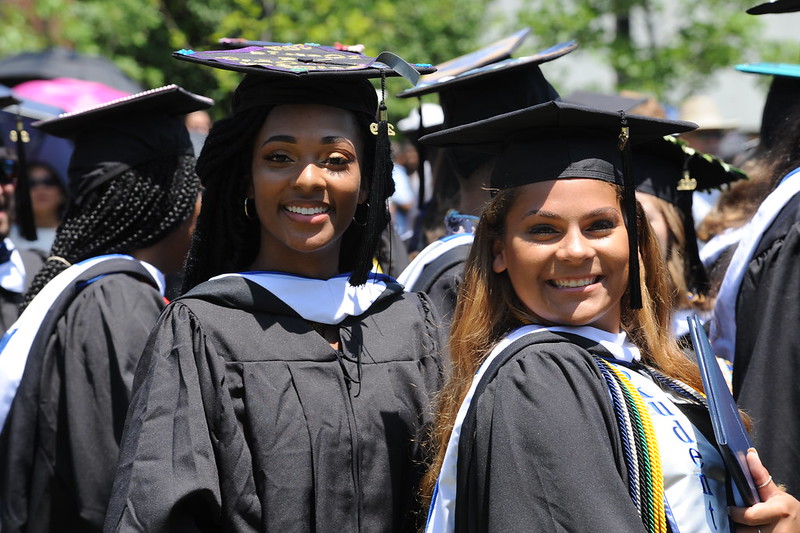 University News | March 22, 2021
Virginia Wesleyan University is moving forward with its plans for five in-person Commencement ceremonies this May, President Scott D. Miller has announced. The news comes after Governor Ralph Northam announced his own plans to update Executive Order 72 on April 1, allowing for the celebration of Commencement ceremonies with up to 30 percent of the stated capacity of an indoor facility.
Commencement ceremonies for the VWU Class of 2021 are currently scheduled as follows. Graduates who are unsure which academic school their major falls within can reference the school organization chart.
Saturday, May 8
Birdsong School of Social Science: 9:00 a.m.
Joan P. Brock School of Mathematics and Natural Sciences: 11:30 a.m.
Susan S. Goode School of Arts and Humanities: 2:00 p.m.
D. Henry Watts School of Professional Studies: 4:30 p.m.
Sunday, May 16
Virginia Wesleyan University Global Campus: 4:00 p.m.
(Includes VWU Online, Evening and Weekend, and master's program graduates)

As previously announced, Dr. Timothy Carter, President of the Boston-based environmental advocacy organization Second Nature, will be the Commencement keynote speaker. Dr. David Black, President-Emeritus of Lakeland University and Eastern University, will serve as Baccalaureate speaker.
Honorary doctoral degrees will be presented to Dr. Susan Torma Beverly '72, Philanthropist, Trustee and VWU Alumna (Doctor of Humane Letters); Dr. Richard Ekman, President of the Council of Independent Colleges (Doctor of Humane Letters); Dr. Timothy Carter (Doctor of Science); and Dr. David Black (Doctor of Divinity). The Wesley Award will be presented to Dr. Mark Hanshaw, former Associate Secretary General of the General Board of Higher Education and Ministry of The United Methodist Church; Rev. M. Wayne Snead, District Superintendent of the Elizabeth River District of the Virginia Conference; and Marie Porter, University Chaplain.
Graduates can purchase their caps and gowns (a.k.a. regalia) and Ultimate Graduation Package here. Orders received by April 23 will be available for pick up in the Office of Finance and Administration from May 3-7 between the hours of 9:00 a.m. and 4:00 p.m. Tickets will be required for entry and graduates will be limited to two guests each.
More information will be forthcoming from the Office of the President as plans develop. Graduates and their families should monitor vwu.edu/commencement for updates.