Developing Intellectual Curiosity
Faculty implement new General Education requirements this fall
­­­University News | October 22, 2019
By Laynee H. Timlin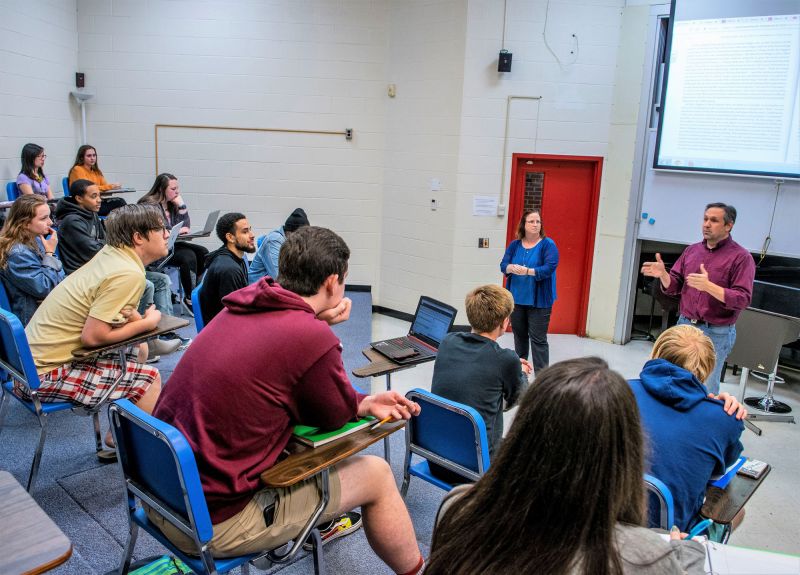 Should men have been excluded from the 1970s California art installation "Womanhouse" ? It's a question that sparked discussion among students in Professor of Art History Joyce Howell's Wesleyan Seminar "Showing Truth to Power: Art and Politics since 1945." The students, encouraged to think critically and engage in civil discourse, discussed issues of social justice and listened to opposing views, while studying the feminist art installation that dramatically transformed rooms in a house to draw attention to social attitudes about women and stereotypes of domesticity.
Wesleyan Seminars, like this, are an integral part of VWU's freshly revamped general education curriculum.
Examining issues, events and ideas from diverse perspectives is at the heart of VWU's general education program. The program, central to a degree from Virginia Wesleyan, has recently been reviewed and updated by VWU faculty, resulting in a new structure that consists of a series of seminars and required electives from each academic school.
Former General Studies Director and Associate Professor of Mathematics Margaret Reese described the need for reassessing the general education curriculum.
"The general education requirements embody the agreement among the faculty of what experiences are important for every graduate to have," said Reese. "Every generation or so, the faculty revisits this agreement. In 2015, we began the process of review that led to these new general requirements."
Reese explained that the general requirements form the core of every VWU undergraduate degree, which is the shared part of the curriculum. Bachelor's degrees consist of these general requirements, a major, and electives.
The process to review and revamp the general education program included about 20 faculty members who volunteered to meet and discuss the requirements. After much dialogue, Reese said that a few members of the initial group continued the work to further distill the new ideas into a proposal for a new set of general requirements. The group sponsored workshops and faculty forums for the entire faculty to weigh in on the thoughts of the original group. There were also discussions in Faculty Assembly meetings, when the entire faculty gathers.
In Spring of 2018, after three years of intense dialogue about improving the general education program, the faculty voted to change the structure of the general requirements and to establish a core of discussion-based seminars.
Significant changes to the program
According to Reese, there are two significant changes in the structure of the General Education program: "Wesleyan Seminars" and "Breadth Courses."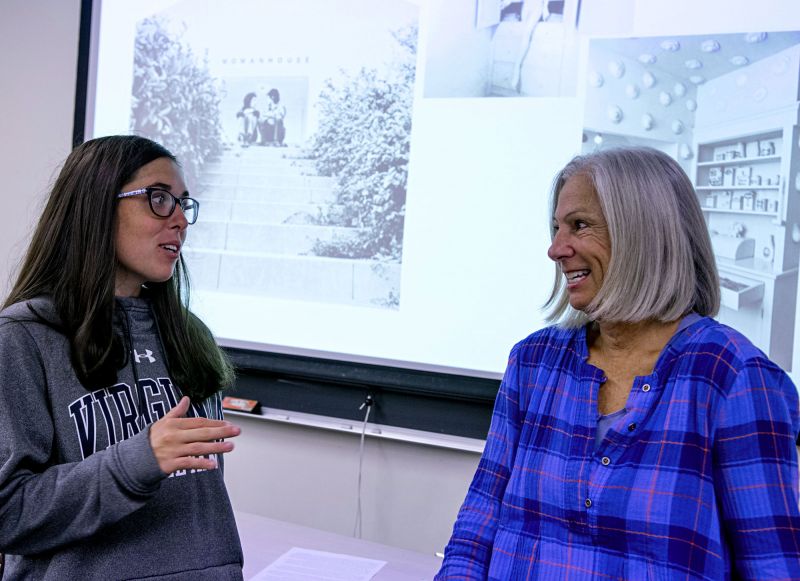 She notes that Wesleyan Seminars are the most innovative part of the new program, providing a sequence of discussion-based sessions that students take in each of their first three years. These courses are typically limited to about 15 students and are designed to foster community among the students and enhance their connection to Virginia Wesleyan.
In Wesleyan Seminars, students study a variety of topics and issues, while learning to participate in high-level discussions, formulate complex questions, listen critically to their peers and form well-reasoned judgments.
"Over the course of the three seminars, students are expected to improve in these critical abilities as they gain experience discussing controversial and intellectual topics with students from different backgrounds and majors," said Reese. "They gain the knowledge of the perspectives of their peers as well as those of experts on the topics of the seminars they take."
Seminar topics, chosen by the faculty, provide students with a wide variety of offerings each semester. They're taught in ways that lead students to understand the world and to find a place in it. Students are encouraged to develop intellectual curiosity--a need to know who, how, and why.
The "Breadth Courses" require VWU students to take at least two courses from each of three traditional academic divisions: (1) Arts and Humanities, (2) Social and Behavioral Sciences, and (3) Mathematics and Natural Sciences.
Reese explains that all universities have a requirement similar to this and that "a hallmark of a university-educated person is a broad base of knowledge from across the university." She says that in the Breadth Courses, students gain a sense of the vastness of knowledge.
"They create art, they study the mathematical sciences, the natural sciences and the social sciences," Reese continued. "And, they will also engage with the humanities at the upper-level."
Reese notes that this broad base, together with the upper-level humanities course, gives confidence and polish to VWU graduates.
"The combination of general education with students' major programs serves our graduates well in their future lives, both personally and professionally."
Interrogating a Topic
This semester, seminar course topics range from "Global Realities," "Sports and Religion" and "Meaning, Happiness & The Good Life" to "Showing Truth to Power: Art and Politics since 1945" and "Star Wars."
Professor of Judaic Studies Eric Mazur's Wesleyan Seminar "Sports and Religion" examines religion in American culture from the Civil War to the present and the incredible changes in American religious culture over that time.
"I use sports as the lens into these changes," notes Mazur. "I introduce the students to historical method, sociology, comparative religion, cultural and ethnic studies, and semiology. And there is always something in the news to bring it into their lives – the World Series, sports scandals, sports hero worship, for example."
Mazur hopes to encourage discussion and critical thinking, as well as empower students with skills such as self-advocacy and awareness of their surroundings. He often ties topics to elements of the students' own experiences on campus.
Students in Howell's "Showing Truth to Power" course examine and discuss art to determine its underlying social justice issue, raise questions about the issue and opposing views, and evaluate whether or not it's effective and why.
"The art we look at is very challenging," noted Howell. "It's hardly ever traditional painting and sculpture, but rather site-specific installations, performance art, and conceptual pieces."
Howell notes that the seminar features hands-on student engagement rather than lecture, class discussions, oral presentations, and group activities such as field trips.
The class traveled to Washington, D.C., recently on a bus trip sponsored by The Lighthouse: Center for Exploration and Discovery. At the Renwick Gallery they saw an example of a very contemporary interactive work of art like many of those they'd been studying: Ginny Ruffner's "Reforestation of the Imagination," where the artist used augmented reality (AR) of fantastic plants combined with glass sculpture to raise the issue of the environment and endangered species of plant life.
"Traveling together, and experiencing a new work of art as a group enhanced connecting with each other, which in turn, deepens knowledge," said Howell.
May the Force be with you
Dean of the Susan S. Goode School of Arts and Humanities and Professor of Theatre Travis Malone and Associate Vice President for Academic Affairs and Professor of English Susan Larkin are co-teaching the "Star Wars" Wesleyan Seminar this fall.
"A seminar like this is one of students' first experiences on campus where they will interrogate a topic in depth," says Larkin. "Working with a faculty member who has expertise and passion about scholarly exploration of a particular topic, they will immediately be immersed into the critical thinking and intellectual curiosity that is so crucial to the liberal arts."
Larkin says that other introductory courses may be broader surveys; however, the Wesleyan Seminars are about creating knowledge and are very different from the courses that most students had in high school in both method and content.
In "Star Wars," for example, Malone and Larkin are introducing students to the field of cultural studies through an exploration of a movie franchise that is an iconic cultural touchstone.
"As we interrogate Star Wars, the class is learning how to approach and interrogate a text," noted Larkin. "We are teaching them what it means to approach a work as a scholar and to consider what is being conveyed."
Malone and Larkin bring their different disciplinary approaches to the course, which shows students what it means to approach a topic from specific disciplinary perspectives.
"Students experience how different perspectives can read the same text in significantly different but very valid ways," continued Larkin. "We are challenging students to not just develop an awareness of different insights, but also to develop and articulate their own assertions."
She explains that cultural studies is a new field for most students, and focusing the course around "Star Wars" enables students to use the familiar and relevant as they develop a new critical lens. In addition to film and literary theory, the course also interrogates questions of race, gender, class, consumerism, and other issues.
"The critical awareness that our students develop empowers them to engage with their other courses and larger society in more meaningful ways," said Larkin.
VWU 2019-2020 Wesleyan Seminars:
Wesleyan Seminar I - Showing Truth to Power: Art and Politics since 1945
Wesleyan Seminar I- Religious Food Fights and Christian Identity
Wesleyan Seminar I - Featherless Bipeds: Love and Death in Literature
Wesleyan Seminar I - Philosophy of Sport: Competition, Character, and the Good Life
Wesleyan Seminar I - Philosophical Fiction
Wesleyan Seminar I - Global Realities
Wesleyan Seminar I - Meaning, Happiness, & The Good Life
Wesleyan Seminar I - Our World of Music
Wesleyan Seminar I - Markets and Morality
Wesleyan Seminar I - Genocide: The Problem from Hell
Wesleyan Seminar I - Star Wars
Wesleyan Seminar I - Sports and Religion
Wesleyan Seminar I - Photos for Social Change
Wesleyan Seminar I - Women in Politics
Wesleyan Seminar I - Sound and Noise in American History
Wesleyan Seminar I - How to Get Away With Murder
Wesleyan Seminar I - Film Criticism and French Cinema
Wesleyan Seminar I - Technology and Society in Science Fiction Film
Wesleyan Seminar I - Between Wakanda and a Hard Place
Wesleyan Seminar I - Badly Behaved Women
Wesleyan Seminar II - Sacred Space in America
Wesleyan Seminar II - Sherlock Holmes and Friends
Wesleyan Seminar II - The Old Testament World
Wesleyan Seminar II - Protest Music
Wesleyan Seminar II -Race, Gender, and Personal Identity
Wesleyan Seminar II - Violent and Grotesque in Flannery O'Connor's Fiction
Wesleyan Seminar II - American Buddhisms
Wesleyan Seminar II - Contemporary German Fiction
Wesleyan Seminar II - Making American Myths
Wesleyan Seminar II - Money, Greed, and Happiness
Wesleyan Seminar II - The Story of Romantic Love
Wesleyan Seminar II - Everybody's English Language
Wesleyan Seminar II - American Apocalypse
Wesleyan Seminar II - How to Become a (French) Film Critic
Wesleyan Seminar II - Languaging
Wesleyan Seminar II - Dream, Fantasy, and the Search for Reason
Wesleyan Seminar II - Race, Gender, and Leisure
Wesleyan Seminar II - From Page to Stage
Wesleyan Seminar III - Rationality: The Art, Science and Philosophy
Wesleyan Seminar III - Theatre of Diversity
Wesleyan Seminar III - The Female Athlete
Wesleyan Seminar III - Poetry On and Off the Page
Wesleyan Seminar III - Art and the American Dream
Wesleyan Seminar III - The Documentary Impulse and Social Change
Wesleyan Seminar III - European Heresy and the Witch-Hunt
Wesleyan Seminar III - Asians in America
Wesleyan Seminar III - Intro to French Literature
More information about General Education requirements at VWU is available on our website.