DIVE IN to Marine Science on the Mid-Atlantic
Scuba dive, sample ecosystems and explore coastal waters during this new summer program
University News | March 22, 2022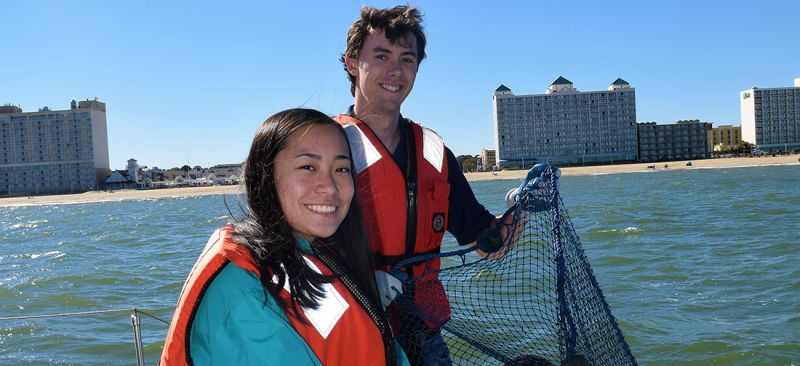 Be prepared to get wet as you dive in to the VWU Marine Science Summer Program!
This new live and learn immersion program, developed by Professor of Marine Biology Dr. Soraya Bartol, is specifically designed for college students from around the country, primarily for upper-division undergraduates majoring in biology, marine biology, earth and environmental science/studies, or general science. The six-week program is scheduled for May 23 through July 1, 2022 on the campus of Virginia Wesleyan.
Students who enroll in the program can earn credits by taking the following courses: Field Studies in Coastal Marine Environments (4 credits); Oceanography (4 credits); Undergraduate Research (2 credits); and Beginning Scuba Diving with certification (1 credit).
Virginia Wesleyan's unique location near the Chesapeake Bay and Atlantic Ocean offers the ideal setting for study in a small residential atmosphere. Classes and labs will meet twice a week in VWU's Greer Environmental Sciences Center, a state-of-the-art facility with active learning classroom space as well as dedicated research labs for housing marine organisms, mercury analysis (clean room), nutrient analysis, and environmental imaging in a microscopy suite. During the program, Wednesdays will be reserved for non-lab class (Dive Certification), longer field trips, and independent research supervised by professors.
Students will have opportunities to go on field trips, such as excursions on the Ocean Explorer, a 45-foot vessel that has the latest scientific instrumentation for sampling the marine environments, and day trips to a variety of coastal environments. They will be able to sample ecosystems such as the marsh system of the Eastern Shore, dunes of the NC Outer Banks, Gulf Stream waters of the Atlantic, and the estuarine waters of the Chesapeake Bay. In collaboration with the Virginia Aquarium and Marine Science Center, students will also be able to work with the stranding team on large and small whales, dolphins, seals and sea turtles.
Apply now to be a part of the 2022 VWU Marine Science Summer Program.