Share this Story
Dominion Energy Supports Environmental Education at VWU
The Environmental Explorers summer camp was held in partnership with YMCA Camp Red Feather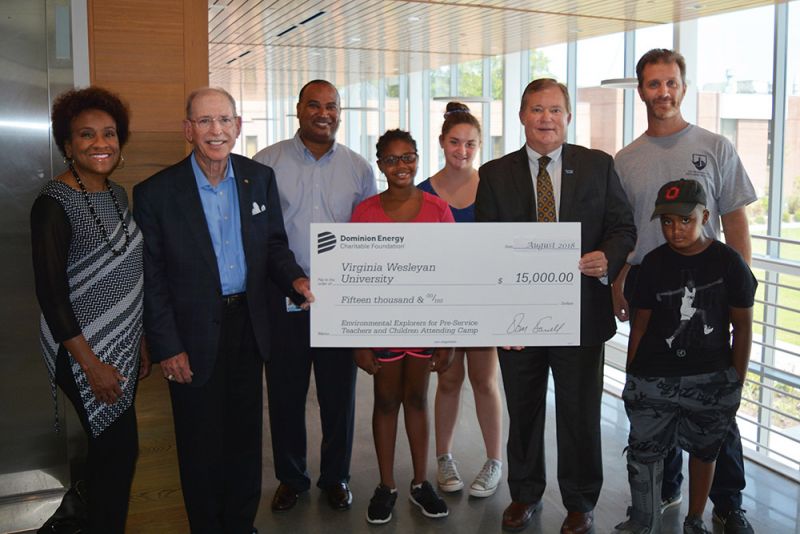 University News | August 28, 2018
Photos: Environmental Explorers Summer Camp
A $15,000 grant from the Dominion Energy Charitable Foundation helped create a memorable educational experience this summer for pre-service (student) teachers from Virginia Wesleyan University and their young charges. The grant helped fund programming and activities for an outdoor Environmental Explorers camp held in August at VWU in partnership with the YMCA of South Hampton Roads' Camp Red Feather.
"Many of today's children have little awareness of the natural world as there is a lack of outdoor environmental education training offered in traditional classrooms," said Virginia Wesleyan Assistant Professor of Education Bill McConnell, who oversaw the program. "During the Environmental Explorers camp, VWU scientists, science education experts and the YMCA staff developed a variety of interactive projects to help the pre-service teachers and the student campers get excited about nature and the outdoors."

For example, the elementary-aged campers helped teachers design and build a remotely-operated underwater vehicle equipped with cameras and water quality sensors. Other activities included 3-D printing of scientific models, microscopy and lunch talks with real-world scientists.

"Thanks to this generous grant from Dominion Energy, Virginia Wesleyan's pre-service teachers will have more confidence about hands-on environmental education," said Virginia Wesleyan University President Scott D. Miller. "We hope it inspires our students to have a greater interest in science and environmental stewardship."
This is the second environmentally focused program to be held at VWU this summer. The Virginia Wesleyan Environmental Institute: Summer Scholars Program, funded by an anonymous donor, took place in July. It enabled ninth-grade girls to participate in authentic environmental science, technology, engineering, and math (E-STEM) experiences alongside environmental science professionals in academia, industry, business, government, and non-profit organizations in order to better understand the vast opportunities for women in E-STEM fields.
Both programs took place in Virginia Wesleyan's award-winning new Greer Environmental Sciences Center, which opened in fall 2017. The LEED Gold certified facility has created a national niche for VWU in the sciences, providing unprecedented opportunities for students while fostering regional collaboration.

As part of its ongoing commitment to environmental sustainability, Dominion Energy awarded $1 million in Environmental Education and Stewardship grants to a variety of initiatives across the company's footprint. Donations were shared by nearly 130 nonprofit organizations and schools working to improve natural spaces or encourage environmental stewardship in 12 states. For more information, visit dominionenergy.com.