Expanding NATO-ACT Partnership Enhances VWC's Role in the Global Community
Irene Bargueno '16 served as VWC's first intern for the NATO-ACT Innovation Hub.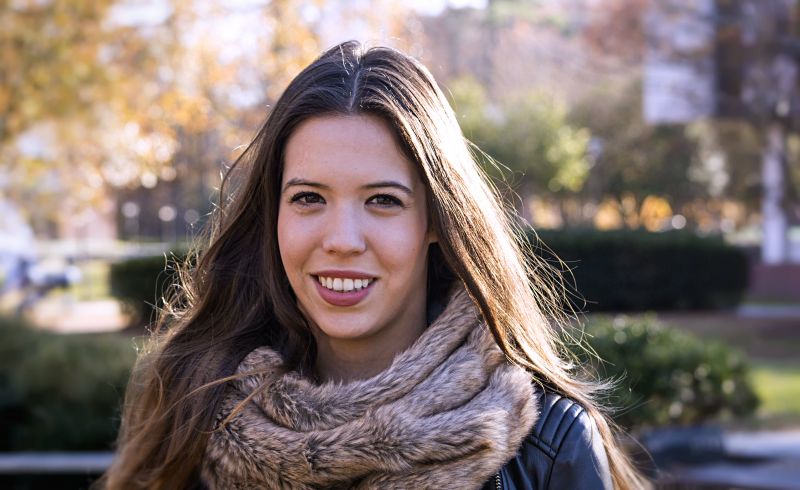 Featured News | December 21, 2016
By Laynee H. Timlin
Irene Bargueno's love of languages and cultures was heightened during her internship with the North Atlantic Treaty Organization- Allied Command Transformation (NATO-ACT) this semester. Bargueno, from Madrid, Spain, served as the project leader for NATO's Cross Cultural Competence initiative which focused on understanding other cultures and seeing the many differences between them. In this role, she met people from different countries and interacted with many NATO professionals. For Bargueno, who earned her bachelor's degree from Virginia Wesleyan this month after completing requirements for her major in International Studies, helping to organize the event and taking the lead in recruiting other VWC student participants was both informative and enjoyable.
Bargueno was one of seven VWC students who participated in the NATO-ACT Innovation Hub's "Junior Experts Discussion" which connected college students from around the world in an exploration of how NATO can increase Cross Cultural Competency through better use of new media and electronic capabilities. VWC students Brendan Keller, Christian Spivey, Sarah Pybus-Elmore, Bayli Foley, Story Cook and Ashley Peterson also had opportunities to speak with professionals from across the globe about issues of practical international importance as a result of this experience.
The NATO-ACT Innovation Hub is just one aspect of the expanding relationship that has developed between NATO-ACT and Virginia Wesleyan, a partnership that was formally established in 2013. The collaboration has continued to grow, providing numerous opportunities for students and mutual benefit for both organizations. In addition to offering student tuition grants for the children and spouses of NATO's Norfolk-based employees, Virginia Wesleyan has hosted the Model NATO Challenge, a mock, global crisis simulation, the Norfolk Festival's NATO Youth Ambassador night, and NATO staff have shared their expertise on campus—co-teaching courses and serving as guest speakers.
The latest partnership project, Chiefs of Transformation, was held on December 14 and 15. For this venture, VWC students joined National Liaison Officers from each of the 28 NATO countries, as well as students from other colleges and universities and representatives of the international press in discussions that centered on increasing public understanding of NATO's roles and goals.
Bargueno's decision to attend college in America was influenced by Virginia Wesleyan's partnership with NATO-ACT.
"My dad was a NATO officer and had a position at the base in Norfolk, so I took the opportunity to live the American college experience at Virginia Wesleyan."
In reflecting on her years at Virginia Wesleyan, she credits the many stimulating experiences, including her internship, and VWC professors for having a profound and positive influence on her.
"During my first semester I met Professor of Art History Joyce Howell, one of the best professors I ever had. Dr. Howell is very passionate in her classes and always there for her students. Many times I did not want her classes to end, in fact I often felt the impulse to applaud her after a lecture."
Bargueno eventually plans to take her American experience back to Europe, staying in the diplomatic world and interacting with as many cultures as she can. With minors in Art History, German Studies and Political Science, she loves learning about the world and wants to use her experiences to make a positive difference.
For more information about VWC's NATO-ACT internship program visit:
https://www.vwu.edu/academics/the-lighthouse/career-development/nato-internship-program.php