Exploring Ecuador During January Term
Batten Honors College students travel to the middle of the world to study diversity and sustainability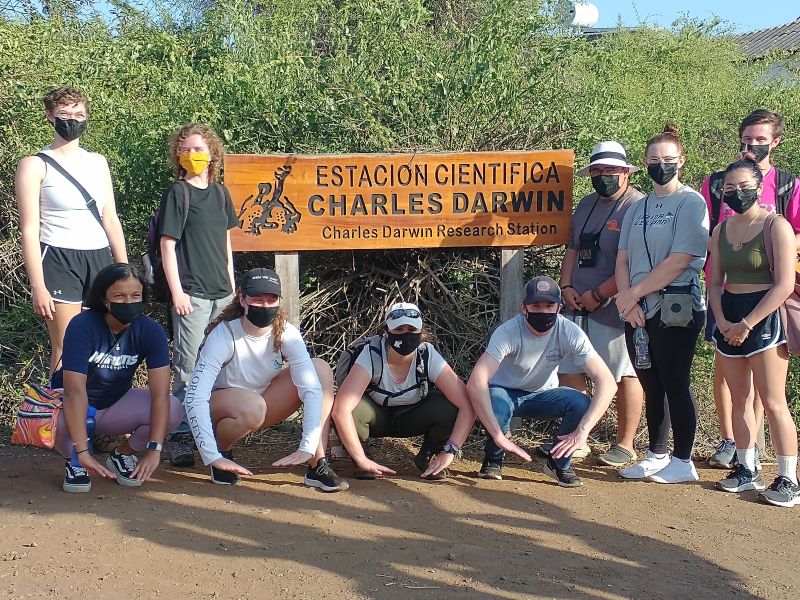 University News | January 24, 2022
From "The Short Prose of Franz Kafka" to "Psychology of Eating Disorders," courses offered during Virginia Wesleyan University's January Term provide students with opportunities to concentrate their studies on one intensive subject. During the three-week winter session, students earn credits by taking unique courses not typically offered during the regular semester and participate in exciting study away learning adventures, all of which accelerate their progress toward degree completion.
During January Term 2022, students in the Batten Honors College had an incredible opportunity to travel to Ecuador. Their excursion was part of a course offered this winter by Professor of Chemistry Dr. Joyce Easter and Professor of Hispanic Studies Dr. Diana Risk.
"Connections and Context: Diversity and Sustainability" is a travel course that enables students to actively observe and analyze issues relevant to specific cultures. This year the course took students to the middle of the world to explore Ecuador's three largest cities: Guayaquil, Quito, and Cuenca, and the Galapagos Islands. There, they engaged in discovering how this developing country, that straddles the equator on South America's west coast, manages to balance conservation of environmental and cultural diversity with economic development.
"Ecuador is one of the most diverse countries in the world with regards to geography, ethnicity, culture, climate, and biology," said Professor Easter. "In Ecuador, the past and the present are both part of everyday life. Some communities live as they did 500 years ago and some are very modern."
Easter noted that an objective of the course was to examine the relationship between cultural and biological diversity.
"Indigenous cultures show us that there is a way to coexist with nature without depleting its resources," said Easter, "and for the next generation to face problems like global warming, it will need to learn from societies whose knowledge and ways of life have made them resilient and less dependent on non-renewable sources of energy, thereby living more sustainably. Throughout Ecuador, we observed various sustainable practices that could be adapted to other locations."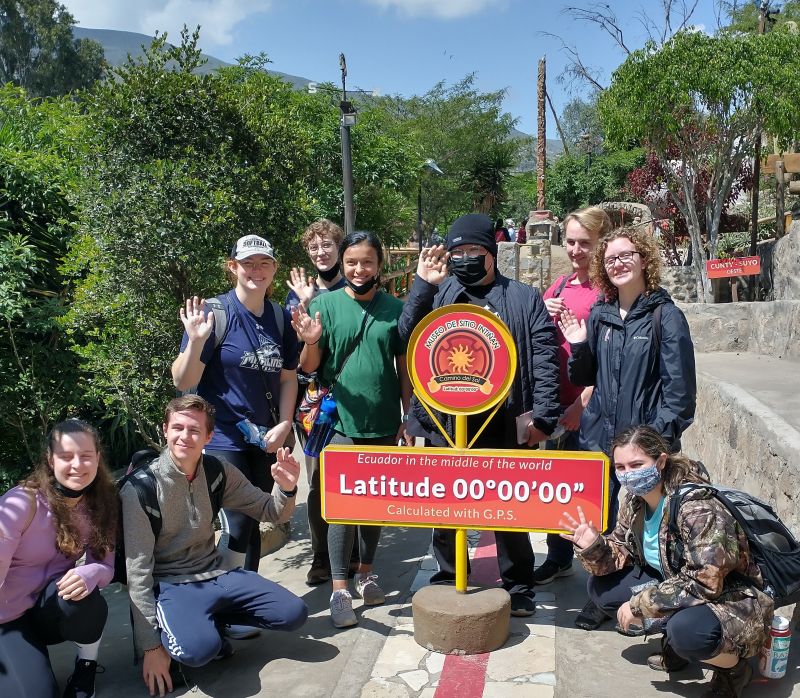 For two weeks, the students were immersed in the culture—engaging with local non-governmental organizations (NGOs) and communities as they learned about conservation projects and sustainable practices while participating in cultural exchanges and interactions.
"Diversity is something Ecuadorians appreciate," noted Professor Risk, "and their 17 indigenous nationalities are recognized by the Constitution. They speak their original languages, and dress as they did before Europeans came to their lands. We should appreciate the resilience of these indigenous communities that unlike many others, survived the history of discrimination sustained by the colonial system in the American continent."
The students visited indigenous markets and communities, learned about healing plant medicines and potions, explored biodiversity at Charles Darwin Station and Tortuga Bay Beach, and snorkeled at Kicker Rock, a highlight in the Archipelago, and one of the best snorkeling spots and home to many species.
Their trip to Santa Cruz Island included a visit with giant tortoises in the wild at El Chato Tortoise Reserve, one of the few places to observe the creatures roaming in their natural habitat.
The adventure also included excursions to a farm that works on agro ecological practices contributing to food security and conservation through organic and regenerative agriculture, and a visit with a representative from a local NGO to learn about their work with children. The students also engaged in activities at a neighborhood park on San Cristobal Island and painted a mural to help improve the infrastructure.
Sophomore Abby Mahoney characterized the January Term experience in Ecuador as "beyond remarkable."
"Our class had the opportunity to be fully immersed in indigenous cultures, interact with guides and locals alike sharing their passion for their communities, experience vast amounts of biodiversity, and explore climates ranging from the Andes Mountains to the cliff sides of the Galápagos Islands."
Mahoney said that the highlight of the experience for her was snorkeling off of Kicker Rock. She explained that the students were first briefed on the biodiversity, ocean current system, and climate surrounding the rock before they swam and filmed hammerhead sharks, Galapagos and black tip reef sharks, sea turtles, various fish species, a family of sea lions, eagle rays, and manta rays breaching the water.
"Ecuador is so incredibly rich in resources and this part of the trip specifically highlighted the uniqueness and value it offers to the rest of the world. Being able to be there, speak to the locals, and experience these things first hand allowed for an educational experience no classroom could ever offer."
Learn more about January Term at VWU