Founders Day Celebrates 'Connection, Family and Home'
Deborah Paxson '75 pays tribute to the University's founding trustees, faculty and staff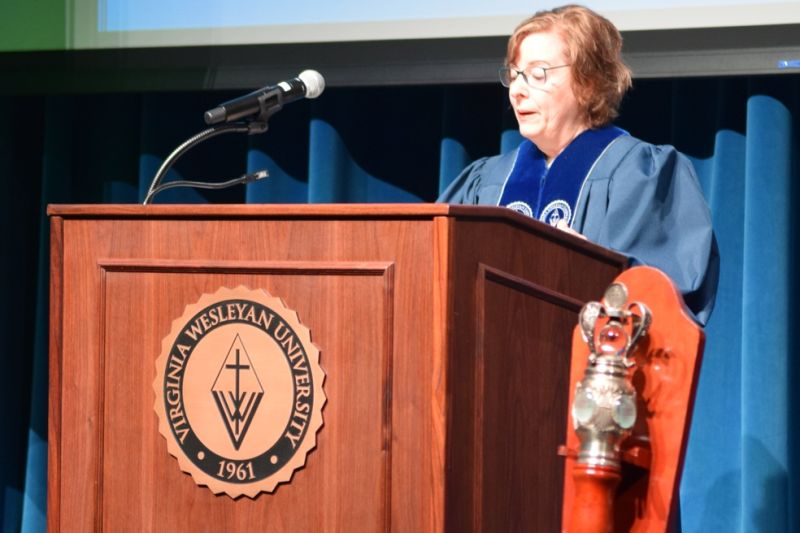 University News | September 8, 2022
Photo Gallery: Founders Day Convocation 2022
"Connection, family and home. It is why I've kept coming back over the last 51 years to serve," said keynote speaker and alumna Hon. Deborah Paxson '75 during Virginia Wesleyan University's Founders Day Convocation on September 8. Paxson's five decades of support began with service to the Alumni Council and continued the last 10 years as a member of the University's Board of Trustees.
During her speech, Paxson—who graduated summa cum laude with a bachelor's degree in English—recalled many friends, faculty members and staff from Virginia Wesleyan's early years who made an impact on her life and left a lasting legacy on campus. She expressed special gratitude for the trustees who laid the foundation for what the University has become.
"There would be no Virginia Wesleyan without the vision of those founding trustees," she told guests in the Goode Fine and Performing Arts Center. "I often think about the courage, commitment, and wisdom it took for those people to invest so much of their time, money—especially their money—and their belief in this, at the time, new educational venture."
"Please think of them on this day," she continued. "Say their names, for that is how we keep their memories alive and give them a silent 'thanks.'"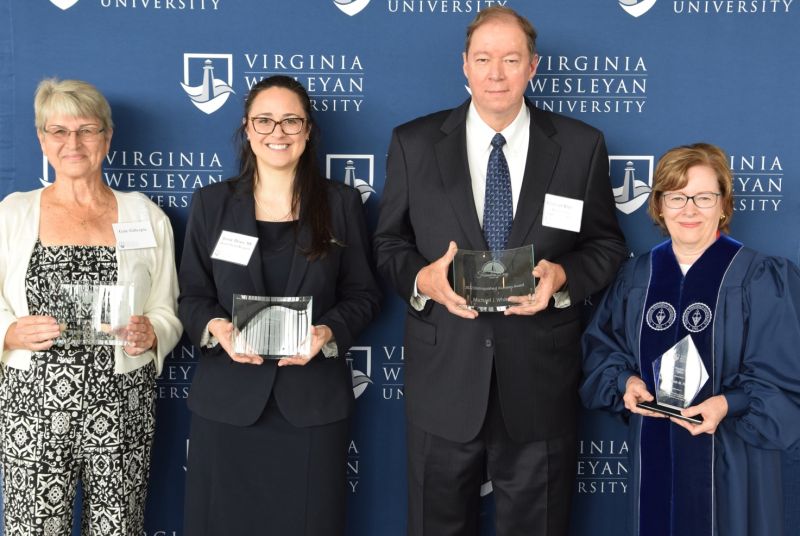 Following her remarks, VWU President Scott D. Miller presented Paxson with a 2022 Wesley Award to show gratitude for her outstanding service, contributions and faithfulness to her alma mater.
Dr. Miller and VWU Alumni Council Chair Alisa Crider '10 also honored the 2022 Alumni Awards recipients during the convocation. Celebrated for their outstanding professional and personal accomplishments, this year's honorees are Michael J. White '81 (Distinguished Alumnus Award), Brandon L. Adair '12 (Alumni Service Award), and Jessie K. Dawe '08 (The Beacon Award).
"Recognizing alumni is among the most important traditions at Virginia Wesleyan," said Dr. Miller. "Our alumni are vital to our continued growth as a national liberal arts institution. We look to our alumni to continue to represent the University and to support and promote our efforts for the future."
Founders Day was launched in 2016 as an annual event to honor the history and heritage of Virginia Wesleyan. View the Founders Day Convocation in its entirety on the VWU Digital Broadcasting Network