Learning Life-Saving Lessons during January Term
First Aid and Safety was one of 30 courses offered during the 2023 winter session
University News | January 19, 2023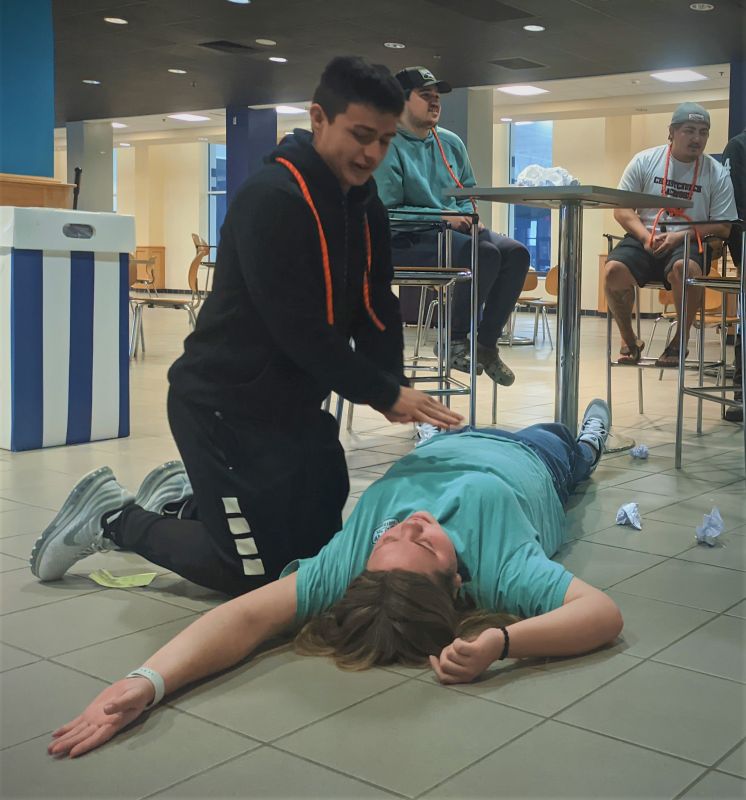 From "First Aid and Safety" and "Experiential Film and Video" to "Humans and the Environment" and "Politics and Sports," there were 30 courses offered during Virginia Wesleyan University's January Term, January 2 - 20. Each course provided students with opportunities to concentrate their studies on one intensive subject during the three-week winter session. Students earned credits by taking unique courses not typically offered during the regular semester and by participating in exciting study away learning adventures, all of which accelerate their progress toward degree completion.
On the first day of classes for January Term 2023, the nation's attention abruptly focused on the critical importance of emergency first aid. During a Monday night NFL football game, Buffalo Bills' player Damar Hamlin suffered cardiac arrest following a tackle, requiring immediate life-saving measures on the field; measures that his doctors say were critical to his survival.
That traumatic incident put into focus the vital importance of CPR and other emergency care practices students were learning in the January Term course, "First Aid and Safety," taught by VWU's Director of Recreation and Wellness William Harrell.
"Having the knowledge and confidence to help someone in immediate need is critical when situations like this present themselves," Harrell said. "You typically have to make the decision to help quickly and that's a significant part of the reason for offering the course."
Harrell teaches the four-credit course during January Term and during the spring semester. It's designed to prepare students, by providing them with knowledge and skills, to meet the needs of most situations when emergency first aid care is required and competent medical assistance is delayed. The course, which is open to students in all majors, incorporates personal safety and accident prevention information to acquaint students with the many causes of accidents so action can be taken to eliminate or minimize their effects.
"It's a very hands-on course," Harrell explained. "When you're actually doing things with your hands, whether through a scenario, by watching a video and then practicing what's being shown, or practicing on other folks through simulations, it makes learning the skill more realistic."
Through engaging lectures, guest presentations and accident simulations, students identify various types of injuries, including potential fractures, dislocations, sprains, and strains and learn the proper first aid care for them.
Sophomore Savannah Combs described the whole January term experience as "very helpful," enabling her to learn skills that will benefit her throughout her life.
Combs explained that the course was a great opportunity for students to get CPR certification for a year to be eligible to help in those emergency situations. Also, she said that the course material provided a realistic practical application of skills and tools that will remain with her even after college life.
"Since I'm majoring in recreational therapy, this course will be very beneficial for me professionally," noted Combs. "I'll be around a lot of people with health issues, which requires me to have knowledge about CPR and safety."