People, Prosperity and the Planet
VWU receives second grant from the Environmental Protection Agency
University News | July 31, 2019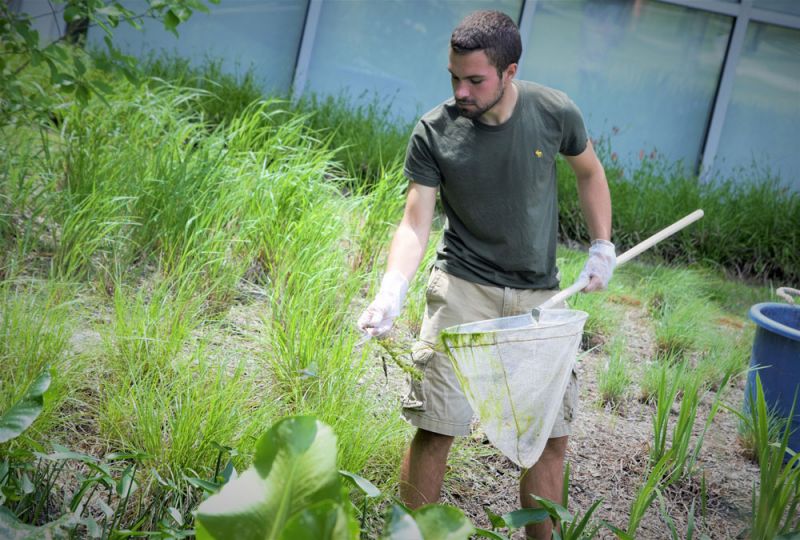 Virginia Wesleyan has been awarded its second grant ($15,000) from the Environmental Protection Agency (EPA). The first was awarded in 2005 for "green roof" research conducted by Professor of Ocean and Atmospheric Sciences Elizabeth Malcolm, Associate Professor of Mathematics Margaret Reese and Professor of Biology and Vice President of Academic Affairs Maynard Schaus.
Inspired by the living laboratory surrounding VWU's new Greer Environmental Sciences Center, the current project, "Vermicompost from Stormwater Phycoremediation," is designed to study the use of phycoremediation to remove water pollutants from stormwater ponds and treatment wetlands. The project timeline spans from December 2018 to November 2019.
Malcolm, who serves as the primary investigator for the grant, notes that harvested algae will also be studied as a potential feedstock for use in vermicomposting. She says that the research has the potential to be an easily implemented, low-cost, sustainable practice to minimize the release of aquatic pollutants, such as mercury and nutrients that impact ecosystems and public health.
"To our knowledge this is the first study to evaluate phycoremediation for nutrients and metals in stormwater ponds and the first study to use algae as a vermicompost amendment," explained Malcolm. "The Greer Environmental Sciences Center has enabled us to leverage more research projects and additional opportunities for our students. More than 25 students from a variety of disciplines have worked on this particular project; some as part of a class group project and others as independent research."
The EPA's P3 - People, Prosperity and the Planet Program is a competition for teams of college/university students working to design solutions for a sustainable future. The annual, two-phased research grants program challenges students to research, develop, and design innovative projects that address real world challenges involving all areas of environmental protection and public health. P3 aims to foster progress toward environmental awareness by achieving the symbiotic goals of improved quality of life for all people, economic prosperity, and protection of the planet.
Faculty co-investigators on the grant include VWU professors William McConnell (Education), Maury Howard (Chemistry), Margaret Reese (Mathematics), Philip Rock (Biology), Katrina Henry (Physics/Earth and Environmental Sciences [EES]), Paul Ewell (Management, Business and Economics [MBE]), and ODU Associate Professor Xixi Wang (Civil Engineering).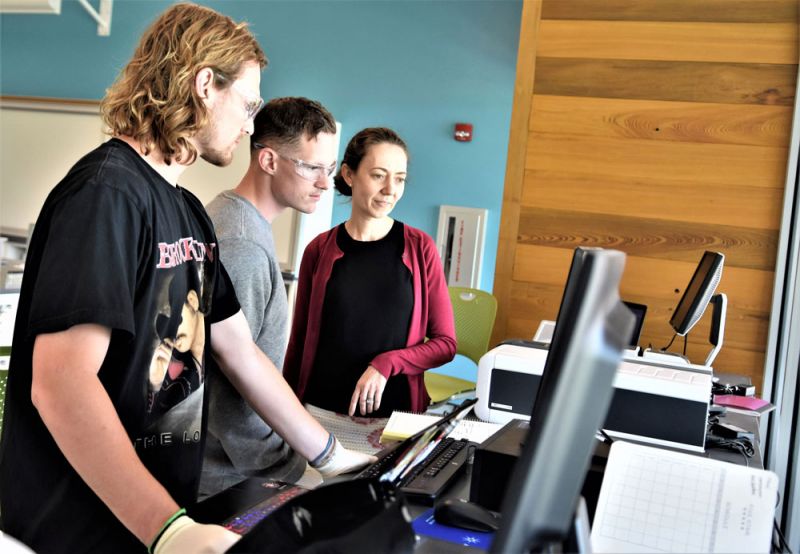 VWU student investigators include Arika Britt (Chemistry), Warren Canady (EES), Noah Craft (EES), Kalli Koehn (EES), Libby Hipple (Chemistry), Emily Purdin (Education), and Christy Hendricks (Education).
Students in the courses "CHEM 480: Instrumental methods of analysis," "CHEM/EES 450: Biogeochemistry" and the Batten Honors College class "HON 110: Complex Global Challenges" have also conducted research and contributed to the project.
The interdisciplinary aspect of the research will impact students from multiple disciplines. For example, pre-service elementary teachers are paired with science students as research apprentices allowing them to develop a more informed view of the nature of science and sustainability. A lesson plan created from the project was used to teach area elementary students about environmental science.
The P3 grant also involves support from local industry partners. Solitude Lake Management is providing advice and guidance related to the practical aspects of the project from a business perspective. Norfolk Botanical Gardens will similarly provide expertise from a sustainable landscaping perspective.
Research by the grant's investigators has been presented at several conferences, including the Virginia Water Conference and Virginia Academy of Sciences. In addition, Professor Howard along with five VWU graduates and one current student attended the TechConnect World Conference & Expo in Boston this summer to present preliminary results from the grant.
Expected results from this interdisciplinary project are predicted to advance the scientific and technical knowledge on phycoremediation and composting of waste algae, and have the potential as a sustainable practice to minimize the release of aquatic pollutants that threaten ecosystem and public health.