President Miller Attends U.S.-Mexico Education Summit
Events take place April 24-27 at CIC member institutions in Chicago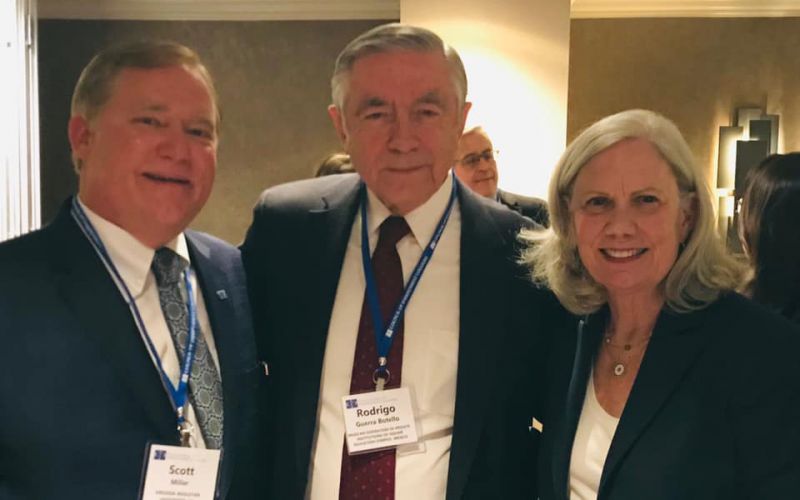 University News | April 26, 2019
Virginia Wesleyan University President Scott D. Miller is attending the second U.S.-Mexico Higher Education Summit April 24-27 in Chicago.
The summit is hosted by the Council of Independent Colleges in collaboration with the Mexican Federation of Private Higher Education Institutions (FIMPES) and Santander Universidades and Universia.
Summit events are taking place at five CIC member institutions in the Chicago area: DePaul University, Dominican University, North Central College, North Park University and Rockford University.
A delegation of 23 Mexican rectors and senior campus colleagues are participating, as are 31 college presidents and senior leaders from 23 CIC member colleges and universities. The summit emphasizes the importance of international exchange in today's "America First" political climate.
CIC President Richard Ekman noted, "In the current climate of constrained international cooperation, CIC reaffirms the importance of international exchange for the preparation of informed citizens and responsible global participants. Our Mexican neighbors have a special relationship to colleges in the U.S."
The Summit follows five years during which delegations of Mexican rectors participated in CIC's annual Presidents Institute, the largest annual gathering of college and university presidents in the U.S., and an inaugural Summit held in Guadalajara, Mexico, in 2017. Roberta S. Jacobson, former U.S. Ambassador to Mexico; Antonio Cuesta, acting consul general of Mexico in Chicago; Margaret B. Hug, director of regional education initiatives for the U.S. Department of State; and Rebeca Vargas, president and CEO of U.S.-Mexico Leaders Network, are expected to address the summit.
Session topics include innovation in internationalization, the status of student and faculty exchange programs, cross-border articulation agreements, and the nature of global leadership and the situation of undocumented students. Participants are also exploring joint summer programs and other forms of educational and scholarly partnership and possibilities for association-to-association partnerships.
As a result of the summit, participants intend to provide enhanced exchange opportunities for students and faculty members in both countries; provide students with increased access to internships in Mexico and the United States; and allow faculty members and students to collaborate in shared research projects and development programs.
Dr. Miller is a former member and officer of the CIC Board of Directors and chaired the organization's acclaimed New Presidents Program for 15 years. In the mid-1990s he co-founded The InterAmerican Consortium—a collaboration of eight U.S. colleges and universities and 11 international universities. For his leadership, he was awarded the Presidential Medal by Universidad InterAmericana of Costa Rica and Panama. During his 28 years as a college president, has been an outspoken advocate of the importance of international travel and service learning as a part of a liberal arts education.
Learn more about Study Away at Virginia Wesleyan University