Global Scholar Rethinks Cuba's Past
Hispanic Studies major Manijha Mack '18 is VWU's first student to study in Cuba
Featured News | July 7, 2017
By Sara Sewell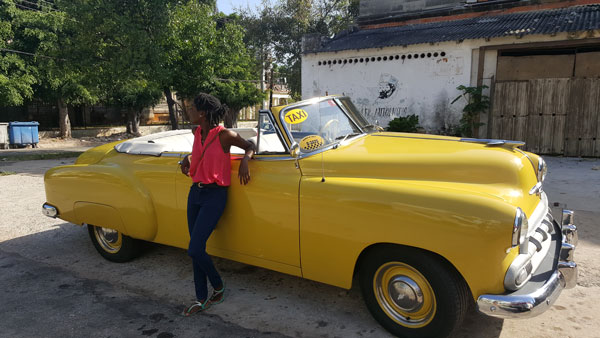 "Cuba is more than just bright colors, salsa, and vintage cars," explains VWU Global Scholar Manijha Mack '18. It is also "an inspiring account of perseverance to become an independent nation."
Majoring in Hispanic Studies, Mack is Virginia Wesleyan University's first student to study in Cuba. In spring 2017, she enrolled at the Universidad de La Habana in Havana where she took courses in Cuban studies, history, Afro-Caribbean studies, and Spanish.
"My time spent in Cuba was one of the greatest and most enriching learning experiences of my life," Mack explains.
She especially appreciated studying Cuba's history. The history of Cuba since its revolution is not "as black and white as I had previously been taught. Cuba is one of the very few countries that stood up for what it truly believed in. Not many countries can say that. I believe it is something to be proud of, especially when your country is regarded as an underdog."
Debating Cuba's history, Mack enters a national dialogue about the United States' relationship with its neighbor. From her perspective, Americans do not fully understand Cuba's people and culture. "When talking to Cubans, the one thing that caught my attention was the pride they possess not only for their country but also for what their country stands for, especially its courage. Nothing opened my mind and my heart more than learning about this country's perseverance."
Interacting with the people gave Mack even more insight into Cuban culture. They are a proud people, she states. They "rarely let you see the struggles they face." A Cuban friend explained that although "the world may see them as poor, they aren't looking for sympathy. They don't need tourists or international students pitying them and handing out money. They are content."
Mack elucidates this contentedness.
"One night I was invited by a few Cuban students to hang out at a park. What initially started as a small chit-chat quickly turned into a jam session. I realized that this was normal for most students. It was a way to mingle and have fun. One guy tried to get me to dance. Unfortunately, when it comes to Salsa, I have two left feet, but they were all sweet and supportive."
Such experiences made a deep impact on Mack who sees "how strong and resilient the Cuban people are, despite the restrictions and shortages they face in their country."
Mack's study abroad experience was made possible by Virginia Wesleyan University's Global Scholars Program. Funded by an anonymous donor, the Global Scholars Program has sponsored 65 students to study abroad since 2013 in a wide variety of countries including Tanzania, Argentina, the Czech Republic, Jordan, India, Poland, Turks and Caicos, South Korea, and Chile. Learn more about the Global Scholars Program, and the Lighthouse's Study Away Programs on our website.