Share this Story
Steven Emmanuel Honored by SCHEV with Outstanding Faculty Award
The award was presented by Governor Ralph Northam at The Jefferson Hotel in Richmond
Featured News | March 1, 2018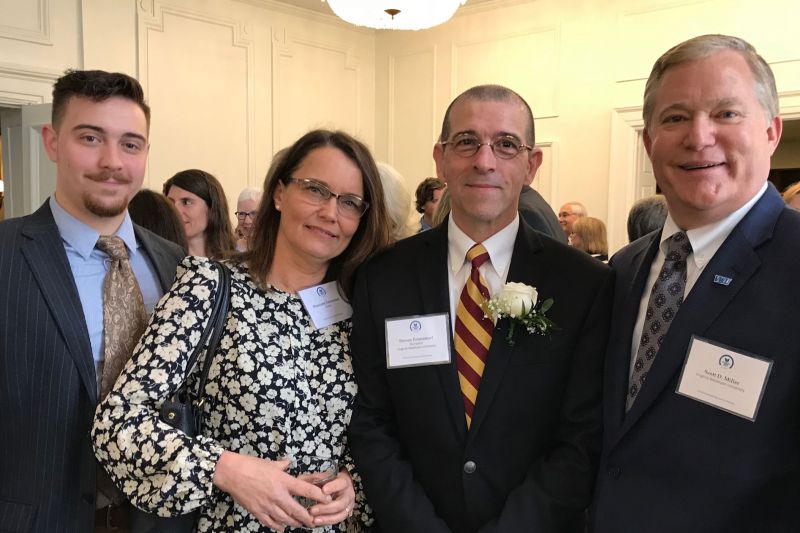 Steven Emmanuel, Professor of Philosophy at Virginia Wesleyan University, was presented with the 2018 Outstanding Faculty Award from the State Council of Higher Education for Virginia (SCHEV) today at a ceremony held during a luncheon at The Jefferson Hotel in Richmond. The award was presented by Virginia Governor Ralph Northam. The Outstanding Faculty Awards, sponsored by Dominion Energy, are the Commonwealth's highest honor for faculty at Virginia public and private colleges and universities, recognizing superior accomplishments in teaching, research and public service.
Nominees were selected by the institutions, reviewed by a panel of peers and chosen by a committee of leaders from the public and private sectors. This year's committee received 83 nominations. The group was narrowed to 27 finalists, and Emmanuel was honored as one of 12 award recipients.
"Congratulations to Dr. Emmanuel on this very well-deserved achievement," said VWU President Scott Miller. "We are immensely proud of his accomplishments and grateful for his contributions to Virginia Wesleyan University."
VWU Provost and Vice President Timothy O'Rourke referred to Professor Emmanuel in his nomination letter as the "quintessential teacher-scholar"… "a person of uncommon ability, good spirit, integrity, and civic commitment." Indeed, his accomplishments and upstanding character are admirable and his academic and community impact is far reaching.

A teaching affiliate with the Pluralism Project at Harvard University, he is the past recipient of the Samuel Nelson Gray Award, Virginia Wesleyan's highest award for distinguished teaching. A former Fulbright Fellow at the University of Copenhagen, Dr. Emmanuel has published extensively on Kierkegaard and other philosophers. He is co-editor of Kierkegaard's Concepts, a six-volume, 1,500-page compendium published over a three-year period (2013-15). He is also the author or editor of six other books on philosophy, most recently Buddhist Philosophy: A Comparative Approach (2017). Demonstrating his wide-ranging academic interests, Emmanuel is co-editor of Revisiting Mister Rogers' Neighborhood: Teaching and Learning about Self and Community (2016) with Kathy Merlock Jackson, VWU Professor of Communication.
During summer 2016, Emmanuel and John Wang, VWU Professor of Computer Science—supported by a $37,000 ASIANetwork grant, which they wrote—led a team of six Virginia Wesleyan students on a research trip to China. The team studied the economic and environmental impacts on world cultural heritage sites in a rural province. Emmanuel also led five Virginia Wesleyan students to Vietnam in 2007 with Stu Minnis, VWU Associate Professor of Communication, to study the healthcare system in that country. His film, Making Peace with Viet Nam, which chronicles the trip, won Best Long Documentary at the 2009 Beijing International Film Festival and the Merit Award at the 2009 Buddhist Film Festival in Sri Lanka.
Emmanuel has served as chair of the Humanities Division and chair of the campus chapter of the American Association of University Professors (AAUP). He has received VWU's Sara Rose Award for Leadership in Service Learning and the Martin Luther King Jr. Peace and Justice Award. He is a past chair of the board of directors of the ASIANetwork and a statewide coordinator for the Virginia Foundation for Independent Colleges Ethics Bowl (2005-2017). He was also awarded a 2014 Mednick Memorial Fellowship, which supported his travel to Japan to investigate the intersections of Zen Buddhism and warfare.