Student Spotlight
Rescuing sea turtles provides Annika Christenson with many perfect moments
University News | February 19, 2020
By Laynee H. Timlin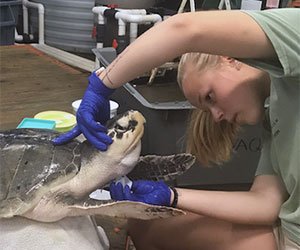 Annika Christenson '20 to the rescue!
The senior biology major, in her final semester at Virginia Wesleyan, says that one of the most thrilling moments happened last summer when she helped rescue a batch of sea turtle hatchlings emerge from their nest.
"I had never seen sea turtle hatchlings before," said Christenson. "Then one morning, I got a call that three hatchlings had crawled out of the nest, so I got in my car and drove immediately to the site. I watched these hatchlings make it to the ocean, while watching the sunrise. I could not have pictured a more perfect moment."
Christenson says that she and her team excavated the nest a few days later, pulling out 17 more hatchlings, which she helped to release into the ocean.
"It was one of the coolest experiences I have ever been a part of. I will never forget watching these tiny (smaller than a cookie) turtles get washed up by the waves."
Perfect moments like these came about as a result of Christenson's work during her internship at the Virginia Aquarium & Marine Science Center, working with the Aquarium's Stranding Response Program, which aids marine mammals and sea turtles that come ashore in Virginia.
Christenson credits a high school trip to the Florida Keys as a turning point for her future.
"It was on that trip that I realized many marine habitats were facing detrimental effects from human pollution and other human factors. I realized I no longer wanted to sit back and watch it happen. I wanted to jump in and help fix it however I could."
She says that on the trip, the students were on the boat heading to a snorkeling site, when the captain noticed something attached to a buoy. He steered them to check it out and they discovered a huge loggerhead entangled in the line. They cut it free and watched it swim off.
"It was such an exciting experience in the moment, but after I started to think of all the turtles out there that don't get that lucky, and end up drowning on that buoy line instead, I wanted to do everything I could to make some sort of difference for those sea turtles."
Originally from Minnesota, Christenson was first introduced to Virginia Wesleyan when she was recruited to play soccer for the Marlins. During her first visit to campus, she met Professor of Marine Biology Soraya Bartol whose research includes auditory functioning in sea turtles. That encounter sealed the deal.
"I have always had a passion for sea turtles and during my meeting with Dr. Bartol, I found out she used to work with them and has done a lot of research with them; it was a no brainer. I wanted to come to VWU, where I could be close to the ocean and pursue my interests in marine biology and play soccer."
After experiencing a "few too many" concussions, Christenson decided to take a break from sports and focus on her academics and get involved on campus in other ways. She's the vice president of the Biology Honor Society, TriBeta, and president of the Chemistry Honor Society, Gamma Sigma Epsilon.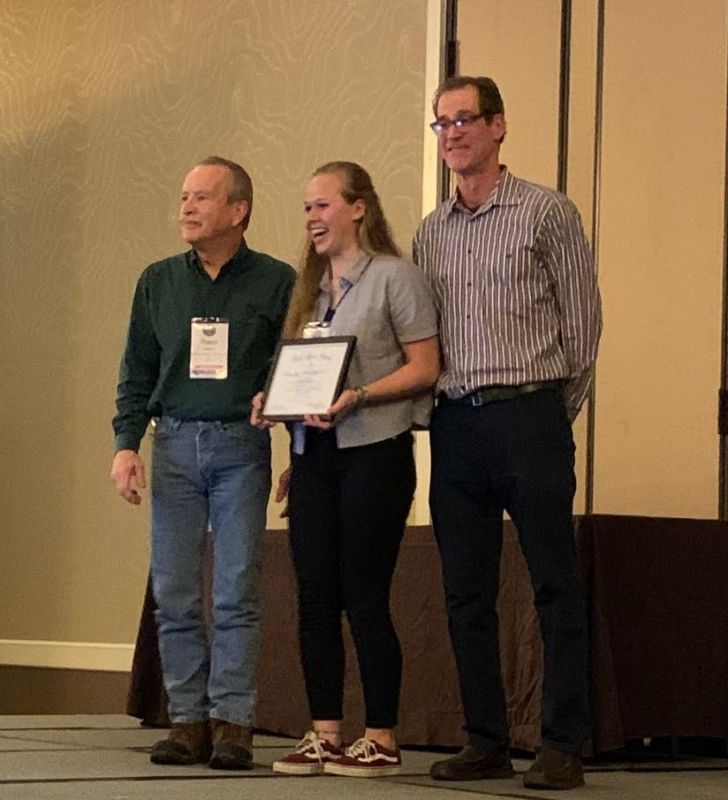 Her volunteer work for the Virginia Aquarium Stranding Response Program began in her sophomore year and led to her internship in May 2019.
She says that during her internship she was introduced to ethical challenges as well. Studying sea turtles raises a host of ethical questions about how to respond to injured animals. She notes that many sea turtles came to the facility still alive but severely injured. These cases struck up interesting conversations about what to do for the turtles. The ethical dilemmas led Christenson to her next project: designing a research protocol to evaluate the viability of rehabilitation in light of the injuries.
Last fall, Christenson expanded her research on campus under the mentorship of Dr. Bartol and the Stranding Team's Research Coordinator Dr. Sue Barco. Her participation in Virginia Wesleyan's Undergraduate Research Program was supported by VWU's Summer High-Impact Practice Program (SHIPP) grant, offered by The Lighthouse: Center for Exploration & Discovery.
Dr. Bartol says that Christenson first approached her with her ideas on quantitatively analyzing vessel strike trauma of sea turtles, in the hope of developing rehabilitation guidelines that could be used by stranding personnel.
"From the very first meeting, it was clear to me that Anni had done her research, knew the literature, and had developed a fully formed research proposal. But what really impresses me about Anni is her work ethic. Annika has shown me a mix of perseverance, intelligence and passion that is rare in an undergraduate. I look forward to seeing what she does once she graduates from VWU!"
Christenson recently traveled with Dr. Bartol and Dr. Barco to present their research at the Southeast Regional Sea Turtle Meeting in Corpus Christi, Texas, where she received a First Place Poster Award. Their presentation was titled, "Analysis of Survivability of Sea Turtles with Carapace Trauma from Vessel Strikes."
After graduation in May 2020, Christenson hopes to continue working with sea turtles and other marine mammals that strand. Her plans include graduate school and earning a master's degree.
-Edited and Adapted from The Lighthouse Student Success Stories