Student Spotlight: Sophia Kaminaris
Life has been a "Cabaret" for this senior theatre major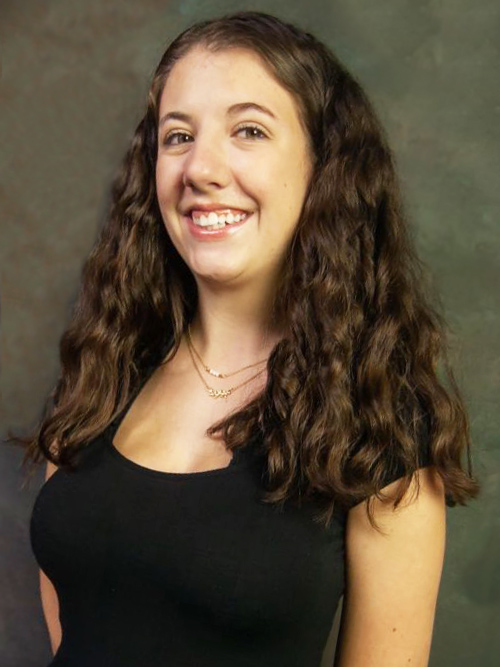 University News | September 29, 2022
With opening night just one week away, Sophia Kaminaris '23 is immersed in rehearsals for VWU's fall theatre production, "Cabaret" by Joe Masteroff. Kaminaris was cast in the role of Cabaret dancer Sally Bowles in the musical which runs from October 6-9 in the Susan S. Goode Fine and Performing Arts Center during the University's Homecoming and Family Weekend.
"The rehearsal schedule has been pretty consistent throughout the process," said Kaminaris. "It has been four hours for five days a week since the start of the semester. I had prepared myself for this schedule; I knew that I was going to lose my nights during the week and I was going to have to put in work outside of rehearsal."
Kaminaris says that "Cabaret" takes place during a dark time in our world's history and that it is not a show with a happy ending.
Set in Berlin during the rise of the Nazi Party, "Cabaret" reveals the stories of people from all walks of life—from a struggling American novelist to an old German innkeeper—and how unsettling times shape their futures.
"This musical does a really good job of showing how one's political stance and beliefs can get in the way of one's own relationships, whether they be romantic or simply platonic. However, everyone can find a little piece of themselves within each character as they endure the start of a long and hard struggle."
The play, directed by Professor of Theatre Travis Malone, originally premiered in 1966 on Broadway and has since been a staple of theatre for generations. It follows the story of Sally Bowles, the lead dancer at the Kit Kat Klub, the hottest party scene in Berlin in 1931. When she meets an American author who comes to Berlin to finish his novel, she breaks her cycle of affairs and realizes she has bitten off more than she can chew. As she reaches this realization, she runs into some old and new faces that help her make the ultimate sacrifice.
"'Cabaret' is as much about today as it is the past," noted Malone. "As humans, we should always be reminded of history, especially our human tendencies toward apathy and cruelty. As Cliff Bradshaw declares in the musical '...don't you understand - if you are not against all this - you're for it. Or you might as well be.'"
Kaminaris shares that "Cabaret" will be her 14th production on stage, as she has been "doing shows" since she was 12. While at Virginia Wesleyan, she also played the lead in last spring's "Roe" in her role as Norma McCorvey and she was Squidward Tentacles in The SpongeBob Musical. In addition, she's been a part of VWU's One Act Play Festivals every year.
A theatre major from Baltimore, she spends much of her time on campus in the Goode Fine and Performing Arts Center. When she is not acting in a theatre production, she is singing with two of the Virginia Wesleyan choirs: Camerata and Vox Vera. She's also holds a Campus Cooperative position as a student supervisor for the Goode Center and serves as an intern for the arts department—building playbills, posting content on social media for the Center, providing information for the University's arts newsletter and website.
"The first thing that attracted me to VWU was how small the class sizes were," noted Kaminaris. "I learn better in smaller classes where there is more individual attention, so when I saw that most classes cap out at 15 people, it was reassuring to know that I wouldn't be overlooked as a student."
She says that what she has enjoyed the most as a student here is how tightly knit everyone is as a community.
"It's comforting to know that your university has your back when things go awry."
After graduation next spring, Kaminaris will continue to pursue her passion for the theatre by auditioning for shows in the community while also having a job in marketing and public relations.
"The cast, production team, and crew have worked incredibly hard on this production over the past six weeks and are ready to show off all of their hard work. Come out and witness what will be a perfectly marvelous show!"
Performances are scheduled for October 6-8 at 7:30 p.m. and October 9 at 2 p.m. Buy tickets or join the guestlist