Theatre Productions
From student-directed one-act plays to Shakespeare, the presentation of live theatre productions is an essential component of the theatre major at Virginia Wesleyan.
All events take place in the Goode Fine and Performing Arts Center.
Tickets and reservations: buytickets.at/goodecenter or 757.455.3381
Events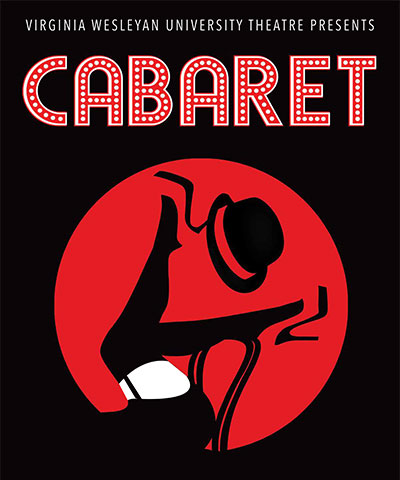 Virginia Wesleyan Theatre Presents Cabaret by Joe Masteroff
October 6 - October 8, 2022 — 7:30 p.m. - 10:00 p.m., Goode Fine and Performing Arts Center
October 9, 2022 — 2:00 p.m. - 4:30 p.m., Goode Fine and Performing Arts Center
In a Berlin nightclub, as the 1920's draw to a close, a garish Master of Ceremonies welcomes the audience and assures them they will forget all their troubles at the Cabaret. With the Emcee's bawdy songs as wry commentary, Cabaret explores the dark, heady, and tumultuous life of Berlin's natives and expatriates as Germany slowly yields to the emerging Third Reich. Cliff, a young American writer newly arrived in Berlin, is immediately taken with English singer Sally Bowles. Meanwhile, Fräulein Schneider, proprietor of Cliff and Sally's boarding house, tentatively begins a romance with Herr Schultz, a mild-mannered fruit seller who happens to be Jewish. Musical numbers include "Willkommen," "Cabaret," "Don't Tell Mama" and "Two Ladies. (1998 Version)
Book by Joe Masteroff.
Based on the play by John Van Druten and Stories by Christopher Isherwood
Music by John Kander Lyrics by Fred Ebb
$15 General Admission/$10 Military/Teacher/Student; Free to VWU students, faculty, and staff
---
One-Act Festival
November 12, 2022 — 7:30 p.m., Susan T. Beverly Hall, Edward D. Hofheimer Theatre
Students enrolled in the "Directing" course (TH 412) this semester, taught by Professor of Theatre Dr. Sally Shedd, present the culmination of their work during the One-Act Play Festival. Plays directed by students include: "Post-Its (Notes On a Marriage)" by Paul Dooley directed by Sophia Kaminaris; "A Tall Order" by Sheri Wilner directed by Tucker Barco; and "Marred Bliss" by Mark O' Donnell directed by Hannah Carmona. Students have been preparing throughout the semester by engaging in activities such as applying for rights, holding auditions, analyzing the script, hosting a casting session, and learning rehearsal techniques.