Theatre Productions
From student-directed one-act plays to Shakespeare, the presentation of live theatre productions is an essential component of the theatre major at Virginia Wesleyan.
All events take place in the Goode Fine and Performing Arts Center.
Tickets and reservations: buytickets.at/goodecenter or 757.455.3381
Upcoming Events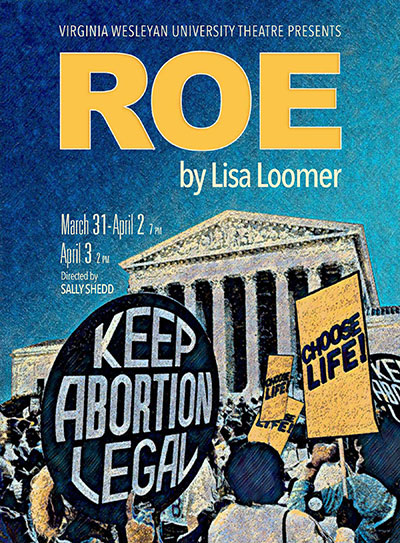 Virginia Wesleyan Theatre Presents Roe by Lisa Loomer
March 31 - April 2, 2022 — 7:00 p.m.
April 3, 2022 — 2:00 p.m.
The VWU Fine and Performing Arts Department presents Roe by Lisa Loomer.
Roe v. Wade, the landmark 1973 case that legalized abortion, is still fiercely debated fifty years later. In this incisive play, acclaimed writer Lisa Loomer cuts through the headlines and rhetoric to reveal the divergent personal journeys of lawyer Sarah Weddington and plaintiff Norma McCorvey ("Jane Roe") in the years following the fateful decision. In turns shocking, humorous, and poignant, ROE reflects the polarization in America today while illuminating the heart and passion each side has for its cause.
Presented by arrangement with Dramatists Play Service, Inc., New York.
$15/$10; Free to VWU students, faculty, and staff