Neil Britton Gallery
The 1,200 square-foot Neil Britton Gallery opened in 2009 and is committed to engaging both the Coastal Virginia and University communities in the visual arts. Changing exhibitions and programs include the work of both professional artists and students.
Phone: 757.455.3257
Admission: Free and open to the public
Operating hours:
Monday-Thursday: 9:00 a.m.-8:00 p.m.
Friday: 9:00 a.m.-5:00 p.m.
Saturday: 11:00 a.m.-4:00 p.m.
Sunday: 12:00-5:00 p.m.
For more information, contact Curator of Art Exhibitions John Rudel at 757.455.3257.
---
Art Rosenbaum and Margo Newmark Rosenbaum: Journeys in Art, Music, and Folklore
August 23 - December 7, 2021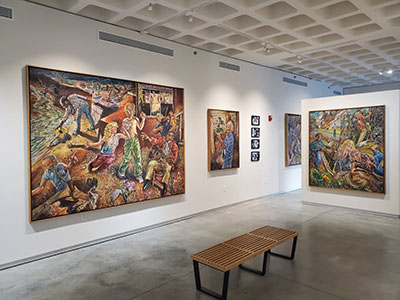 Paintings, drawings, and photographs featuring the people and places that Margo and Art have encountered in their years of travel documenting and playing roots music. On loan from and curated by John Lee Matney of the Linda Matney Gallery.
Free to the public.