The 1,200 square-foot Neil Britton Gallery opened in 2009 and is committed to engaging both the Coastal Virginia and University communities in the visual arts. Changing exhibitions and programs include the work of both professional artists and students.
Phone: 757.455.3257
Admission: Free and open to the public
Operating hours:
Monday-Thursday: 9:00 a.m.-8:00 p.m.
Friday: 9:00 a.m.-5:00 p.m.
Saturday: 11:00 a.m.-4:00 p.m.
Sunday: 12:00-5:00 p.m.
For more information, contact Curator of Art Exhibitions John Rudel at 757.455.3257.
---
Marlin Mural Festival
October 2, 2023 - March 8, 2024
The Marlin Mural Festival will transform the Neil Britton Art Gallery into a venue for experimental mural and installation artworks by students and members of the VWU community. The creation of works will unfold over an extended period, and the exhibition will pay tribute to the creative process of individuals and collaborations that culminate in finished artworks.
Free and open to the public.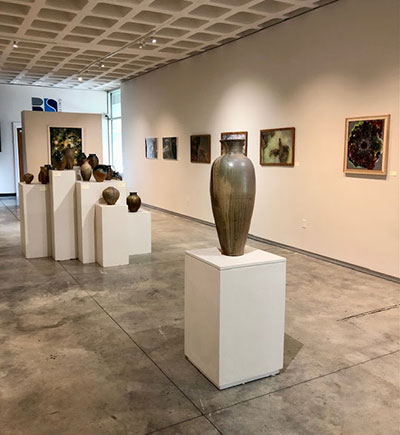 ---