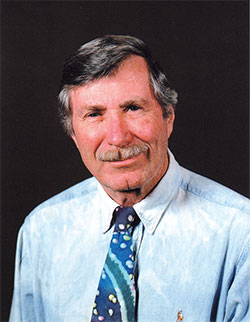 Barclay Sheaks (1928-2010) was born in West Bend, Indiana in 1928 and grew up in the Shenandoah Valley. Sheaks completed his undergraduate work at Richmond Professional Institute, earned a Master of Fine Arts from the College of William and Mary,  and a Doctorate of Humane Letters from Christopher Newport University. Sheaks began his teaching career in 1948 at Warwick High School in Newport News, Virginia. In 1967 he left Warwick High School to found the art program at Virginia Wesleyan University. He taught on the VWC faculty for 36 years, retiring as Associate Professor and Distinguished Artist in Residence in 2006.
Over the course of his career, Sheaks also served as artist-in-residence for both the Virginia Museum of Fine Arts and the Richmond Humanities Center. He became a familiar face across the nation as he managed and hosted a how-to-paint-with-acrylics television show on Public Television.  He was a pioneer in acrylic painting and wrote extensively on the medium and his techniques.
Sheaks lived most of his life in the Hilton Village section of Newport News, Virginia or at his summer home on the river in Poquoson Virginia. An outdoorsman as well as an artist, he was inspired by the natural environment of the Chesapeake Bay.
His work has appeared in distinguished museum, university, corporate and private art collections worldwide including the Butler Institute of American Art, Columbia Museum, and the Chrysler Museum of Art. Sheaks' works were prominently featured in exhibitions sponsored by the American Watercolor Society, the National Academy of Design, the Corcoran Gallery,  the Smithsonian Institution, and others.
Sheaks donated approximately 50 of his paintings to Virginia Wesleyan University to establish a permanent gallery. Located on the first floor of Godwin Hall on the VWU campus, The Barclay Sheaks Gallery opened in the summer of 2000. View the Barclay Sheaks Collection.
Barclay Sheaks passed away peacefully at the age of 81 on Tuesday, April 13, 2010 after a long struggle with Parkinson's disease. Read Barclay Sheaks' Obituary written by alumna and long-time arts writer Teresa Annas '76.